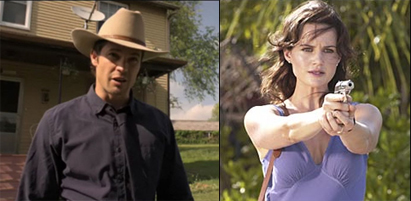 I know some of you were planning to watch that new FX show JUSTIFIED – what did you think? I thought it was a good first episode, taking advantage of that good side of Timothy Olyphant that we enjoyed in A PERFECT GETAWAY and other things, the opposite of the one that was in HITMAN. The pilot was adapted from an Elmore Leonard story that I haven't read, and the moronic neo-nazi villains are definitely very Leonard. So we'll have to see how much of that flavor they can retain with their original stories. But they're definitely off to a good start with Olyphant's character, a marshal who's tougher and smarter than everyone around him, and who gets sent back to Kentucky after his Old West mentality causes trouble in Tampa.
Favorite conversation: when he tells the Jamaican priest about going to a Peter Tosh concert (he wasn't into it). Favorite scene (easy): when he not only steals the neo-nazi's shotgun and puts him back in his car, but suddenly bangs his head against the horn.
The pilot reminded me of KAREN SISCO, a surprisingly good Elmore Leonard based show they had on ABC in 2003. Sure enough both are by the same director, Michael Dinner (Mad Magazine's hilarious parody character of DEATH WISH director Michael Winner). I thought they could never replace Jennifer Lopez as that character from OUT OF SIGHT (still my favorite Leonard movie I think, although JACKIE BROWN is a contender), but after watching a few episodes Carla Gugino became the definitive Karen Sisco for me. It helped that they had Bill Duke as her boss and Robert Forster as her dad. And they did a good job of supplying the criminal-of-the-week characters with personality.
Every time Carla Gugino has another TV show I think "hey, maybe it'll be a hit and they'll finally release KAREN SISCO on DVD." But it didn't work for THRESHOLD and whatever other shows she was on that got cancelled. So now we'll just have to hope this one hits big and causes a demand for other Elmore Leonard TV shows. Rights holders please note that Academy Award winner Kathryn Bigelow directed one episode. Let's see that DVD.
And while I'm at it I never saw that MAXIMUM BOB show either. That was supposed to be pretty good, wasn't it?
This entry was posted on Wednesday, March 17th, 2010 at 9:48 pm and is filed under
Blog Post (short for weblog)
. You can follow any responses to this entry through the
RSS 2.0
feed. You can skip to the end and leave a response. Pinging is currently not allowed.