This is the kind of story that's best to go in dark and just watch how things unfold. But I'm gonna have to describe some of it to explain the movie. At the start Jimmy (David Caruso) is on parole, he's got a young daughter, and he and his wife (Helen Hunt) are both recovering alcoholics. She got a babysitter so they could go to a meeting together but he didn't know that was the plan so he already went to a meeting by himself earlier. While he stays home watching the baby his cousin Ronnie (Michael Rappaport) shows up and begs him to come drive a truck loaded with stolen cars. Jimmy tries to throw Ronnie out ("I could go to jail just for talking to you") but Ronnie has a broken finger and convinces his cousin that somebody's gonna kill him if he doesn't find a driver. And Jimmy's the last on the list.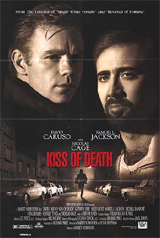 Of course he shouldn't do the job (let alone leave the kid with the sitter while his wife is at her meeting) but he does, and things go sour, and this is only the first of several reasons why this movie could be called WORST COUSIN IN THE WORLD. The story kept tripping me up, me not knowing what direction it would go next, but eventually it becomes the story of Jimmy forced to be an informant, trying to protect his family and take down the criminal empire of Little Junior Brown (a buffed up Nicolas Cage), who I swear to you on my samurai honor is introduced in a strip club trying to impress his father (Philip Baker Hall) by doing 40 bench presses of Hope Davis. Later we learn about his asthma and his fear of tasting metal (he can only use plastic utensils), which I'm thinking might've been a Cage contribution, although maybe not because it's a perfect screenwriterly setup for Caruso putting a gun in his mouth later.
Cage doesn't actually do that much mega-acting – definitely not like in his other KISS OF movie where it was the vampire that it was a kiss of. But there is a good mega-acting scene where he grieves by jumping up and down at the strip club like a one-man mosh pit. Junior is a good villain, a big mean lug, dumb enough to be tricked into beating a guy to death, smart enough to wear rain gear when he does it. He has a vulnerable side so you know as soon as he starts opening up to Jimmy that this fake frienship can only lead to trouble.
I feel stupid that I never watched this before. I always heard that it wasn't very good. I can only assume that at the time people wanted it to be lighter and PULP FICTIONier. The trailer is on the DVD and it makes it look like quirky Elmore Leonard, like GET SHORTY. But really it's more vicious Elmore Leonard like 52 PICKUP. Even if Ving Rhames is afraid of the color red.
Samuel L. Jackson (THE PHANTOM MENACE) plays an interesting character named Hart, a cop who got shot in the face while arresting Jimmy. His right eye is messed up and never stops watering, an endless mourning for his injury. The truth is Jimmy may have saved his life – he tried to stop the other guy from shooting, and the bullet went through his hand first. (An injury that seems to heal surprisingly well, I must admit. The old "TEXAS CHAINSAW MASSACRE 3 railroad spikes through the hands that don't have much of an effect" syndrome.) It seems like they should have a you saved my life sort of bond and I think they actually do, they just never admit it to each other. Hart seems to hate Jimmy and beats him up the next time he sees him. For his part Jimmy never brings it up, other than to say "I took the same bullet you did." Not you owe me but we're in the same boat. Ultimately Hart trusts and helps Jimmy, and I think that's why.
I think Jimmy's an interesting protagonist, because he's basically a rat but you root for him the whole time. He was trying to just mind his own business but he got pushed into this mess, and now he's going to get out. He's not Rambo or Parker, he talks tough but he's usually trapped. He just happens to be smart and brave enough to play everybody like chess pieces.
And Caruso pulls it off, he's really good. The boyish deputy from FIRST BLOOD has grown up. I believe he got alot of shit for this because he left a popular TV show and then it didn't turn him into an overnight movie superstar. But that's not his fault. He has the chops and he has the presence, and he also had a real good role. Maybe he's not ready for 40 bench presses of Hope Davis, but I think he could've done 10 squat thrusts of Lucy Liu. He was ready for movies, it was everybody else that wasn't ready for him. He's got nothing to be ashamed of here. Was he in anything else good? I'll have to check.
The director is the Frenchman Barbet Schroeder, but to me it seems very American-style gritty. It's written by Richard Price (CLOCKERS) based on an old film noir. I don't know how the original plays out, but the structure of this one is perfect. It's like a camera starting in closeup and slowly pulling back to show more and more of the surroundings. It starts intimately with this one character, but his world keeps getting bigger and bigger. First just him and his family in their little apartment, then his cousin and his little chop shop operation, then the police that are after his cousin, then Little Junior Brown and his empire, and the other people he's working with, and the feds who are after them… the circles around Jimmy get bigger and bigger, but at the center it's just this one guy and his desire to shake all those circles and be with his family.