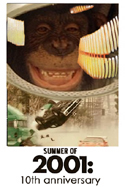 released April 20th, 2001
This is gonna surprise the shit out of you when I tell you this, but CROCODILE DUNDEE IN LOS ANGELES is what they call a fish-out-of-water comedy. The fish is Crocodile Dundee, the water is Australia, the place outside of the water is Los Angeles. Actually Dundee might be more of an amphibian, he's somewhat familiar with L.A. and is able to show his son and his pal around and teach them some things about the urban American way of life. But also he's from the outback or whatever so he has lots of misunderstandings that lead to clotheslining people or stabbing things like they do constantly in Australia.

I don't know about other parts of the world, but the character of "Crocodile Dundee" is kind of a joke here. The first movie was hugely popular when it came out in '86, and became one of the main images or stereotypes that Americans have about Australia. This has been a point of contention between Australian and non Australian characters in TROPIC THUNDER and WOLF CREEK, but I'm sure in real life everybody's pretty much in agreement. I'm guessing Crocodile Dundee isn't that much more of a "national hero" in Australia than Mahoney from POLICE ACADEMY is here.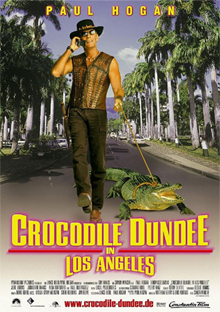 Like so many things that get hugely popular the novelty faded away and people forgot what it was they liked about the movie and just remembered that it was a thing from Australia in the '80s. Now in our minds it's more of a reference or an answer to a trivia question than a movie. It's somewhere closer to "Where's the beef?" than to RAIDERS OF THE LOST ARK in the collective unconscious. We scoff at it without really knowing why.
So it was kind of weird when they came out with a part 3 in 2001. It's almost like if they tried to complete the GODS MUST BE CRAZY trilogy. I don't think a whole lot of people were dying to find out what sort of shenanigans Paul Hogan's crocodile hunter character would get into on the American west coast. This was not exactly an explosive beginning to the summer movie season, in my opinion.
But maybe I'm wrong. Maybe most people kept up with the Crocodile Dundee saga and re-watched them bi-annually to keep them fresh on their brains. Personally I hadn't thought about the Dundeeverse since the '80s. I forgot that he had a lady friend named Sue (Linda Kozlowski) who was a journalist or something. In this one they're not married but still together with a son named Mikey (Serge Cockburn). Sue has to go to L.A. to look after her father's newspaper, so Mick leaves the outback tour business behind to accompany his girl and look after the kid.
If I understood correctly there was a reporter who died, nothing suspicious but when Sue takes over the story he was working on, a profile of an independent movie producer working on the Paramount lot, she figures out something is fishy. This guy's been producing the LETHAL AGENT trilogy of films starring Jean-Paul Chagal, but they're not very popular, so how does he have the money to keep making sequels. "I'm sure it's an elaborate front for something," she says. "But what?" So Mick decides to go undercover as an extra. (In part 4 I hope they investigate the mystery of who watches new Eddie Murphy comedies.)
In case you're thinking the movie producer might be innocent, you should know he's played by Jere Burns, this creepy guy from 'Justified':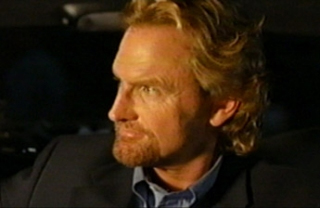 But the villainous plot is treated with the gravity of an episode of CHiPs. It's mostly a setup for some wackiness. Mick befriends Paul Rodriguez (BLOOD WORK) as a veteran extra who teaches him not to look into the camera. More importantly he befriends a monkey who gets him promoted to monkey wrangler. When he figures out that the "elaborate front" involves stolen paintings the bad guy catches him snooping around and asks "How would the monkey guy know about the paintings?"
I guess one of the reasons they'd want to resurrect the series would be to have Mick react to things that weren't around 13 years ago when they did part 2. They do that, but for 2001 the movie seems a little behind the times with its Seagal/Van Damme action hero, movies based on LETHAL WEAPON and TWISTER, and joke about The Clapper. They do have a flat screen TV and a remote control that must really be broken considering the amount of trouble it causes Mick.
One of the better jokes is about cell phones: back in Australia an aboriginal warrior in full native getup is talking shit to Mick and then answers his cell phone. Mick says, "I think we just found out which one of us is the white man."
The "Hollywood is crazy" jokes are pretty stupid and obvious. George Hamilton cameos to tell Mick about the magic of coffee enemas. It's kind of a weird joke because the idea seems to be "just think how a no-nonsense tough guy from the outback would react to people squirting coffee up their butts," but of course you don't have to be Crocodile Dundee to think that's a crazy thing to do. In my opinion they didn't have to go to another continent to find somebody to react to that one.
Of course a lowbrow comedy taking place in Hollywood is gonna have one of those wacky studio tour sequences. This is a Paramount movie so they can't use the famous Universal JAWS ride or PSYCHO house (which I think were in JAY AND SILENT BOB STRIKE BACK later in the summer). They have a fake Paramount that's working on movies like TORNADO HUNTERS II and JUNGLE TREK II. It's hard for me to accept that the tour would have a ride as stupid as the jungle ride depicted here or that Mick would be stupid enough to stab an animatronic snake in the head. But given that both of these things would happen I'd like to see him have to deal with security instead of comical expressions from the flabbergasted tour guide.
And hey, why not some professional tension between tour guides? Mick does this for a living too, maybe he should resent this cheeseball's approach. I'd like to see that, anyway. But maybe this is not the time or place for the gritty tour guide movie the world has been waiting for.
If I had to choose a part of the movie that was mildly amusing in its stupidity I guess I would go for the scene where Mick and son cause a massive traffic jam and then bomb scare because they stop in the middle of the freeway to help a skunk. It's kind of cute that the humor comes out of the Australian respect for wildlife and the characters naively assuming that it's shared by Americans. Mick cluelessly waves to the backed up commuters to assure them that the animal is safe.
In one scene Mick is shown to not understand Picasso, thinking his painting was done by a kid. This is supposed to show that he's a regular guy, as opposed to in TITANIC where not understanding Picasso was used to show that Billy Zane's character was a dickhead.
This is a shitty half-assed comedy not worthy of the big screen, but I can say one nice thing about it. I was surprised that I found myself still considering Crocodile Dundee a likable character. It brought me back to 1986 and remembering why the first movie was enjoyable at that time. Not that I want to watch it again or anything, but I'm just saying I like Paul Hogan and his analog-man-in-a-digital-world or whatever you want to call him.
This was directed by Simon Wincer. He didn't have anything to do with the other ones but is a successful middlebrow Australian director known to most for FREE WILLY and to me for THE PHANTOM.
* * *
legacy: none
datedness: They show a Tower Records (no longer in business). They use some music that sounds like C+C Music Factory or some shit. They talk about NYPD Blue alot – remember when that was a big deal show? There's a joke about a cow flying in a tornado, a TWISTER reference that probly won't stay in our collective conscious for too much longer in my opinion.
2001-2011 connections: This has an unexpected connection to the big comedy sequel of this summer, THE HANGOVER II: a cameo by Mike Tyson. The HANGOVER movies exaggerate Tyson's image as a crazy maniac. CROCODILE DUNDEE IN LOS ANGELES takes the opposite approach, having Mick and Mikey meet Tyson while he's meditating in Will Rogers Memorial Park. They're impressed by his easygoing nature, not realizing that he bit part of Evander Holyfield's ear off 4 years earlier.
And remember how Mel Gibson was gonna do a cameo in HANGOVER II to take advantage of his own crazy reputation? Well, he's not in DUNDEE 3, but there's a scene at a Hollywood party where Mick tells people stories that they think are about Gibson's crazy antics back home. This was years before Gibson was publicly getting into trouble with alcoholism and bigotry, so it's a coincidence.
Another minor connection to this summer: the kid loves wrestling and yells "Can you smell what The Rock is cooking?" at one point, a reference to Mr. Dwayne Johnson, star of this summer's FAST FIVE.
Would they make a movie like this in 2011? I don't think so, but then I wouldn't think they would've made it in 2001 either.
This entry was posted on Tuesday, June 7th, 2011 at 12:53 pm and is filed under
Comedy/Laffs
,
Reviews
. You can follow any responses to this entry through the
RSS 2.0
feed. You can skip to the end and leave a response. Pinging is currently not allowed.