I SAW THE DEVIL is the latest from the team of director Jee-woon Kim and star Byung-hun Lee, who did BITTERSWEET LIFE and THE GOOD, THE BAD AND THE WEIRD (which I'm really gonna have to see now). Lee plays Soo-hyun, a secret agent type dude whose fiancee is killed by a serial killer. On her birthday. While he's at work. He is not happy about this.
So through his connections he gets the police files on the four suspects the cops have, and he gets a high tech device or two, and he goes after them. He basically torments the four guys, quickly figures out which one did it, and exacts a complicated method of torture/revenge (torvenge).

Filmatistically this director is a master. His shots are beautiful, his action is clean, his rhythm is perfect. Somehow he knows how to linger on shots and not be in such a hurry, but also knows how to move quickly from scene to scene and skip over unnecessary information to keep an exciting pace.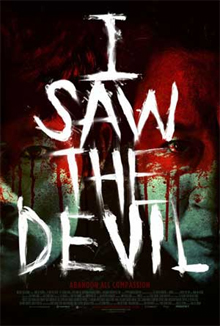 Soo-hyun is a ridiculously smooth and capable badass just like the character in BITTERSWEET LIFE, only this time he's on the right side of the law. At least occupationally speaking, not really in his activities here. At a glance he just looks like a handsome, well-dressed young man, but he moves like a ninja. He can quickly climb onto a roof, he can knife fight, knows some kind of martial art, all very quick. He doesn't talk very much. He means business and has many classic badass moments. One favorite is a shot from inside his car as he pulls up behind one of the suspects, who's on a motorcycle. I figure he's gonna follow the guy, find out where he goes. But before I can process it he just rams him from behind and knocks him off the bike.
This movie messed with my head in an unusual way. After a gut-wrenchingly grim opening it turns into such an awesome action/revenge movie for a while that I almost felt guilty how much I was enjoying it. It seems like too much fun for the subject matter. I always enjoy seeing a guy like this go after some sicko bastard, but after what we've seen the poor girl go through, and the horror it's brought to her family and the whole community, it's a weird fit. Like if ZODIAC turned into COMMANDO.
But like at least half of all revenge movies this is actually a public service announcement for the anti-revenge lobby. As his would've-been-sister-in-law tells him, "Revenge is for movies." The girl's dad, a retired police chief or something, sort of puts him up to it, and even he starts to think it's time to cool it.
But our boy is not gonna stop and let the police catch up. He doesn't care what it does to his soul, he's on a mission. By "I saw the devil" I think the title means "when you stare into the abyss the abyss stares back into you, and then you're like what the fuck are you looking at, and the abyss is like sorry sir, I didn't mean any offense and you're like you better fucking apologize, abyss, and the abyss is all nervous and it goes yeah, sorry and you shake your head condescendingly as you walk away and in retrospect you were being a real dick to the abyss but the point is you both totally stared each other down it wasn't a one-way type deal in my opinion." (That's an exact quote from Machiavelli or somebody.)
There's a delicate balance in a revenge movie. It's fun to watch somebody get revenge on a horrible person, but not if you become conscious of your own sadism and bloodlust while you're watching and you feel like the movie doesn't have that same awareness. When that happens you feel dirty. But I don't know, if anybody comes out of this one feeling satisfied about the level he goes to and what it accomplishes then I would say it is possible they missed the point. And I don't know what more the movie can be expected to do to get it through your thick skull. I think the movie is off the hook on that one.
Part of the fun is knowing how much he's lost it, even before worse comes to worstest. He catches Kyung-chul, the maniac who decapitated his fiancee, and he doesn't kill him at first. He lets him go. Then he follows him around like a wild animal with a tracking tag. Even Kyung-chul (a great sleazy performance by Choi Min-sik) can't believe it when he wakes up in a hole, left alive, and with a pack of money. He says, "What the hell? The bastard's a complete psycho."
Alot of people complain about CGI blood and gore, but in the case of this movie there are at least four absolutely horrifying acts of digital violence. One is a quick knife fight in an enclosed space, one involves the hammering of a face and the third one is more drastic. These are not cool but they are upsetting and disturbingly realistic. It's over-the-top gore that's never funny, unless you laugh at just how awful it all is.
But despite all the horrible, graphic shit depicted in this movie I think one of the most unpleasant scenes is the one where the killer is alone with a nurse in a doctor's office, not even doing anything yet. What makes it so uncomfortable is that you know Soo-hyun has put this innocent nurse in this position by letting his maniac go loose. And you don't know where our guy is, how much he understands what danger he's causing, how soon he's going to intervene.
And the actress playing the nurse is so convincingly young and vulnerable. She's helpless against this asshole, not just physically but mentally. It's painful.
These Koreans are getting really good at making movies, but it looks like they need to work on their law enforcement. I mean what the hell, they really got four different guys in the area who might be the murderer because "they've done things like this before," and you haven't busted them yet? And our guy is able to go find them and you guys haven't? Are you even working on this case?
And there's even a fifth and sixth maniac in the area, because Kyung-chul goes to visit his friends, a cannibal couple. No wonder Jee-woon Kim is coming here to do an English language movie next. He's gotta get the fuck out of Korea. That place is dangerous.
I doubt Schwarzenegger will really end up starring in Kim's next one like they're saying, but I sure hope he does. Kim is so good at making Byung-hun Lee seem badass with quick movements and few words. I think he could do wonders with Scharzenegger and bring to our shores the type of clean filmatism modern action movies are sorely lacking.
I don't think I SAW THE DEVIL has anything new to say about the serial killers or the violent revenge. These are topics that have been covered pretty well in movies, in my opinion. But you know, a sermon doesn't gotta be brand new material for a great preacher to make it sound good. I really enjoyed — or whatever you call it when a movie like this really works on you — being dragged around and shaken up by this one. Exceptionally well made, unsettling, fucked up, fun, sad. God damn ugly devil. Never shoulda shown his face around here.
http://youtu.be/sv02kPz8XdM