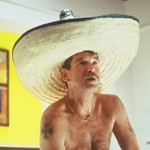 The original THOMAS CROWN AFFAIR is not one of my favorite Steve McQueen pictures. It's stylish and well-made, I can see the appeal of it. But first of all, as much fun as he may have had doing it, McQueen was not meant to play that kind of upper crust character. And secondly, as cool as you want him to be because he's played by Steve McQueen, Thomas Crown is not a very cool character. He's The Man. A rich guy who has other people do his work and then takes credit for it. Just because he picks up the money out of the garbage can after all the real work is done he gets to call it his Affair? There's no justice in that movie.
John McTiernan's loose remake takes care of those problems, while introducing other ones. While I'm much more fond of Steve McQueen, Pierce Brosnan is a way better choice to play this character. He's smooth, he's handsome, he looks kind of like Fred MacMurray but more girly, he has an accent. And there's no way to imagine him working with his hands or having dirt on him or his hair unkempt. He IS Thomas Crown.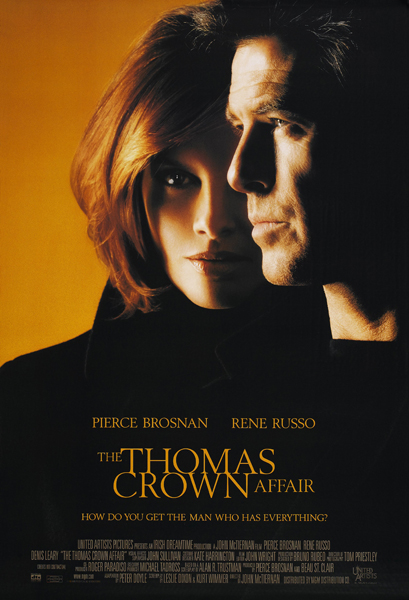 And in this version Crown is more than just the mastermind, he also does the stealing himself. In this one he's an art thief, and the art he steals is his own, almost. He owns a museum, but his company has been forced into a merger. On the very day he signs the contract a team of European mercenaries busts in to steal Crown's favorite Monet from the gallery. But we soon realize that the mercenaries have been anonymously hired by Crown himself. He doublecrosses them, gets the painting himself and leaves them to take the blame.
And then the story itself is like the original: Renee Russo is an insurance investigator who quickly figures out that Crown did it and tries to prove it. Meanwhile they are courting each other, toying with each other, possibly in love and not sure where their or each other's loyalties lie. A cat and mouse game, if the cat and mouse were fucking each other in about ten different positions and pouring liquor on each other and shit.
One problem I had is that Renee Russo is really annoying. Yes, it's nice to see a female sex symbol out of her twenties, and offering the brief nudity and what not. I'm all for that. But her whole soda-swilling eccentric intense intimidating woman of power shtick is obnoxious. She's just not cool. I bet Thomas Crown could find somebody more appealing to fly around to different islands with.
By the way, Faye Dunaway (love interest in the original) plays Crown's therapist.
Another problem is the music. Whatsisdick of ROCKY fame did the score and it starts out real classy, with piano tinkering and a nice use of Nina Simone music. Then when the robbery starts it turns into a DTV Wesley Snipes vehicle or something, cheesy drum machines and guitars that are supposed to sound cool but for crying out loud NOBODY on earth thinks that type of music is cool. Nobody! Not children, not animals, nobody. Stop it, composers. You know what I'm talking about. Don't make me play it back to you. Because I will do it.
I also missed the team element of the original. Sure, I complained about Crown taking all the credit, but I liked the team. A good heist movie usually has a team of people with different tasks and specialties to pull off the caper, so you have a bunch of interesting supporting characters. In this one he ditches the team before we even know their names. It becomes a one-man show except when he needs accomplices, and then they are either his company's employees or nameless, personality-less people he presumably paid off to do certain tasks. The most likable character in this movie is actually the cop that's after him, making this probaly the only movie in cinema history where Denis Leary is the most sympathetic character. I do think Thomas Crown is a good character, but since the whole movie is pretty much on his shoulders it's hard to not start resenting him after a while. The guy is so rich and his idea of an entertaining movie is rubbing his lifestyle in your face. He's so rich and we don't see him work for it. The motive for his crimes is boredom. The only reason we like him is because he has some clever tricks and likes to fuck with people.
One time I called John McClane the working man's James Bond. Well here we have DIE HARD's John McT directing a guy who played James Bond. And this character is the total opposite of McClane. McClane is working class, Crown is super rich. McClane is a cop, Crown is a criminal. McClane is thrust into these fights by circumstance and would rather not be there, Crown instigates the fight himself and strings his adversaries along to entertain himself. McClane loses his wife, Crown gets the girl. McClane blows shit up and jumps off things, Crown rolls under a gate and puts a painting in his briefcase. McClane ends the movie covered in dirt and blood, Crown is not only clean but wearing a bowler hat.
So it's very much no DIE HARD but it's not too bad a movie. It's well shot and put together by McT. They have some nods to the original like the scenes of Crown just driving around in vehicles for fun. He has a plane again, and a boat sits in for the duny buggy. There's also a cheesy Sting version of "Windmills of Your Mind" on the end credits. But I missed the split screen from the original heist scene. Still, they did a good job of taking the cat-fucking-mouse kernel of the original and turning it into a new story. And it's refreshing to see a "fun" movie aimed squarely at adults. We like that shit too, you know. Hollywood seems to forget that sometimes.
So we'll put this one in the "pretty good" column for McT, to balance out for ROLLERBALL and keep him in the game. The reason I finally watched it is because Paul Verhoeven is supposed to be doing the sequel. So we'll see what happens with two world class filmatists on one series. Will it be closed to Friedkin/Frankenheimer/FRENCH CONNECTION or De Palma/Woo/MISSION:IMPOSSIBLE? Or something alot weirder and more perverted? My guess is C, but only time will tell.