10 years after the titans clashed, Zeus (Liam Neeson, NEXT OF KIN) and Hades (Ralph Fiennes, STRANGE DAYS) are about to feel their wrath. See, they've had their asshole dad Kronos imprisoned in the underworld forever, but with humans not praying to them they're losing the power to contain him, and Ares (Edgar Ramirez) and some of their other kids are conspiring to set the old man free. And when he gets out he's gonna get his revenge.
I should mention that Kronos is not a man, he's a giant lava monster that makes the Kraken from part 1 look like a shrimp. So by "get his revenge" I basically just mean that he's gonna walk around and stuff is gonna get destroyed. In fact Zeus and Hades don't seem as bad now that I realize the type of family they grew up in. I'm sure even during peace time Kronos is constantly "getting revenge," unless there is some sort of all-lava-monster community he can go to. If he's expected to integrate with the mortals or even the Olympians there's always gonna be a size and heat difference that's gonna be problematic.
I guess when you're making a sequel to a movie most people didn't like it's probly smart to switch things up a bit. Too bad I was the guy that did like the first one. Most of what I liked about CLASH OF THE TITANS '10 does not apply to part 2.
For starters: the tone. Gone is the upbeat sense of macho fun. Now, like every other god damn movie, it's all dour and pouty. The end of the world is coming, let's all grimace and wait for it to happen. Perseus (Sam Worthington), who was so fearless and ready for action before, is now world-weary and out-of-practice. He has a dead wife and a son and he promised the dead wife not to let the son pick up a sword. So it's another one of those movies where the characters are trying to prevent the thing that the audience wants to see from the beginning. (And if you want peace for the characters then it's kind of weird because SPOILER the dad violating his dead wife's wishes and plunging their son into a life of combat is treated as a happy ending. And he doesn't even get a Bubo.)
They did let him just use his Australian accent, which I'm in favor of. But the character's not as fun to watch in this one. I miss the Perseus who said "let's ask him!" when somebody questioned who the monster was who just attacked him, who believes in saying "thank you" to demonic sorcerers, and recruiting them for his team. In this one he can't even ride Pegasus right, he's all wobbly and people laugh at him.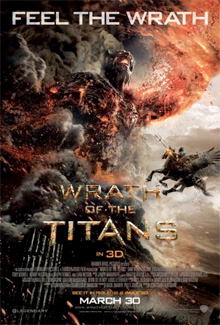 The weird complexities of the world that were so interesting to me in part 1? Nah, don't worry about those. Zeus is just a good guy now, so forget about how he raped Perseus's mom and all that.  Just pretend he's Gandalf. He doesn't shapeshift either, because he loses his powers and gets chained up for most of the movie. I guess his beard turns white, that's about it.
Seems like it would be a good source of drama that Perseus has to save his father who he's still not cool with. It could've been "I don't want anything to do with that bastard, but I'll do it to save the world, and reluctantly start to come to terms with the fact that that asshole is my father" but instead they go for "I have to save my father!"
The different factions of humans who disagreed about how to deal with the gods, that's not really happening anymore, humans just fight against whatever monsters fall from the sky. It's a simpler time now I guess. But less interesting.
The new simplicity is good news for the ladies, though. I think they've made progress in this society. Nobody gets raped, and Andromeda, who spent part 1 tied up on a cliff for a sacrifice, is now an ass-kicking warrior queen and equal partner to Perseus.
We don't see the Djinn. There are some cyclopses, which is cool, but because they're giant they can't really be integrated into society, and leave the story faster than the Yetis in THE MUMMY 3. So it's mostly regular humanoids you're looking at. I think there are 3 other monster scenes: a ferocious bat-like update of (I think) the 2-headed dog from the original '81 version, some giant spinning Siamese twin guys, and Kronos, whose skin looks like embers and he's so giant he lives in slow motion.
These are outstanding monsters, and at least Kronos is big enough that they mostly have to show him from far away. He gets to smash a little bit longer than the Kraken did, or at least he spends longer walking toward the place where he's gonna smash. So it didn't really matter that the movie was lackin kraken.
But for a sequel to a remake of a monster showcase they sure don't seem interested in showcasing their monsters. Perseus has a bloody knock down drag out fight with the bat monster and it's the highlight of the movie, but it's frustratingly post-action. For fuck's sake, I can't believe we're at a point in cinema history where I have to complain about this even in a CLASH OF THE TITANS movie. While CLASH had some very careful and effective uses of handheld camera this one tries to go full on SAVING-PRIVATE-RYAN-Omaha-Beach-sequence at times, minus the careful attention to communicating geography. I guess it's supposed to put you right into the action, subconsciously remind you of one of those old postconverted 3D Imax newsreels from Ancient Greece. You see it just how the combat stonecarvers would've seen it.
With the monsters so obscured there's no way to really know if they have that Ray Harryhausen type of personality to them. I know there's this whole school of "it's better left up to your imagination," but isn't that approach against the spirit of the original CLASH? I guarantee you that if Harryhausen had done the Medusa scene in this style – the camera whips around but has a hard time keeping up with her, she hides behind a pole, the camera keeps getting bumped, when it shows her it's real closeup so you don't see that much of her – there would be no WRATH OF THE TITANS because there would be no CLASH OF THE TITANS remake because what the fuck is a CLASH OF THE TITANS, I never heard of it, did that even get released? Oh yeah, I just looked it up, it was an obscure Harry Hamlin movie with a brief glimpse of some animated snakes and a dog.
You know, come to think of it, even if they had a handheld camera in ancient Greece and used it to make documentary footage of Perseus battling the bat dog guy, you bet your ass they'd use a magic spell to hold the camera steady and frame the shots well. So there is no part of this visual language that makes sense. This piracy thing really has hit the industry hard. I'm gonna start a charity that buys tripods for impoverished Hollywood studios.
In between the glimpses of monsters we've got some good actors trying to talk like gods and demigods. No judgment on this one, but some of the casting has changed: Andromeda is now Rosamund Pike instead of Alexa Davalos and Ares is Edgar Ramirez instead of Tamer Hassan. Pike has a good tough-lady presence. Ramirez is good casting, but he doesn't get anything memorable to do, or find memorable ways to do it. Danny Huston does return as Poseidon, who doesn't get his entire part cut out this time. Bubo has another cameo where he doesn't move.
The major new characters are Bill Nighy as Hephaestus (played as funny crazy old guy who helps them, like John Hurt in CRYSTAL SKULL) and Toby Kebbell as Agenor, who is kind of the comic relief character. I was happy to discover that yes, that is the retarded brother from DEAD MAN'S SHOES. I didn't know he'd turned into a big time actor since then. I didn't think he was very funny in this, though.
The director is Jonathan Liebesman (BATTLE L.A.) replacing part 1's Louis Letterier. Sometimes when I keep saying negative things about somebody's movies I feel bad about it and I'll throw in a "I'm sure he's a nice guy." In the case of Liebesman I really am sure he's a nice guy. Hopefully this isn't telling tales out of school, but when he read my negative review of his TEXAS CHAINSAW MASSACRE remake prequel he sent me a really humble and complimentary email about it. He mentioned working on another movie and said "Don't worry, it's not FRIDAY THE 13TH" because at the time I was annoyed that Michael Bay's company was gonna remake that. Later I heard from another source that Liebesman had turned down bigger and bigger offers to do FRIDAY THE 13TH because he was more excited to do this low budget indie movie called THE KILLING ROOM. Platinum Dunes just kept throwing more money at him and couldn't compute why he wouldn't take it.
So I really respect him for that, but I guess I just don't get into this gloomy vibe of his. His movie that I most enjoyed was BATTLE L.A., because of its sincere rah-rah spirit, and the ending where SPOILER the soldiers insist on going right back into the fray instead of accepting their well-earned rest time. But that had a worse (if more thematically appropriate) problem than WRATH with using "realistic" camerawork as an excuse to deprive the audience of action and monsters.
Most other reviewers seem to like WRATH a little better than the first one. I wish I did too. I will say that it has a nice look to it, pretty different from the first one. And I hope you know I've always been pro lava monster.
This entry was posted on Saturday, March 31st, 2012 at 2:36 pm and is filed under
Fantasy/Swords
,
Reviews
. You can follow any responses to this entry through the
RSS 2.0
feed. You can skip to the end and leave a response. Pinging is currently not allowed.