CHOPPER came out in 2000 and in the 8 years since I don't think I've seen too many characters or performances as good as Eric Bana playing Mark Brandon Read, whose friends call him Chopper and he calls himself Uncle Chop Chop. I never heard of him before the movie but he's a real Australian criminal who became a celebrity writing his memoirs while he was locked up. And the movie's based on some of those.
It's kind of a weird movie. It threw me at first because it doesn't have much of a structure and it's kind of a small story. Maybe I was expecting some kind of crime epic or something, but instead a bunch of stuff happens and then it ends. I prefer a tight story but it still had me. It was so captivating I ended up watching it again the next day.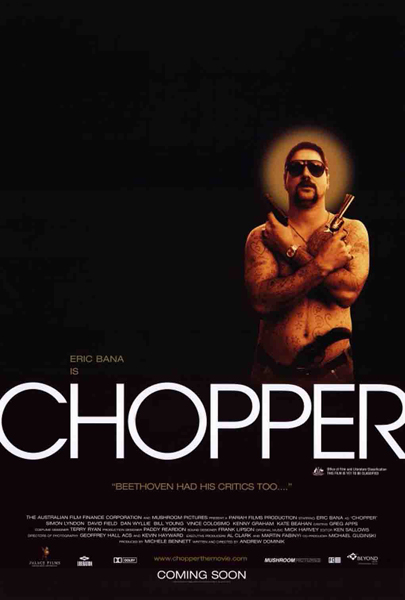 And the reason is this character of Chopper. He's so funny and likable and yet clearly a dangerous psychopath. Maybe you can forgive him killing criminals, but then he punches his girlfriend. And when her mom intervenes he headbutts her! I mean come on. You don't disrespect someone's mama, and in my opinion headbutting is a sign of disresepect.
Chopper is a scary lookin dude. He's big, covered in shitty tattoos, he's got some fake teeth in the front and after a certain point in the movie his ears are fucked up. Because he had a guy cut them off in pirson. Long story. But his real talents are mental, he knows how to fuck with people. Like when he visits the house of Jimmy, his old friend who betrayed and stabbed him in prison. And he scares the shit out of him by being too friendly, too jokey. "Wife and kids, eh? The sort of thing that could be used against a fella," he laughs as if it could really be just a couple buddies teasing each other.
His relationship with the police is funny too. He goes to them and tells them he's going to help clean the scum off the streets. When they tell him repeatedly that they can't endorse something like that he laughs and agrees in a sarcastic voice as if they're wink wink nudge nudging him. Later he thinks a guy is after him, kills the guy, then decides he was wrong. So he goes to the police with a cover story about shooting him in self defense. But they already picked up a guy so they think Chopper's lying. He should take it as a lucky break but he's too proud. He gets indignant: "I've never been so insulted in all my life!" – and tries to prove to them he did it.
The other thing that's funny about Chopper as portrayed in the movie is that he's this cut throat motherfucker but then whenever he gets somebody he immediately feels bad about it. Always apologizing. Sometimes it's really funny, like when he shoots a guy but ends up accompanying him to the hospital. Other times it's kind of creepy, like when he viciously shanks a guy in prison, then is immediately washed over with this look of profound regret. And offers him a cigarette. And tells him everything will be alright. But then when the screws show up he tells them "Looks like he did himself a mischief." Kind of schizophrenic.
I wouldn't say the tone of the movie was schizophrenic though. There are many, many laughs in the movie but they mostly come from the funny things Chopper says. The tone of the movie is still serious, and in the end you get the idea that his bluster is all kind of for show. When it comes down to it he's still locked by himself in a little cell.
And Bana is so incredible in the role he should forever be Eric "Chopper" Bana. He's so funny, so scary and so convincing in his turmoil, which is all shown in his face. He would never admit it. I'm always excited to see Bana in a movie and it's because of this one. Going back and watching it again after being used to the Bana of HULK and MUNICH is amazing – at first it doesn't even look like the same guy.
It's incredible that such a Guinness Book performance would be his first movie role. But what's even more incredible is that in Australia at the time he was known for sketch comedy and the real Chopper chose him for the role. How the fuck did he know? Maybe he should be a casting agent.
The director is Andrew Dominik who went on to do THE ASSASSINATION OF JESSE JAMES BY THE ETC. ETC. years later. I was surprised to see him get so much acclaim on his second movie, but this one's got some good directing. There are some gimmicks like a scene where all the characters narrate in rhyme or a time lapse shot of a crime scene investigation from the POV of the corpse. But it never feels hyperactive or anything.
I thought so at the time and I know for sure now – this is one for the pantheon. Required viewing for afficionados of the badass cinema.