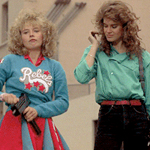 NIGHT OF THE COMET is like OMEGA MAN reborn as a vividly nineteen-eighties movie. To me it feels like a cousin of RETURN OF THE LIVING DEAD, and an acquaintance of MIRACLE MILE, CHERRY 2000 and A BOY AND HIS DOG. The tone is a little cartoony, but not silly; it has zombies, but the bigger threat comes from the government. It's a good salty-sweet mix of bleak and cynical with sweet and fun.
The young leads, Reggie (Catherine Mary Stewart, NIGHTHAWKS, THE LAST STARFIGHTER) and her little sister Sam (Kelli Maroney, SLAYGROUND, CHOPPING MALL) are called "Valley girls" on the box, but luckily that means no more than where they live. Maybe they say "I'm so sure" or something, but they're serious characters, not the goofy-talking stereotype we know from the Moon Unit Zappa song. Still, centering around youths of the '80s, NIGHT's primary locations are a movie theater, a radio station lit by neon art, and a mall.
They just about have L.A. to themselves after the tail of a comet turns most humans into piles of dust and others into deteriorating zombies. They don't get exposed because they happen to be inside while most people are out at comet-watching parties – Reggie in a projection booth, Sam in a metal shed after getting in a fist fight with their stepmom (Sharon Farrell, MARLOWE, THE STUNT MAN). They go to the radio station because it's still broadcasting, but it turns out to be a recording (accurate prediction of the future). Commandeering the booth brings them to the attention of fellow survivor Hector (Robert Beltran, LONE WOLF MCQUADE) and a crew of jumpsuit-wearing underground lab scientists predating the ones in DAY OF THE DEAD.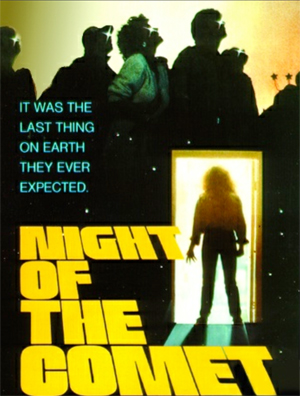 Stewart was known for Days of Our Lives just a couple years before this, but radiates a movie star seriousness and intelligence that helps make a really compelling heroine. Reggie's good with a MAC-10 thanks to childhood lessons from a military father, but otherwise she's a down-to-earth depiction of a normal young adult who hasn't decided what to do with her life. She works at the movie theater, but is a poor employee, spending much of her shift playing Tempest in the lobby. The mystery of who temporarily joined her on the high score list is my favorite inconsequential subplot.
I like that her casual willingness to "make it" with the projectionist (Michael Bowen, JACKIE BROWN) and others is never shamed or judged, as it might in other movies (unless she was a guy). I suppose the ending (SPOILER) implies that settling down to be a wife and mom is better, but at least Sam is allowed to live a life of adventure, driving off with the one-time sixth-place Tempest scorer. And I read Reggie's fate more as an endorsement of finding the family that makes you happy than about fulfilling some societal expectation to mate, spawn and die. Sam and Reggie hate their deceased stepmother, but Reggie and Hector's rescued/adopted kids are probly in a better place (not withstanding the empty post-comet world they've inherited).
Sam is an unexpectedly dimensional character as well. Though wearing a cheerleader uniform for most of the movie and getting jealous over boys, her gallows humor and non-hysterical vulnerability make her more human than is standard for this type.
The think tank scientist Audrey (Mary Woronov, DEATH RACE 2000, THE HOUSE OF THE DEVIL) is yet another strong female character. She reminds me ofs DAY OF THE DEAD's Sarah and ALIENS' Ripley with her quiet, bitter, don't-give-a-fuck-what-you-think-I'm-gonna-stand-up-for-my-opinion disagreement. The movie plays with our assumptions about these characters' intentions in an enjoyably devious way. Also, Geoffrey Lewis (DOUBLE IMPACT, ONLY THE STRONG) is part of that group. Always good to see Geoffrey Lewis.
By the way, part of the mythology is that the last time the earth passed through the tail of a comet like this it was what killed the dinosaurs. It makes you wonder if there were any dinosaur teens that stayed in caves and survived like this. If this movie ever hits the remake block they should do it as a premaquel – shot-for-shot remake, but with dinosaurs.
Before NIGHT OF THE COMET, writer/director Thom Eberhardt made his debut with SOLE SURVIVOR, known for having basically the same premise that became FINAL DESTINATION, but he mostly did comedies: THE NIGHT BEFORE, WITHOUT A CLUE, GROSS ANATOMY CAPTAIN RON. He also wrote but did not direct HONEY I BLEW UP THE KID. No shame in that, but I never would've guessed he had a nice little gem like this in his past.
This entry was posted on Tuesday, October 3rd, 2017 at 11:51 am and is filed under
Horror
,
Reviews
,
Science Fiction and Space Shit
. You can follow any responses to this entry through the
RSS 2.0
feed. You can skip to the end and leave a response. Pinging is currently not allowed.