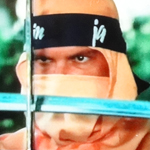 As I'm sure I've told you before, one advantage as well as disadvantage of the ancient tradition of the video store is that you find random weird stuff you weren't looking for and end up renting it. This is how I became aware of NINJA KILL. Two of the reasons I rented NINJA KILL:
1. It's called NINJA KILL
2: This is the cover: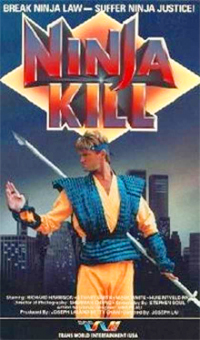 Note the tagline: "BREAK NINJA LAW – SUFFER NINJA JUSTICE!" Words to live by, in my opinion.
This is the story of Ninja Master Gregory (Richard Harrison, HIGHWAY TO HELL) and how one day he's sitting on top of a picnic table wearing a Hawaiian shirt and a friend from the ninja community comes to give him a tip about an impending assassination plot involving ninjas. He has to pay $5,000 for the information (interestingly he seems to be able to pay this with five bills) and then his informant is immediately killed by another member of his yellow-uniformed ninja clan. (read the rest of this shit…)
VERN has a new action-horror novel out called WORM ON A HOOK! He has been reviewing movies since 1999 and is the author of the film criticism books Seagalogy: A Study of the Ass-Kicking Films of Steven Seagal and Yippee Ki-Yay Moviegoer!: Writings on Bruce Willis, Badass Cinema and Other Important Topics as well as the crime novel Niketown.