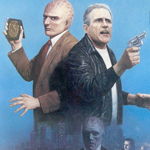 A premise like ALIEN NATION's is as rare a mineral as unobtainium. It alchemically melds two seemingly unmixable genres ('80s cop thriller and sci-fi alien movie) in a way that organically lends itself to social commentary within pop entertainment. I wouldn't say ALIEN NATION succeeds wildly in those goals, but it gets the job done and just the conception of it is so beautiful it can get away with coasting.
At its heart it's a standard-issue interracial buddy cop movie. Like Dirty Harry and a million other movie cops, Detective Matthew Sykes (James Caan)'s partner dies, and he tries to solve the case with a new partner who happens to be from a different culture, and has a very different personality and approach to law enforcement. Like Tyne Daly in THE ENFORCER, Detective Francisco (Mandy Patinkin, DICK TRACY) is part of an advancement program to promote diversity, and is receiving rejection and resentment from the usual self-centered-backwards-afraid-of-change-knuckledragging-anti-progress assholes. Sykes isn't any more enlightened than his bros, but he knows Francisco is on a case that might be related to the guys who killed his partner.
So Sykes says culturally insensitive things, insults his partner, makes a fool of himself, but starts to learn, they get to know each other, they bond with each other, he changes his perspective, starts to stand up against racism from the other cops, all while they go after the killers.
But Francisco is different from other cops who are different, because he's not just a different race or gender from Sykes, he's from a different planet. He's a Newcomer, an alien. Three years ago they arrived in "an intergalactic slave ship," but they're genetically engineered to be highly intelligent and adaptable, so they've already integrated into human society much more than the ones in DISTRICT 9 did. They have large, bald heads with distinctive spots on their skin, but they're humanoid so they just wear suits and ties and sunglasses and shit like anybody else, and they take on human names and jobs and try to fit in like any immigrant in America. (read the rest of this shit…)