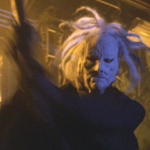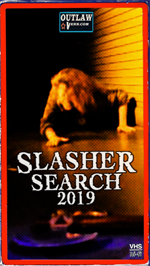 One problem with doing Slasher Search every year is that I've watched so many vaguely similar movies that they really blend together. It's disturbing how many times I've looked at a box having little idea if I've seen it or not. So when I came across RUSH WEEK I had to think it through. I'd seen FINAL EXAM, THE HOUSE ON SORORITY ROW, KILLER PARTY, SORORITY HOUSE MASSACRE, THE INITIATION, GIRLS NITE OUT… but no, this was an '80s college campus slasher movie I had not seen.
At least it was supposed to be an '80s movie. It was made in '88, but it went straight to video in '91. So it's from when Chucky and Maniac Cop were born, HELLRAISER, PHANTASM, SLEEPAWAY CAMP, RETURN OF THE LIVING DEAD and FRIGHT NIGHT were at Part II, and Michael Meyers was returning, but it came out when SILENCE OF THE LAMBS was best picture and they were killing off Freddy and moving on to finding people under the stairs and shit. It was left over from another era, not just in its approach to horror, but in its glorification of dumb fraternity assholes. It sort of centers on frat president Jeff Jacobs (Dean Hamilton, who went on to write, direct and produce such films as SAVAGE LAND starring Corbin Bernsen and BLONDE AND BLONDER starring Pamela Anderson and Denise Richards) and his rivalry with some other more preppie frat. They play such hilarious pranks as going to the other house's presentation to tell parents "we're the first homosexual fraternity on campus" and replace part of a film they're showing with gay porn. (read the rest of this shit…)
VERN has a new action-horror novel out called WORM ON A HOOK! He has been reviewing movies since 1999 and is the author of the film criticism books Seagalogy: A Study of the Ass-Kicking Films of Steven Seagal and Yippee Ki-Yay Moviegoer!: Writings on Bruce Willis, Badass Cinema and Other Important Topics as well as the crime novel Niketown.