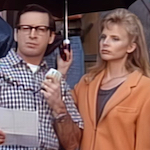 "They're nerds. With their advanced knowledge of computers they can get any information they want!"

REVENGE OF THE NERDS is about as '80s of a movie as could exist. Raunchy sex comedy, fraternities, evil preppies, cartoonish nerd characters, gay stereotypes, Asian stereotypes, things that are now recognized as sex crimes played as fun hijinks, a part where they rap very badly. Those things weren't entirely washed away by the new decade, but they became less common. You weren't really gonna see many movies like that on the big screen anymore.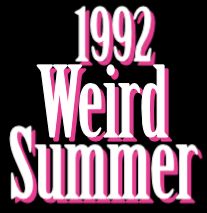 But that didn't stop those vengeance hungry nerds from seeking further retribution on network television! I don't remember being aware of this at the time, but REVENGE OF THE NERDS III: THE NEXT GENERATION aired at 8 pm July 13, 1992 on Fox. According to tvtango.com it rated lower than its competition: repeats of FBI: The Untold Stories, Evening Shade and The Fresh Prince of Bel-Air. Also its last half hour overlapped with coverage of the first day of the Democratic National Convention.
The director is Roland Mesa, who had only previously directed an interview with Tim Burton about EDWARD SCISSORHANDS, and only followed with a 1994 episode of Tales from the Crypt that was the first credit for Ethan Suplee. But it has the same writers as the theatrical movies, Steve Zacharias & Jeff Buhai. Guardians of the REVENGE OF THE NERDS saga. (read the rest of this shit…)