This year it was a rough start to my annual October quest for decent slasher movies of the '70s and '80s that I haven't seen before. I checked the horror sections at the video store for VHS tapes, figuring if it's not on DVD yet it's gotta be obscure. The one I picked though was BLOOD LAKE. I was working on the theory that if it has "lake" in the title it must be a FRIDAY THE 13TH rip-off and therefore the kind of thing I'm looking for. Maybe something derivative but fun like THE BURNING. Wrong. I put it in and turned it off in about 20-30 seconds when I realized it was shot on camcorders. Sorry, I gotta draw a line somewhere. Affordable video cameras may have been democratizing… or maybe they were the first step toward anarchy.
So it was back to the drawing board. I abandoned the VHS idea and went for a school-themed slasher on DVD, a way to ease my transition from my September back-to-school reviews to October's horror avalanche. FINAL EXAM is one the company BCI dug up and flopped onto DVD. I never heard of it, but it was shot on real film. Isn't that professional? I was impressed.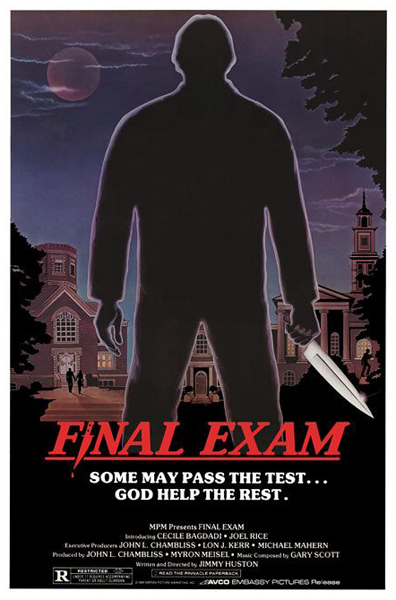 Other than that, though, it's a terrible movie. None of the horror works, but it's good for a few unintentional laughs. You know my theory on slasher movies – formulaic is allowed. Original twists are encouraged, but so are well-executed rehashes of old favorites. The classic slasher structure is built that way because it works, so if you're gonna restructure it you better know what you're doing.
FINAL EXAM is only original in the things it doesn't do, not in anything it does. But it doesn't feel like a deliberate attempt to subvert the formula – just somebody who didn't know how to follow it or didn't want to expend the effort. This movie is actually a good argument for strictly following a formula. It works for a reason. These guys aren't good enough cooks to go off recipe.
The movie opens with a couple making out in  a parked car near a college, they hear a noise, guy murders them, etc. Then it goes to a different college where it introduces a set of obnoxious one-dimensional characters – a couple fraternity pricks, a couple girls, an effeminate supernerd named Radish who's obsessed with serial killers and has a bunch of horror movie posters on his dorm wall (THE CORPSE GRINDERS, etc.). Always gotta be somebody that has some horror movie posters in a horror movie, or some Halloween masks or Fangorias or something, or they're named after a horror director. If you have a bunch of references to a horror movie in you… you just might be a horror movie.
The funniest/worst character is an asshole jock who everybody likes because he burps in class, randomly tackles people and eats whip cream. In other words he's a total wildman, which explains why he wears a jersey that says "WILDMAN" for the entire movie and why his name is Wildman. Wildman and his frat brothers sell stolen test answers and pills out of their frat house. They also kind of seem like you're supposed to like them, like they're the good guys. I'm not sure. We know from PORKY'S and POLICE ACADEMY that good guys are skilled at practical joking, which is the case with these dickheads. They stage a fake massacre that causes Radish to call the police and announce, "It's happening. The psychopaths are here."
There's a whole thing with a hazing and a new couple and other stuff. The dialogue and acting are bad – not in the way that normal people who aren't into horror movies always accuse horror movies of being bad. I'm talking bad compared to that. So it's not exactly effective melodrama. I feel confident in saying that you will not have much emotional investment in what happens to these individuals.
I don't know if I can really convey what the conversations are like in this movie, but I'll try by quoting a typical line: "I should've had a salad… instead of this spaghetti." This is the type of thing they talk about.
The music sounds kind of like somebody playing "Tubular Bells" wrong. The camerawork is crude except for a couple parts where they try to get tricky – in one scene the camera follows a lunch tray into a dumwaiter and down to the kitchen where it focuses on one of the cafeteria workers and then goes outside to a parked van. It seemed like a red herring shot – "look at this guy, isn't he suspicious?" – except a red herring for what? Is there even a mystery here? So far there's no sign that the killer is on campus, or even still killing. Maybe it was a one time deal. He's not walking around or stalking anyone, we haven't seen him. In fact there's not another killing until 54 minutes in. Then the guy shows up – just a guy, no mask or gimmick – and kills most of the characters. Mostly they wander one by one into a dark gym where he is apparently milling around waiting for them. There's one kind of funny part where a guy tries to shoot an arrow at him from down some stairs, but he catches the arrow and runs down the stairs and stabs the archer with his own arrow.
But other than that there aren't really "good kills" or Savini-style effects. And there's no question or explanation of who he is, where he came from or why he's doing this. He's just some dude. Maybe that's more realistic, but it's less interesting. I mean, this almost doesn't count as a character, he doesn't have a personality. He's just a guy who walks and kills, there's nothing else. Give us something here. Throw us a bone. We're watching the movie, you might as well have stuff in it, in my opinion.
There are some laughs with Radish though. He's a good slasher movie nerd, like Shelly from FRIDAY THE 13TH 3D combined with McLovin from SUPERBAD. I like when he finds a body, calls the police, but they think he's crying wolf. When he gives up on convincing them to help he says, "Okay then, I'll be in charge!" Then he goes and gets himself killed. (Spoiler.)
The release year was 1981 (the year after FRIDAY THE 13TH), the writer/director was Jimmy Huston, who also did MY BEST FRIEND IS A VAMPIRE. I don't think he's related to John Huston, except in the sense that all men are brothers. It's hard to really say I've seen worse, but I've definitely seen more boring. So I don't regret watching this one that much. Even if it doesn't pass the test!
You get it? Because of Final Exam.