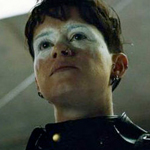 It's fair to say that earlier in the century The Girl With the Dragon Tattoo was a pop culture phenomenon. Stieg Larsson's three novels, posthumously published starting in 2005, were worldwide hits. I enjoyed the stories through their 2009 Swedish movie adaptations (THE GIRL WITH THE DRAGON TATTOO, THE GIRL WHO PLAYED WITH FIRE, THE GIRL WHO KICKED THE HORNET'S NEST) which launched their star Noomi Rapace (PROMETHEUS, PASSION, DEAD MAN DOWN, THE DROP, CLOSE) into international movie stardom, and their leading man Michael Nyqvist into spending his last years playing bad guys in Hollywood movies including ABDUCTION, MISSION: IMPOSSIBLE – GHOST PROTOCOL and JOHN WICK (where he delivers the best syllable: "Oh."). David Fincher's 2011 English language take on the first book was pretty great and even got Rooney Mara an unlikely but well-deserved Oscar nomination.
But it wasn't a big enough hit to justify a sequel budgeted for Fincher, Mara and Daniel Craig, so after years of haggling they went with plan B: a lower budget sequel with new director and cast, based not on the next in the trilogy but a continuation written by new author David Lagercrantz. And nobody really seemed to be waiting for that.
Except me! Selling point #1: director Fede Alvarez, who really impressed me with EVIL DEAD and DON'T BREATHE. Selling point #2: less grim and rapey, more fun and actiony. You still got the trademark fucked up and fetishy shit of the snow-bitten Larssonverse, but in this one our heroine is never sexually assaulted, but does have high speed chases on multiple vehicle types. Hot move: ditching police cars by jumping your motorcycle onto a frozen lake. (read the rest of this shit…)
VERN has been reviewing movies since 1999 and is the author of the books SEAGALOGY: A STUDY OF THE ASS-KICKING FILMS OF STEVEN SEAGAL, YIPPEE KI-YAY MOVIEGOER!: WRITINGS ON BRUCE WILLIS, BADASS CINEMA AND OTHER IMPORTANT TOPICS and NIKETOWN: A NOVEL. His horror-action novel WORM ON A HOOK will arrive later this year.