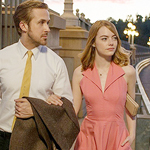 LA LA LAND is a straight up musical from Damien Chazelle, writer of the music-themed thriller GRAND PIANO, director of the thrilling music movie WHIPLASH. Instead of heart-pounding tension this time he goes for brazen, shameless romance – romance for the idea of falling in love, and for the city of Los Angeles, its history and the potential it represents for aspiring actors and musicians.
I was a little skeptical when it started. The opening, where Los Angelenos temporarily abandon their gridlocked cars for a long-take song and dance number on the freeway overpass that the bus jumped from in SPEED, has a whiff of Old Navy commercial cuteness, and the story of an actress from a small town struggling to make it in big ol' Hollywood and she's not looking for a guy but her friends drag her to a party and just when she least expects it… well, it seems a little too straight up exactly the corny old cliche. But as soon as it's zeroing in on the specific lives and personalities of the two people about to meet and bicker and flirt and fall in love and chase their dreams together and apart, all of that corniness becomes a strength. These two are too charming and funny for you not to kinda fall in movie-love with them yourself, or at least feel a buzz of vicarious courtship.
Mia (Emma Stone, The New Partridge Family) is a put-upon WB-studio-lot-barista limping through humiliating auditions. The one where she has to pause for interruption during a tearful phone call is a great acting-within-acting scene on the level of that audition in MULHOLLAND DR. Sebastian (Ryan Gosling, Young Hercules) is a jazz-legend-worshipping pianist who wants to open a club but can't pay his bills or keep his shitty gigs. The first two times they see each other are random encounters, repeated throughout the movie: him honking his car horn at her, her hearing his music drifting out of somewhere and floating to him like Toucan Sam.
I think piano is a beautiful instrument. It's the movement of fingers making little hammers hit strings, causing vibrations that can go from a gentle whisper to a riotous tune and back again. And there's something inherently lonely about the way it sounds on its own. The hands of a great pianist can bring life to a complex piece carefully composed and charted like a mathematical equation centuries ago, but they can also be loose and improvisational and sing the blues with a voice that you have to hold your breath to hear until it builds and fills the room without amplification. So I was delighted to realize how much of this movie's emotions would be expressed through this instrument.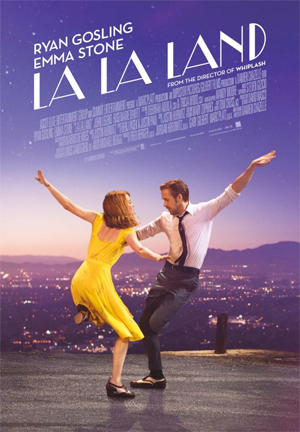 The music is composed by Justin Hurwitz (who also did WHIPLASH and Chazelle's first musical, GUY AND MADELINE ON A PARK BENCH), lyrics by Benj Pasek and Justin Paul (TOM & JERRY: BACK TO OZ). The featured pianist Randy Kerber did a similar job for SAVING MR. BANKS and BEHIND THE CANDELABRA (which he was also Michael Douglas's piano coach for). Hats off to Liz Kinnon (here is a 1998 article about her and a band she was in called Jazzbirds), who was piano teacher and coach to Gosling, because I always wonder how the hell an actor makes it look like he's really playing piano. While the vocal musical scenes aren't my preferred style, there is plenty of instrumental jazz that sounds good at least to a casual listener like me, and I like the conversation where he's talking about his passion for jazz and realizes she's thinking of smooth jazz.
This is a movie wearing its heart on its sleeve about artists following their dreams. Its questions about what one must compromise to do that make for a more obvious philosophical debate than the one explored in WHIPLASH, but I think Chazelle adds a few subtle shades to it. Sebastian is unerringly encouraging about Mia's one-woman show, and goes to extreme lengths to prevent her from throwing in the towel. But he also disappoints her when he decides to make pragmatic concessions for his own career. Chazelle is too kind to depict it as a total sellout. It does seem that Sebastian's stubbornness was holding him back, that this band's not terrible, and that he's having fun playing his rock-star black-keyed keyboard in front of big crowds. That's gotta be more fulfilling than his previous job of playing "Rudolph" in the background while people eat dinner and talk and his boss (J.K. Simmons, JENNIFER'S BODY) glares at him to make sure he doesn't play anything he likes.
Chazelle uses a couple very effective storytelling and timeline gimmicks, but it's mostly very simple. I felt his filmmaking had complete control of me in a less painful way than WHIPLASH, but (IMPLIED SPOILER) it's not all smiles and hugs. It finds a beautiful type of sadness, a heartbroken regret mixed with gratitude for memories of the good old days. An old fashioned "The End" title card recalls the nostalgic Hollywood fantasies that lured them to this life, and at the same time seals the ending as just-right melodrama.
As much as I loved this movie, I have to share a tweet that demolishes it in one sentence:
LA LA LAND (2016): A white Canadian keyboard player dreams of saving jazz music by opening a fried-chicken restaurant.

— Eric Allen Hatch (@ericallenhatch) December 25, 2016
So, for the record, I will say that I do not believe there is some white dude in L.A. that's gonna save jazz. But there is another dude in L.A., Kamasi Washington, a saxophone player who put out a great 3-disc album called The Epic this year. This is a guy who toured in Snoop Dogg's band and played on Kendrick Lamar's To Pimp a Butterfly. The album is pretty retro spiritual jazz kind of stuff, it's not trying to blend with modern styles. But in interviews he talks about getting his friends growing up to listen to Charles Mingus along with N.W.A. I think his opinion (if not style) is closer to Sebastian's than the character played by John Legend, who believes they have to modernize their music to attract an audience. Or as Wesley says in MO' BETTER BLUES, "if you played the shit that they like then the people would come. Simple as that."
I sympathize with L.A. people who worry that LA LA LAND will inspire and embolden a generation of fake ass wannabe Sebastians wearing two-toned shoes and trying to talk about jazz and shit when they can't cut it. But, you know, it's not a fictional character's fault that a real person can't live up to them. THE MATRIX is still a great movie even though it led to years of unfortunate trenchcoat usage.
It's easy to imagine a version of this done a little bit differently that I would hate. And those not really attuned to its particular brand of cutesiness will find it unbearable. But I think the two leads are the crucial ingredients. Since SUPERBAD, Emma Stone has been the master of the romantic lead with a down-to-earth vulnerability that makes her as relatable as crushworthy. The story begins from her point-of-view and never prioritizes the dude's perspective or goals over hers. And he's allowed to have an even split of sincere-sweetheart and goofy-fuck-up. I'm not trying to brag or nothing but I honestly haven't seen THE NOTEBOOK so I don't know if he's a straight forward dreamboat hunk in that one, but here he's not that. He reminds me of his comic persona from THE NICE GUYS. You root for him but also chuckle a little when he gets embarrassed.
During one of the key songs (which I predict will deny Lin Manuel Miranda his E.G.O.T. this year) Stone unironically toasts "to the ones that dream." It reminds me of the climax of THE MUPPET MOVIE, a moment that often makes some dude tear up, I forget who it was but not me probly, I think it was someone else. THE MUPPET MOVIE has more layers to its "life's like a movie / write your own ending / keep believing keep pretending / we've done just what we've set out to do" lyric because it's not just an individual or a couple chasing their dreams, it's a large group of misfits who have become a makeshift family and you know as these puppets sing about it that they're also describing exactly what Jim Henson and his friends truly believed and achieved and it's absolutely beautiful, one might say, if they were that sort of person who gets choked up by that kind of thing.
So, this is no THE MUPPET MOVIE, but like a Muppet movie it's warm, sweet, uncynical, funny and clever. It hit me hard enough that I came home and added it under KILL ZONE 2 (so at #2) in a critic's poll I was voting in. A couple weeks later the feeling is still with me and so far I have not regretted that rash decision. It's pretty good, you guys.