SPLICE is a monster movie by Vincenzo Natali, the guy who did CUBE all those years ago. Remember that one? Really good concept, pretty good execution, but you really want to like it so it gets by. Same thing here.
Academy Award winner Adrien Brody and Academy Award nominee Sarah Polley play a married (?) team of scientists working to harvest useful proteins from a new species they've genetically engineered. They got two of them named Fred and Ginger (get it? They're named after Fred Flinstone and Ginger Baker), two dog-sized lumps of CGI flesh shaped kind of like maggots but mostly like dicks.
I like how casually the movie introduces these dick monsters, but I gotta say, enough with the phalluses, fellas. Yeah, Mr. Giger did well with a penis-shaped head on his Alien, the idea I guess being that a subliminal genital look will make you uncomfortable (or make you buy Camel cigarettes). But that was more than 30 years ago. In my opinion the "shaped like a dick" train left the station a long time ago. It's limp and unimpressive now. I think it's supposed to be disturbing, but it just seems kind of gay. And this is 2010. Gays are our friends, they're not scary.
By the way, Brody and Polley's characters are named Clive Nicoli and Elsa Kast (get it? They're named after Clive Owen and Ilsa: She-Wolf of the S.S.). After the boss short-sightedly shuts down Clive and Elsa's project they rebelliously decide to do an off-the-books experiment splicing animal and human DNA, just to prove to themselves that they can do it. They don't actually do this as part of a deliberate plan – Elsa runs in giggling and locks the door before she fertilizes the embryo. Mad science meets tickle fight.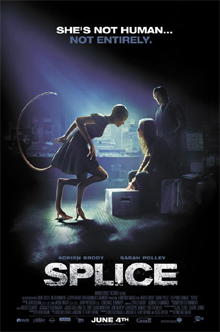 Then they keep taking things farther than planned. They don't intend to bring it to term, but it grows so fast it takes them by surprise. So they have the thing there, they think well, it's not gonna live very long, we might as well keep it around, study its life cycle. Next thing you know it's their daughter, Elsa's giving it Barbie dolls and putting makeup on it. She names it "Dren" because that's "nerd" backwards. I don't get it either. Sometimes I think it's supposed to be really quirky, but I can't quite translate it. Maybe Canadian quirk is different, like how they spell it "colour" instead of "color."
Anyway, Dren is born looking like (what else?) a penis, but grows into a humanoid girl with a circumcision scar on her bald head. She has big eyes spread out too far on her head, she has legs like a goat and a tail with a stinger and other things most girls don't come equipped with. The effects are real good – not always looking real, but always looking cool. We see her at many different stages and ages including facehugger, toddler, little girl and grown woman trying to look attractive (Delphine Chaneac). She has some funny flashes of character, like a scene where she runs off and eats a live rabbit, turns around and smiles stupidly with its blood all over her face.
There's something a little off about the movie, maybe it's the way it portrays these scientists as sort of irreverent ex-punks who wear cool t-shirts and have military patches on their lab coats. For alot of the movie they don't really take it seriously, which somehow cuts down on the amount of dread I think. But there are outrageous touches here and there that won me over. I like the scene where they reveal Fred and Ginger to the scientific community at large. It's not ED-209 disastrous, but pretty fuckin bad. Not only do those penises turn savage and kill each other, but their tank falls over and an explosion of glass shards and monster blood pelts the front couple rows in the face. They weren't ready for this, they didn't know it was gonna be a Gallagher show.
And the craziest thing that happens – I'm just gonna come out and say it, so this is a big fuckin SPOILER: Adrien Brody fucks the monster. It makes a pass at him and he pushes it away, does the whole "We can'd do this, this is wrong" routine, then just gives in and goes for it 110%. I mean, there is some passion here. Goin at it like the rabbits she eats.
You know, it's like that Clive Barker thing, the idea that all guys wanna stick their dicks in a monster. But this is way worse than boning the porcupine lady in NIGHTBREED, this is that combined with Woody Allen and his stepdaughter. Shit, worse than that even. Maybe it's not his DNA, but he conceived her – he and his lady came up with the idea, they combined the DNA, they made her. He's playing God and playing dad and now he's fuckin her? It's gross because she's a monster, and because he's her dad, and because he's in a long term relationship, and mostly because this girl doesn't talk, she just makes chipmunk noises. I mean come on, man.
The potential of cloning humans brings up so many ethical quandaries. Is it our place to artificially create human life? How do we know we won't fuck it up and create some kind of new disease, or create unhealthy beings that live a life of pain? Is a cloned human equal to a born human, or because we created it is it lesser, is it our property? Is it as bad to kill a clone as a human? Since we created it do we have the right to alter it, like when Elsa tries to remove Dren's stinger?
There are so many questions to consider, but Clive mostly considers "what are the best positions to fuck your monster daughter in?" It's so damn wrong, so I love that the movie isn't timid about it. It doesn't fade out. It's pretty graphic. She mounts him and sprouts wings! The one thing missing is a couple hundred candles dripping all around, like it's supposed to be real sexy, that would be good. Maybe dripping some wax on each other, or twisting a wet towel. Or the ice cube thing from DO THE RIGHT THING. Or the pottery from GHOST. They fuck on the floor which I guess is passionate but it would be funny if at the end of the scene they did that movie thing where she's laying in bed with the blanket tucked under her arms perfectly covering her breasts.
The thing that's crazier than Academy Award winner Adrien Brody fuckin a monster is the way the movie treats him afterwards. Yeah, there's some good shame when his girl catches him monsterfucking. He doesn't know she saved him from being stung to death, but if he knew he'd probly wish she hadn't. But after a few scenes with his head hung low they stop making a big deal about it. It still treats him as a reasonable, sympathetic protagonist, not an over the edge nutball. It's like ah, come on. You'd fuck your monster daughter too. Don't front.

Actually the DVD cover makes it sound like Peter Travers would fuck his monster daughter. It says "A potent and provocative thriller. Sexy and scary in equal doses!" How else can you interpret the "sexy" part? That's gotta mean he wants to fuck his monster daughter, right? You're creepin me out, Travers. But it's rare that a quote whore blurb unintentionally offers a peak into the writer's dark sexual fantasies. So in a way he's advancing the artform of film criticism with this breakthrough.
Nah, I'm gonna give him the benefit of the doubt and assume he's just saying that it's not at all scary, and therefore not at all sexy.
SPLICE doesn't entirely work. It's just too undisciplined to be the kind of deeply unsettling but darkly hilarious tale that it oughta be. Still, I can't write off a movie with a monster this cool and with a pretty good sized craziness streak. I thought treating Clive's behavior like it's not that out of line was so out of line that I kind of respected the movie and its cinematic balls. But come to think of it I would've liked it better if Clive turned all Humbert Humbert at that point. He crazily declares his love for Dren and tries to run off with her and marry her. "You don't understand! I love her!" he cries, clutching her hand possessively, and she's hunched over chattering like a squirrel.
This entry was posted on Wednesday, October 6th, 2010 at 2:51 am and is filed under
Horror
,
Monster
,
Reviews
,
Science Fiction and Space Shit
. You can follow any responses to this entry through the
RSS 2.0
feed. You can skip to the end and leave a response. Pinging is currently not allowed.