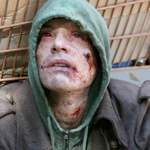 As I've mentioned once or twice, CANDYMAN might be my favorite horror movie of the 1990s. And I remember director Bernard Rose's PAPERHOUSE being very good too when I watched it in the 1980s. But most of his movies have not been horror. Didn't seem to be his thing. So I was intrigued when I found out that all the sudden in 2015 he did a new version of FRANKENSTEIN.
This is a modernized take on Mary Shelley's story. The monster is not some stitched together green guy, he's just a regular full grown man (Xavier Samuel, THE LOVED ONES, FURY) suddenly born in a secret lab through unexplained genetical engineering type methods. Victor Frankenstein (Danny Huston, THE WARRIOR'S WAY, 30 DAYS OF NIGHT, BIRTH) is there, but it's his wife Elizabeth (Carrie-Anne Moss from the fucking MATRIX!) doing the important work now: cuddling him, shushing him, feeding him with an eyedropper. (read the rest of this shit…)
VERN has been reviewing movies since 1999 and is the author of the books SEAGALOGY: A STUDY OF THE ASS-KICKING FILMS OF STEVEN SEAGAL, YIPPEE KI-YAY MOVIEGOER!: WRITINGS ON BRUCE WILLIS, BADASS CINEMA AND OTHER IMPORTANT TOPICS and NIKETOWN: A NOVEL. His horror-action novel WORM ON A HOOK will arrive later this year.