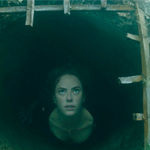 Both the weakness and the strength of CRAWL is how simple and slight it is. On one hand, I felt like it was already dissipating from my brain by the time I got home. On the other hand it's refreshing to see something that just gets in there and gets it done and says "okay, bye." It's a monster movie meets disaster movie – alligators attack a house during a hurricane – but it doesn't fuck around with any before and after or unneeded explanations.
When Haley (Kaya Scodelario, CLASH OF THE TITANS) gets out of the opening credits swimming practice, the hurricane is already approaching. When she tracks down her not-answering-his-phone dad (Barry Pepper, THE THREE BURIALS OF MELQUIADES ESTRADA) in the crawlspace under her childhood home, he has already been bitten by a huge alligator. I think only one sentence of dialogue is spent on speculating how the gators got in there (later confirmed visually), and not one word on why they're so big. It takes place over one day, it's all over in 87 minutes and it concludes with a freeze frame. No wind-down, epilogue or sequel tease. That'll do, pig. (read the rest of this shit…)
VERN has a new action-horror novel out called WORM ON A HOOK! He has been reviewing movies since 1999 and is the author of the film criticism books Seagalogy: A Study of the Ass-Kicking Films of Steven Seagal and Yippee Ki-Yay Moviegoer!: Writings on Bruce Willis, Badass Cinema and Other Important Topics as well as the crime novel Niketown.