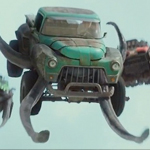 MONSTER TRUCKS is literally about monster trucks. This is a movie about an oil company drilling through a pocket of water deep beneath the earth, accidentally releasing a huge, squid-like creature who crawls into a junkyard and hides inside the chassis of a teen's crappy pickup truck. Soon the teen discovers that the creature can wrap its tentacles around the axels and spin them, basically acting as its engine. Also it eats oil and it can not only drive and steer the truck but jump and bounce and climb up walls and shit.
So this teen, Tripp (Lucas Till, aka Havok in X-MEN and TV's new MacGyver), names the monster "Creech" and drives around in him like extreme E.T. But he has to hide him from a private security team led by cruel Burke (Holt McCallany, CREEPSHOW 2, TYSON, BULLET TO THE HEAD, BLACKHAT, JACK REACHER: NEVER GO BACK) and, like Free Willy or the T-800 or somebody, get him back home. He does it with the help of his squeaky-voiced biology tutor Meredith (I had no idea that was Jane Levy, star of EVIL DEAD and DON'T BREATHE) and a conscience-stricken scientist from the oil company (Thomas Lennon, HERBIE FULLY LOADED). (read the rest of this shit…)
VERN has a new action-horror novel out called WORM ON A HOOK! He has been reviewing movies since 1999 and is the author of the film criticism books Seagalogy: A Study of the Ass-Kicking Films of Steven Seagal and Yippee Ki-Yay Moviegoer!: Writings on Bruce Willis, Badass Cinema and Other Important Topics as well as the crime novel Niketown.