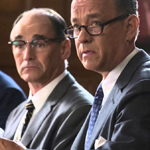 It's like a whole bridge full of spies. Or at least, there are a couple spies on this bridge. It's the climax of the story, two countries meeting up one cold night to trade prisoners. I guess that's where the title comes from.
Tom Hanks plays James Donovan, who is not a spy. He's just a lawyer who, through luck, foresight and principles, ends up rescuing a downed American spy pilot in this true Cold War story.
When we first meet him Donovan seems far from an American hero. He's an insurance company lawyer in a bar having an argument where he's comparing motorcyclists run over by a truck to bowling pins. But when the Russian spy Rudolf Abel (Mark Rylance, BLITZ) is captured, somebody (Alan Alda) decides to give Donovan the shit job of defending him. What nobody expects is that he will take the job seriously.
They tell him he should defend Abel to show that America believes in giving everybody a fair trial. But of course none of these people want to actually give him a fair trial. They're angry and confused when Donovan tries to, like, do his job. But his attitude is that if we're gonna brag about what we stand for then we should put in the work to actually stand for that.
I gotta be honest, if I didn't know this was a Steven Spielberg movie I would never have seen it. The trailers and the poster really make it look like a chore. You can picture the righteous speeches and triumphant music as a Regular Man stands up for noble ideals in court rooms and wintery period settings. And don't get me wrong, this is a movie for grown ups. It is a 2 hour, 21 minutes drama starring Tom Hanks about the Cold War and the idea of America. That is true. But it's way more fun than the trailers make it out to be. It's not that dry, and it's got plenty of laughs. It's entertaining. It's Spielberg. (read the rest of this shit…)