So Mandela (Morgan Freeman) has just been elected president of South Africa. The headlines ask, "He can get elected – but can he run a country?" Mandela says it's a legitimate question.
Apartheid ended a few years earlier, but the white Afrikaners still aren't ready for this. In his first day as president he has to make a speech explaining to the white people in his office that no, contrary to rumors they are not fired. Whatever they did in the past is in the past. If they don't want to work with him then fine, pack your shit (paraphrase), but otherwise he needs you so stay and do what's right for the country.
The mistrust goes both ways. Mandela's head of security (Tony Kgoroge) knows this is gonna be a tough job, but when he asks for more men Mandela gives him a bunch of white South African cops, the enemy of the African National Congress. He has every reason to believe these scary motherfuckers could plan an assassination themselves, but Mandela wants them for their symbolic value. If he goes around with an integrated security team then that says something. What else can he do, really? Somebody's gotta put their toes in the water.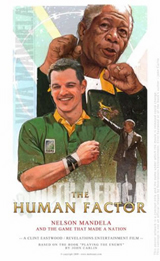 Attending a rugby game, Mandela notices that the black fans are all rooting for the other team, and he understands why. To black South Africans, the Springboks team and colors represent the old South Africa, they represent apartheid. In fact, the sports council is trying to change the name and colors and start over, like Marvel comics did with the Incredible Hulk movies. But Mandela knows the Ang Lee version is actually better and convinces them that the way to do it is not to abandon ship and find a new one but to keep the ship and make it into something people like.
(holy shit, that was a real metaphor pile there – a boat representing the movie HULK representing Mandela's rugby strategy which itself was a metaphor for South African unity which in this movie can also be read as a metaphor for the racial, political and cultural divisions here in the U.S… or at least I think so. More on that later.)
So if you've seen the trailer or heard the story before then you get an idea what this movie is – Mandela meets with the captain of the crappy Springboks (Matt Damon with blond hair and a South African accent) and tries to inspire him knowing that in turn his success could inspire the nation. And it works. The team makes it to the World Cup and (SPOILER) all races root for them.
There's all kinds of feel good business in here obviously. You got the underdog team pulling its shit together and more importantly you got the opposites begrudgingly learning to respect each other, the black people learning to love rugby, the white people learning to tear up at the new national anthem, the orphan street kid who refused a donated Springbok jersey now listening to the game on the radio with the white cops. Yeah, maybe I could be real cynical and say that it's manipulative, but fuck it, it worked on me. It's a story about great leadership (in government and in sports), about finding meaning in sports, about trust and forgiveness and getting along.
It's a true story but there's so much accidental symbolism popping up – like they face New Zealand (a team named "The All Blacks"!) in the world cup, and the team does a menacing Maori war dance before the game. It's as if to say come on guys, the New Zealand colonists and natives are trying to respect each other's cultures. It can be done. This is the '90s man, get it together!
And it's funny because you learn to really like this security team, and you understand their paranoia bringing their guy into a stadium full of tens of thousands of people. Then all the sudden you see this creepy white guy seeming to scope out the stadium before the game. Holy shit, is this turning into IN THE LINE OF FIRE? I mean, I know nothing happened, but I don't know this story. Maybe something almost happened? (If you saw the movie and you're wondering, like me, the historical accuracy of what happens there – apparently it's real but less insane. In reality they had clearance from the security team to do it.)
I guess now that we've mentioned IN THE LINE OF FIRE it's time to mention that INVICTUS is directed by Oscar winning director and legendary Badass Laureate Clint M.F. Eastwood. It's very much his style, very economical, sort of quiet and deliberate (almost stiff) for a while, long stretches with no music, or very minimalistic Eastwoody music by his son Kyle and some other guy. (Warning: there's a pretty terrible pop song called "Colorblind" in the movie and on the end credits, but otherwise it's Clint's classy, restrained take on South African influenced scoring.) But without any fancy tricks it gently folds you into the character drama and by the end you're completely swept up in the emotion.
Damon is good. He looks tougher than as Jason Bourne, but his character is a pretty straightforward nice guy. Just a dude staring into a call to greatness and saying, oh jesus, I guess I gotta say yes. His accent wasn't distracting to me – not sure how accurate it is. If I had to guess I'd say Thomas Jane was more accurate in STANDER, but I don't know.
Not surprisingly Freeman as Mandela is the key performance. I thought it was gonna have the usual problem of the recognizable actor playing the recognizable historical figure and not meshing, but I forgot that immediately. The accent and speech patterns are more impressionistic than impression, they're there but not full on. But man, he steps out of the usual Morgan Freeman character. So much of what he does is physical, the way he walks, the way he smiles, the way he sits like a frumpy old man watching the game. He gets exactly what he wants but in a more friendly and less forceful way than some of the typical Morgan Freeman characters. He inspires people instead of intimidating them. Also, he doesn't narrate. I'm sure he was tempted, but he didn't do it.
Apparently Mandela himself said that Morgan Freeman should be the one to play him (sorry, no dice Treach), and since then Freeman has been struggling to adapt his autobiography into a movie. Then this book came out and they realized this was a better way to do it, the ol' CAPOTE route of one story that tells you alot about the man, instead of trying to cram his whole life into a couple hours of film. The author of the book called the rugby game "an event that distills the essence of Mandela's genius, and the essence of the South African miracle." So instead of the story of Mandela being locked up for 30 years, then being let out and becoming president, they made an underdog sports movie. It just happens that the inspirational coach is replaced by the president, and one of the most important historical figures of the century. He's also like the workaholic dad, because he keeps having these important meetings and trying to sneak out to watch the rugby game. So it's satisfying as a portrait of Mandela and as a feel-good sports movie. How the fuck did they do that?
* * *
The title comes from the poem that Mandela kept written on paper in his cell. In the movie he gives it to Damon's character to inspire him, in reality I guess he gave him an excerpt from a Teddy Roosevelt speech. (I bet he also gave him "Oh! The Places You'll Go" by Dr. Seuss.) From what I've read there are lots of little details wrong, but it sounds like it's overall pretty accurate, not just dramatized bullshit. Part of what makes it feel real is that it's all shot in South Africa with alot of it in the real places – the real jail cell, the real stadium, it even has the exterior of Mandela's real home and interiors of real government buildings nobody's been allowed to shoot in before. (Hey man, this is Clint, give him the permit.)
So it's got a real South Africa texture, but it's an American movie with an American director and two American leads, and I couldn't help but think about it as a story about our country right now. These days most Americans agree that our country went in the shitter during the Bush years (whether they blame that on Bush or coincidence). But after a decisive victory for "hope" and optimism at the polls, various forces went about dividing our country more than ever. Admittedly we on the left are spending most of our time mad at each other (mainly the politicians bending over backwards to water down and compromise any chance at progress due to a combination of corruption and cowardice), but the right sure were quick about demonizing Obama as a Muslim, a socialist, and a foreigner. In the same way Dogme 95 was supposed to make filmatists more creative by taking away their usual crutches, right wingers have been very creative in going after Obama without being directly, openly racist.
Or that's how it looks to me. I hate those fuckers, and they hate me, but mostly Obama. None of us seem to be getting what we want, and it's hard to see anybody working together in the near future (if we try, god damn Joe Lieberman will figure out a way to ruin it). Shit, remember that Jeremiah Wright business? There are stupid white people just as afraid of Obama as the Afrikaners were of Mandela. You know, the type of white people who would cross the street if they saw Briant Gumbel coming the other way. But we do have this leader who symbolizes a change in our country (if not as big a one as Mandela did – or maybe bigger, considering this was the home of slavery). He's charismatic, he's convincing, he's (in some cases) trying new approaches. And maybe he needs to figure out what his rugby game is. He needs to get both sides singing that National Anthem together in unity, not trying to prove ownership.
I mean, obviously it's a movie about South Africa. It's moving because it really happened, because some of the worst shit to go on in the modern age, some bullshit that you never thought would end, really did end. But South Africa is about the world. If the South Africans could dismantle apartheid in our lifetime, then doesn't that mean we should be able to fix some of our problems?
Eastwood is so prone to greatness that he makes big statements on accident. For example, his last movie GRAN TORINO worked as an UNFORGIVEN style commentary on the non-western side of his screen persona, deconstructing the attitudes about race and violence in the DIRTY HARRY movies. But it was a script that wasn't even written for him, and when he had it rewritten he just had them change the location to Michigan to take advantage of tax breaks there.
The same thing might be true with this one. Not that he changed it to South Africa because it's cheap to shoot there, but that he saw it as a great story about Mandela and not necessarily about USA 2010. But when he says in an interview that it was "a chance to show an example of how a very charismatic person can affect a whole country by using his creative powers," I'm pretty sure it occurred to him that people want something like that from Obama. Or maybe Clint's just trying to get Obama to see the movie, sell another ticket.
* * *
The opening scene gave me chills. Some white kids are practicing rugby, while clearly-more-impoverished black kids are playing soccer on another field nearby. This is 1990, apartheid is being phased out, but they are still segregated, that's just how it is. A motorcade goes by, and the black kids run excitedly to the side of the road to chant, "Mandela! Mandela! Mandela!" Mandela has been released and he's being taken away from the prison. It reminded me of being in the streets chanting "Obama!" when we got our first black president, but of course this is something even more profound to these kids. They've lived their whole lives under apartheid, most of their parents have too. Who can believe this is happening?
But the white rugby kids don't even know what's going on, they have to ask their coach, who mutters something about Mandela being a terrorist and remember this as the beginning of the end. But the kids don't understand that either. They just watch, confused.
Thinking back on that scene today I realized the symmetry of the movie. It opens with that and it ends with white kids and black kids all playing rugby together. It says that a small thing, a silly thing, can be profound. Something as simple as throwing a ball around can heal the world if you know what you're doing.
.
.
.
Here's a good Guardian article about Morgan Freeman and the movie where I got the author quote from.