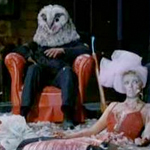 STAGEFRIGHT (aka DELIRIA, or STAGEFRIGHT: AQUARIUS as the title screen says) is a very stylish slasher/giallo type deal from Michele Soavi, Dario Argento's second unit director on TENEBRE and PHENOMENA who went on to be best known for directing CEMETERY MAN. This one is more obviously in the footsteps of his mentor than that one.
It begins in aggressive stylization, a big-haired model hanging out on a soundstage city street, suddenly strangled in an alley. But this is not real, these are all people working on some kind of avant garde musical or some shit like that. There's an overbearing, pretentious director, a bunch of primadonna dancers and actors and choreographers, some stage tech types, etc. And of course somebody is unhappy with something so they all get locked onto the soundstage and murdered one by one.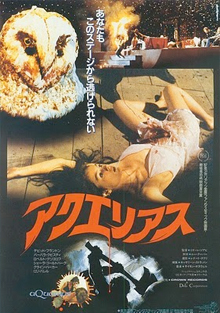 One of the performers plays an owl, he wears an over-sized owl mask, which gets stolen by the killer. So this guy is going around slashing people with a giant owl head. I wished he would leave pellets around, but no, just chopped off heads. You don't know what this guy's motive is, did he get fired from the production? Is he a rival choreographer? Is he trying to find out how many licks it takes to get to the center of a Tootsie Pop? He doesn't say.
Whoooooo is he? It's a mystery.
In the Argento tradition there are some pretty brutal deaths. A hatchet right in the mouth. Also some goofy little character bits. Two cops are in a patrol car outside keeping an eye on the place, no idea of the horrors going on inside. They're so bored out there and little do they know they have a job they could be doing. Anyway in one scene they cut to them and the officer in the passenger seat is reading a paperback about James Dean, looking at the cover and trying to hand-comb his hair to look like that. Made me laugh.
The music's not Goblin good, but it has some weird keyboard bloops that's the kind of thing I enjoy. And some enjoyably cheesy guitars like the Italians did back then. Not as wonderfully over the top as in PHENOMENA, but sort of in that vein. Why does the "Funky Drummer" beat fade in as a woman finds a handgun in a drawer under an issue of Time Magazine? And did you notice that the story on the upper right is something about Afghanistan and a "Three-Year Quagmire"? Yeah, maybe we don't have owl killers anymore but there are other problems in the world that never seem to change.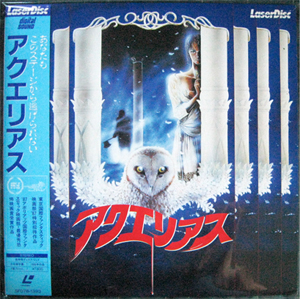 You know, I looked it up and the Guardians of Ga'Hoole books didn't start until 2003, so this has nothing to do with that. He's not trying to moonblink these people.
The movie suddenly gets real good when our final girl spies on the killer as he sets up a little scene on the stage with dead bodies, severed parts, and at least one mannequin to pad out his body count, I guess (which really wasn't necessary, the guy is pretty prolific for an owl). Then he starts stuffing feathers in a dead lady's mouth. And I support artistic freedom and everything but in my opinion that ain't good theater. Well, I guess the part where he chops off the mannequin's head and replaces it with a human head is pretty cool in that macabre Bodies Exhibit type of way. But then he just sits in a chair holding a cat and tapping his foot while feathers snow down on him and classical music plays on the reel-to-reel. Pretty oblique. I can see why Republicans are uncomfortable about funding this type of stuff.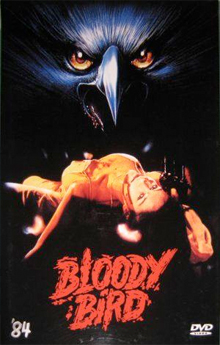 I didn't think the whole movie was all that involving, but this end section is great. It's one of those great Argento type set ups that doesn't really mesh with the real world but is all the better for it. Basically the guy is sitting there tapping his foot, not knowing that the key everybody has been looking for to get out of here is on the ground stuck between two floorboards. The girl spots it and goes underneath the stage, where she has to stick a nail up to try to knock the key loose without the mewing cat notifying the owl of her presence. And there are some really cool shots with the giant key in the foreground and the killer sitting in the background. (I'm pretty sure they used an oversized key and forced perspective. Which is always better than doing it for real.)
Like any good horror movie set on a stage, there's a struggle up in the rafters. There's a great sequence where she knocks him off, but he grabs onto the ledge, so she knocks him off but he grabs onto a power cord, but it comes unplugged, but the other end jams into something and he hangs there, and he turns out to be good at rope climbing, so she has to chop at the power cord and try to cut through it before he gets to the top… it's kind of like a suspenseful action scene from DIE HARD or something but it's the villain trying to hang on instead of the hero, so you want him to fall and get squooshed.
I gotta give this one respect because it's so nice to look at, the climax is so great, and I enjoy seeing an owl man with a chainsaw. But overall it's not as enjoyable to me as a strong slasher or a classic Argento. I think part of the reason is that the characters just aren't relatable to me. Your standard FRIDAY THE 13TH types can be one-dimensional but they're still normal people like you might be or know. These characters aren't fleshed out or likable but they're also these exaggeratedly prissy dancer people, I don't really enjoy their company. But your mileage may vary.
Happy Halloween, everybody. I hope some of you got something out of my avalanche of horror reviews this month. I promise I got substantial reviews of UNIVERSAL SOLDIER: DAY OF RECKONING and CLOUD ATLAS in the works, and hopefully a little something about the election next week. But I wanted to get the traditional celebrating out of the way first so I could put some more thought into those ones.