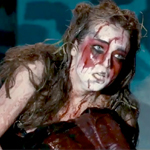 I honestly thought this new-to-disc movie STAGE FRIGHT was gonna be a loose remake of the Italian STAGE FRIGHT directed by Michel Soavi, but after seeing it I don't think they're suppoosed to be connected. It's just the logical title for a stage-performance-themed masked killer whodunit (or whoslashedit I guess). This one's got completely different characters and backstory, it's set at a camp for kids learning musical theater, and instead of a silent killer in a creepy as hell owl mask it's a guy who sings rock songs in a kabuki mask that looks like that puppet from SAW.
See, that's the thing about this, it's a musical. And by "thing" I mean both "unique part" and "problem for me." You know I don't have a completely closed mind, I have appreciated a musical now and again. I loved the critically trashed THE MISERABLES, for godsake, I thought it was amazing. And you know how I feel about MARY POPPINS. But by my way of thinking "slasher movie with musical numbers" is kinda like BRICK's "hardboiled detective story, but in a high school." I can admire the cleverness of how it's put together, but that extra element is a drawback to me, not a bonus. I'd be more excited for the regular thing. I guess I still see room for great straightahead slasher movies in the world. The slots haven't been filled yet, no need to start getting all fancy.
But this is a pretty well put together movie that's gotta be right up somebody's alley. The opening scene has Minnie Driver as a singer slam dunking her big Broadway debut. I thought "I didn't know Minnie Driver was gonna be in this" and then a second later I thought, "Oh." After a jokey true story disclaimer marked it as a comedy and almost spooked me, the opening murder scene is serious and brutal enough that I was on the hook to watch the whole thing. As you can probly tell by the thumbnail up top the horror elements are taken seriously, it's not a parody or something, so I'm willing to give it a shot.
The movie is about that singer's two children and husband (Allie MacDonald, Douglas Smith, Meat Loaf) ten years later running a camp and putting on a new production of Mom's last show (A Haunting At the Opera… what does that title remind me of? I can't quite put my finger on it). Daughter Camilla forsakes her place in the cafeteria kitchen to try out for the lead, dad desperately tries to get an old agency connection from New York to come sit on a plastic chair in a barn to watch the thing, the douchey director (Brandon Uranowitz) sexually harasses Camilla and she squirmily compromises and tries to keep him happy to get the role. The threatening and killing is a little too slow and sparse for my tastes, but the mystery keeps you occupied with plenty of suspects established including acting rivals, family members and spurned would-be lovers.
You might be thinking okay, so they're putting on a musical, that's what he means about it having musical numbers. Yes, but also there are actual musical numbers, non-literal scenes where the characters look at the camera and sing about their emotions and shit. For example there's a big number where the campers all sing about feeling safe among their fellow theater geeks, and mini-songs where a backstage lighting tech croons about having a crush on Camilla but she doesn't know he exists.
This is the cheeky part of the movie. They know it's ridiculous to be singing in this movie and they're trying to be kinda funny, but they're kinda serious too. The songs are only jokey in that "Ain't I a stinker?" way of modern popular musicals. I think writer/director/composer/lyricist Jerome Sable is sincerely into this type of thing and, you know, I will try to accept him for who he is. I'm sure he's been emboldened by the popularity of Glee and PITCH PERFECT and the Criterion blu-ray set of Cop Rock, but you gotta figure he still knows he's doing something that is just really, really uncool on every level except the level where it's cool to not care that you're doing something that is so uncool. Respect.
It probly goes without saying that there are some cutesy horror references in here, including a kid with wild hair and a tie and then he puts on an apron and he looks like Leatherface. And he uses a Skilsaw in building props but the 'S' is missing so it says "Kilsaw." Get it. Like "Kill." Hard to explain. Never mind. I think there must be references to musicals also, because one characer is a Liza Minelli lookalike, dressed up like her character from Cabaret or Spider-man Turns Off the Dark or whatever it is she was in that was a musical where she dressed like that.
Where STAGE FRIGHT tips too far out of serious horror for me is with the killer. After a creepy silent killer in the prologue the present day version is a corny rock singer guy, and the soundtrack switches to electric guitars whenever he appears. It's bad enough he makes Freddy-esque puns; that he sings them loses me. Everybody knows the best slashers keep their mouths shut, they communicate with a head tilt, not a heavy metal ditty. But I have to admit I did laugh when it seems like he's gonna stab a victim but then he slides the knife under the strings on the neck of his guitar and plays a show-offy solo in his face instead. Funny stuff. Made me want to watch SLUMBER PARTY MASSACRE 2 again.
What kept me watching even as it became clear this movie wasn't really for me was a good Final Girl played by MacDonald. She's beautiful but seems intelligent, except in dealing with the sexual harassment. She has Sharni Vinson bangs but she appears to be a singer instead of a dancer. It's cool that she seems to be really doing all that singing, but that's not even the important part. The main difference between a watchable horror movie and an unwatchable one might be having a protagonist with some presence. We experience so much of the story through the expressions on her face; if it looks like she's taking it seriously then we probly will too. Despite the singing and guitar solos.
There's gotta be somebody out there who loves both slasher movies and musicals. Man, there better be, 'cause somebody went through alot of damn trouble to make this thing just to blow that person's mind. You better appreciate it, too. This is a special thing they did for you, whoever you are.