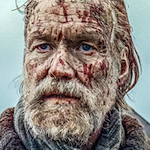 SISU is a simple, gory, cannonball blast of an action movie about what happens when a platoon of Nazis fuck with the wrong god damn Laplander in the waining days of WWII. It's the new one from RARE EXPORTS writer/director Jalmari Helander, and it's only his third movie. The second was BIG GAME (2014), which apparently I didn't review for some reason, but it was a pretty enjoyable English language debut, kind of a DIE HARD type scenario where Air Force One is shot down over the wilderness of Finland and a 13-year old kid on a deer hunt as a rite of passage ends up protecting the president (Samuel L. Jackson) with his bow and arrows.
In SISU it's an old man, and he's protecting his gold. Jorma Tommila (also in RARE EXPORTS and BIG GAME) stars as Aatami Korpi, a grizzled and stoic loner living alone with his dog and horse in the Laplands, panning for gold. One day he finds a large deposit of it, spends the day digging it out, and heads off with a bag full of nuggets. But then he runs into these Nazis.
They're not the usual sniveling weasely kind we see in movies – these are burly, arrogant cavemen types, with a tank and truck full of abducted young women they call "the bitches," and they're hanging and shooting people and burning down villages for fun as they retreat. Their leader is apparently called Bruno Helldorf, and when he took his helmet off I recognized him as Aksel Hennie, the Norwegian actor I first paid attention to as the Bill-Burr-looking villain in THE DOORMAN (even though I'd already seen him in HERCULES and THE MARTIAN). Onni Tommila, who was the little boy protagonist of both RARE EXPORTS and BIG GAME, is now grown up and unfortunately has the perfect face to play a supporting Nazi doofus. I guess he's the son of star Jorma Tommila and nephew of director Helander.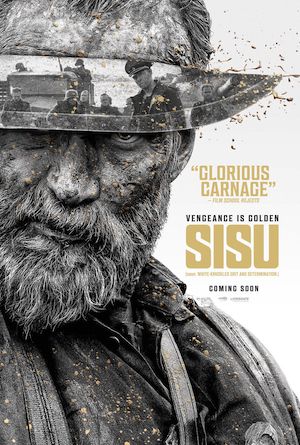 Aatami trots right past them on his horse, staring them down. Bruno's top henchman Wolf (Jack Doolan, GREEN STREET 3: NEVER BACK DOWN) sets his sights on him until Bruno tells him not to bother. But nearby Aatami runs into some other soldiers who do hassle him, and discover the gold in his saddlebags. They're about to shoot him and his dog, and don't see it coming when he suddenly stabs an enormous Rambo-esque hunting knife all the way through one guy's head. Then he leaps on the one with the machine gun, getting control of it before the guy can react.
Bruno hears the gunfire in the distance, comes to check it out, and finds the Nazi corpses, one with a stolen gold nugget. So the rest of the movie is a chase and a fierce one-on-many battle.
It seems hopeless for Aatami. They've got the tank and some very powerful guns, and they don't seem anxious to preserve ammo. Also he runs right into their minefield, blowing his horse to bits and sending him flipping through the air.
When he's able to get up he gathers his spilled gold as the Nazis pull up, and just stand there, watching him. A decent percentage of the fun here comes from the various looks of disbelief and "what the fuck is this guy doing?" on the faces of these goons as the events unfold. He fills his bag and stands up, and just as they're about to gun him down he tosses a rock onto a mine, using the explosion and smoke as cover to back through the field. They follow, but don't remember where they put the mines. Like all of the violence in this movie the mine detonations go above and beyond the call of duty in gruesomeness. I like when the one guy blows up and his leg flies off and sets off a second mine.
Clearly this guy Aatami has been through some shit, but he doesn't speak, and these guys don't know who he is, so he's a total mystery at first. When he bathes we see scars all over his back and then he turns around and the one twisting down his torso is so deep and gnarly it's like he's been autopsied.
But the Nazis find his dogtags near his exploded horse, and they figure out who he is. The movie is divided into chapters, and chapter 4, "The Legend," could've been designed just for me: it's the Just How Badass Is He? speech. Turns out he's a legendary, almost mythical Finnish commando, a "one man death squad" in the Winter War. The Russians called him Koschei, "The Immortal," on account of he was so hard to kill.
As an admirer of John Matrix obviously I appreciate the power of exaggeration and absurdity in action films. I won't give away Aatami's greatest achievements, but Helander is very imaginative in giving him the most extreme and clever ways to overcome everything from a vicious attack dog to a hanging. There's a technique he uses to hide underwater that made me laugh and gasp at the same time – the most hardcore thing I've seen in a while. Seems like an Ogami Itto move.
You could say he's a Finnish Rambo – I was thinking of part 4 specifically before I read that Helander cites FIRST BLOOD as an influence on both this movie and his wanting to be a director in the first place – but I think he's more of a tall tale, or a Bill Brasky story. I think similar to RARE EXPORTS this movie is basically a longform joke that's told so well and so bone dry (and it's such a primally appealing premise – a badass dude fucking up evil Nazi war criminals) that I'm happy to take the story seriously.
Finland is not a country or culture I have much awareness of, so I'm happy to see them have their own regional variation on universal tough guy mythology. There's definitely a spaghetti western feel to some of it (including hints of Morricone-esque electric guitars on the pounding score by Juri Seppä and Tuomas Wäinölä), but the scenery, the climate and, I suspect, the specific type of rugged self-reliance on display are distinctly Finnish. As the opening text explains, the title is a Finnish concept without a direct English translation. Wikipedia explains sisu as "stoic determination, tenacity of purpose, grit, bravery, resilience, and hardiness."
That quality is shared by all the locals on screen, arguably even the dog, who escapes gunfire. I guess this is a SPOILER but I think some will appreciate that almost all of the Nazi atrocities have happened off screen before the movie begins, so you get to jump quickly to the vengeance without having to wince through a bunch of torture or assault scenes as set up. The women (particularly Mimosa Willamo, LAKE BODOM) get to hold their heads high in defiance and pretty much strut away from this. I regret that I saw it in a showing with only one other person in attendance, because there are several big moments that seemed worthy of applause.
Though it's not currently in the works, I read that Helander hasn't ruled out a sequel. The possibility had occurred to me, but WWII is ending here, and it's hard to beat Nazis for despicable bad guys, so I wondered if they'd have to be fugitive Nazis who found out about the gold somehow. Otherwise it might feel like a downgrade. But now that I think about it this guy is so stubborn about dying he could have survived for many decades to fight any other villains through history. Hell, he might still be alive. I bet he's living humbly, even with all that gold. He just spends that on tools and dog treats and stuff. Anyway, more than a sequel I just hope Helander gets his next one off the ground in less than eight years.
I appreciate that SISU is such a pure movie. A direct, simple concept executed with somewhat limited dialogue, plenty of flair and confidence, in and out in 91 minutes. It's traditional in its story, but novel in its details. It's not deep or thoughtful, but it's rooted in an understanding that fictional violence can be fun when avatars of the people who commit real violence are its target. It's gotta be a shoo-in for best picture at the Antifa Movie Awards this year. I hope there's not a backlash.
P.S. This would be kind of a cool double feature with Jesse V. Johnson's HELL HATH NO FURY, a very different take on a local fighting over gold with soldiers at the end of WWII