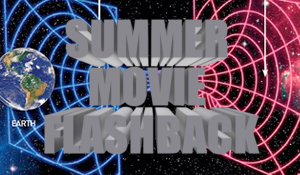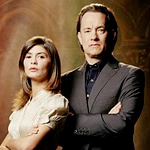 Honestly, DA THE VINCI CODE or whatever is not a movie I ever though I'd watch. Some of the things going against it are:
a. didn't look interesting to me
2. book I never cared about
III. director Ron Howard is competent but kind of a square director in my opinion, not somebody whose movies I ever get excited for and
d. in my opinion Akiva Goldsman is the writer of BATMAN AND ROBIN.
And I would've gotten away with it if it wasn't for this Summer Movie Flashback I got myself into. There just wasn't another significant summer of 2006 movie I hadn't seen. Right up until the last minute I was actually planning to do MY SUPER EX-GIRLFRIEND just 'cause I thought that would be easier to stomach, but I decided that would be dishonorable. This one was obviously part of some cultural phenomenon of the time and is more representative of that summer.
Well, it's pretty much what I feared: middle of the road. Held my interest for a while, but not ever giving me a genuine cinematic high, and never bad enough to be interesting like VAN HELSING was. Just, you know, Ron Howard making the movie you'd expect of a thriller book you saw for sale at the airport. So I don't have a huge amount to say about it.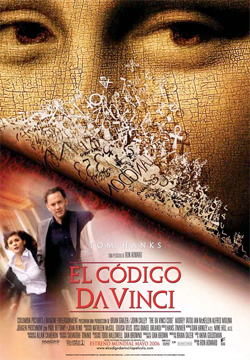 I'll give it this: Tom Hanks as Robert Langdon is a unique hero for a big summer movie. He's a famous author and lecturer on the topic of symbols. In the middle of a book signing in France he finds out that a guy he sort of knew, and had been recently contacted by, just got murdered in a weird ritualistic way, leaving a coded message behind with his name literally on it. Langdon gets called in by Jean Reno to look at the clues, then is notified by police cryptologist/dead guy's granddaughter Sophie (Audrey Tautou) that he's being set up, and the two end up on the run, interpreting hints left behind by grandpa, figuring out this has to do with Opus Dei and the Holy Grail (and, who knows, probly Gabriel Van Helsing in my opinion), figuring out codes, puzzles, riddles, mazes, word searches, Mad fold-ins, occasionally running short distances to get away from Jean Reno or the masochistic albino monk (Paul Bettany) who has already been shown to be committing murders for the church or whatever.
But here's the novel part: Langdon is still just an expert author guy. He's not Indiana Jones. He does not taste blood and become a man. Sure, he has to run from guys. He gets guns pointed at him. But he doesn't have to learn to use a gun, or set off an explosive, or jump onto a train from a building. He doesn't have to learn what it's like to feel the breath of a man go out between his hands. He doesn't have to swing on a rope or do a flip or kung fu a guy. He just does Robert Langdon stuff: call up old friends (Ian McKellen), look into old books and files, remember some old fact that's in his brain somewhere.
He even has pretty dorky hair. He's not even trying to be cool.
I like that, but it's not like this is some thoughtful adult drama like a David such as Cronenberg or maybe Fincher would make. Usually when somebody criticizes a movie as "like a video game" it's not something like this at all, but I think it's fair to say this is kinda like watching somebody play a video game: solve a puzzle, get some exposition, solve another puzzle, get some more exposition. Howard struggles with two opposing realities:
1. This is a huge hit book destined to be a huge hit movie
2. This shit is not cinematic at all
Whenever Langdon is explaining some legend about the Knights Templar or something they dissolve into lush historical epic type shots with crowds of knights in armor, so the most expensive-looking thing in the movie is gratuitous illustration of dialogue. When Langdon tries to figure out an anagram we see the letters float around and re-arrange themselves. When he's trying to figure out a riddle about an orb we see ghostly animations of the different possibilities floating around him: planets, rocks, foods, whatever. But it's not like Howard is a visually gifted filmatist finding new ways to tell a story. It's more like he's desperate for the whole movie not to be Tom Hanks in a dimly lit room explaining or thinking about different riddles.
I know it's an acceptable storytelling cheat, but I always think it's funny how if somebody tells some old legend in a movie that means that the legend is true. Like, he's kinda remembering this myth/conspiracy theory about the Knights Templar, one that he's never taken seriously. He's probly heard a million variations on it and might even be forgetting parts or leaving them out to simplify it or he could be remembering things wrong or he heard a stupid version from some jackass that tells it wrong. But since he says it we know that everything he says is what actually happened and will also probly be significant to the mystery. I'm sure there are some exceptions to this in other movies, but I can't think of them.
At first the movie seems like it has kind of ballsy content. As we've all probly heard (but SPOILER anyway) the murders turn out to be covering up the secret that Mary Magdalene was actually Jesus's baby mama, and his bloodline continues, and the real religious guys are trying to make sure people don't find out about this, because how embarrassing? Of course this is fiction but you can see how it wouldn't sit well with some Christians to be making up a "secret" that completely changes the idea of Jesus's life and the way he acted.
On the other hand the movie ends with some wisdom from Langdon, very much like the end of LIFE OF PI, a feel-good kinda way to look at the world as unknowable and at unverifiable belief as kinda deep. Langdon is an academic and a sciencey kinda guy but hey look everybody, he believes in God. The movie kinda challenges Christianity but then makes peace with one of these "if there's no creator then how do you explain this beautiful sunset?" intelligent design type platitudes that people like. So that's how they got away with it.
I don't know. When it comes to gloomy thriller mystery movies based on smash hit book serieses I guess I'm just more of a GIRL WITH THE DRAGON TATTOO guy.
p.s. Seriously though Asylum, I don't know why you haven't made a DA VINCI CODE, file under VINCI CODE, DA.