SUPERMAN: THE MOVIE (not to be confused with Superman: The Imitation Pasteurized Process Cheese Spread) is an important movie. It was the first big comic book super hero picture, and an early entry in the world of post-STAR WARS blockbusters that shaped today's generation of filmatists. By casting Marlon Brando as Joe L. Superman (plus  Gene Hackman as Lex Luthor and Glenn Ford as Pa Kent), director Richard (LETHAL WEAPON) Donner set the precedent, still in place today, that big respected actors in supporting roles can add credibility to a super hero picture. And by casting only-one-movie-under-his-belt Christopher Reeve as Kal L. "Clark Kent" Superman he showed that sometimes a fresh face is better than a familiar veteran to play an iconic character. That later worked for Wolverine (whose first movie was executive produced by Donner), Thor and two subsequent Supermen. (Other actors who were supposedly on the producers' wish list: Al Pacino, James Caan, Steve McQueen, Clint Eastwood, Dustin Hoffman and [why not?] Muhammad Ali. Any one of those would've automatically been a completely different movie.)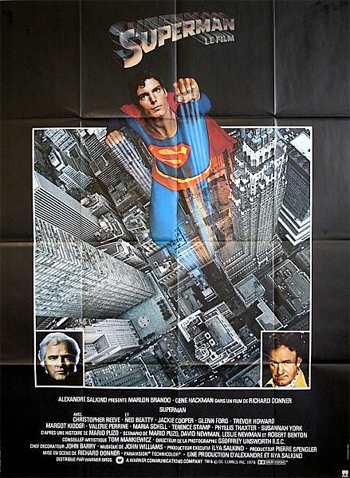 One thing this movie had that hasn't really continued in the genre is a serious lineup of heavy hitter screenwriters. The script is credited to Mario Puzo (novelist of THE GODFATHER of course), David and Leslie Newman (David wrote BONNIE AND CLYDE) and Robert Benton (also BONNIE AND CLYDE). Credited as "creative consultant" (but actually he rewrote the script) is Tom Mankiewicz (CITIZEN KANE [okay, that's a lie, his uncle wrote CITIZEN KANE, he's the guy that did MOTHER, JUGS AND SPEED]). It should be noted that David Newman and Robert Benton probly got the job because they wrote the campy 1966 Broadway musical It's a Bird… It's a Plane… It's Superman. And more importantly that David Newman went on to write Michael Jackson's MOONWALKER.
Together Donner and all those people gave SUPERMAN a light, old-timey feel that influenced alot of comic book pictures through the '80s and '90s, movies that felt a loyalty to the eras their characters were created in instead of a need to reinvent them for the modern age. It mostly takes place in the present (1978) but starts out seeming to say it's 1939, showing the first Superman comic book cover and using '30s cars in the Clark Kent childhood-in-Smallville scenes. By the time you realize it's the '70s it doesn't matter because it's still a screwball comedy about love between spunky big city newspaper reporters.
The movie begins on the space planet of Krypton. In this version you gotta thank the Lord that the fuckin place blew up because jesus christ Kal does not want to grow up in a shithole like that. You think Smallville is a boring place to be on a Friday night, try this barren planet like the moon that just has one chunk of rock in the middle where Kryptonians are dug in like an ant colony. I bet everything closes before 6 pm there too. There are some background civilians around but we mainly see the council members, dry old grouchy grey haired guys in glowing white cloaks (I like this TRON-like visual effect).
Superman's dad is cool though, he has white hair with a well-maintained curl and sometimes wears a striking black outfit with the 'S' logo on the chest. But the poor guy spends all his time sentencing criminals or standing around in white anti-septic chambers having his ideas ridiculed by his wet blanket colleagues. His apartment isn't much homier. I bet he gets sick of staring at god damn crystals everywhere he goes. If Krypton didn't blow up I bet Kal would've grown up to rebel against this gloomy dystopia.
You remember what happens instead: as a baby he rockets to Earth, where mom and dad may have expected him to fend for himself and eat human meat, but instead he is welcomed and adopted by the Kents of Smallville. Come to think of it, compared to dead ass Krypton the Kansas cornfields must be a lush fantasy world like Pandora. He grows up on a farm, finds out he's real strong and can run fast and fly, learns of his heritage. He gets a fancy crystal that speaks to him as his dad, carves out a snow cave for him and gives him his famous costume. Then he becomes a celebrity by flying around the city of Metropolis using his strength to rescue people and carry various criminals to the police. (I kind of doubt any of them were convicted considering the circumstances of their arrests, but good effort anyway Superman.)
The biggest thread I guess is his relationship with Lois Lane (Margot Kidder from BLACK CHRISTMAS), a drama queen reporter he meets at the Daily Planet newspaper and has a crush on. She doesn't respect him for some reason. I'm just guessing here, but it may have something to do with him being a dull, socially awkward and clumsy doofus, or at least pretending to be whenever he's around her. But when she sees him as Superman, not recognizing him as the same guy (I just tell myself Clark is so boring she doesn't pay attention to what he looks like), she goes all gooey. He rescues her from a helicopter crash (good first date), then comes to her apartment so she can interview him/unprofessionally attempt to seduce him. ("The Bat-Signal is not a beeper.")
This is the heart of the movie, really. Kind of a little two person play about a long conversation, a human being curious about an alien and the alien being excited to be able to talk about himself to a girl who usually ignores him. And then he picks her up and flies her around the city (and New York, unless there's another Statue of Liberty in Metropolis). It's a romantic night under the stars, but also there's this intimacy of him holding her and having her safety under his control, and this PETER PAN exhilaration of experiencing the dream of being able to fly. And of course it's also kind of a love-making metaphor, but a very innocent one. In fact, I predict the next Superman reboot will redo this but with a 24 year old Lois who reacts orgasmically to her first flight.
That reminds me, is that a dirty joke when he sees that her panties are pink and says "I like pink"? I mean I know it's flirtatious but did they intend the double meaning to that? There are children watching, Superman. Don't talk about you love pussy. Keep it clean buddy.
Also there's a good gag where he flies off the balcony and instantly appears at the door as Clark, arriving for a date with Lois. When she's in the other room he takes his glasses off and is about to reveal himself to her, but then pusses out. Earlier there was a perfect line delivery of Lois seeming to call Superman "Clark" but it turns out she's just pausing after his name in a sentence about him.
This is the best stuff in the movie, and even Lois (who to be frankly honest I find a little obnoxious at times) is kinda charming when she's smitten.
But then we get to the part where he has to fight a super villain. Hackman is obviously good at playing menacing, but that's not what this character is about. This Lex Luthor is more like a villain from the old Batman TV show. He lives in a nicely furnished abandoned train station where he plots evil schemes and talks down to his two bumbling sidekicks (Ned Beatty and Valerie Perrine). The trio has a whole tangent where they ambush a military convoy to change the targeting on a missile, all played for chuckles. Lex decides he's Superman's enemy and also decides that a particular meteor he could steal came from Superman's home planet and therefore it would have radiation that would be the only thing that could kill Superman (simple science, obviously) so he does this as part of his plan to explode the missile along the San Andreas fault and cause an earthquake that will break off half of California and make the desert land that he bought more valuable.
I'll say this about the climax: the effects are pretty cool. I know they don't hold up to modern standards, but it's still pretty impressive the way they make him fly around. There are some shots where they must've just done a Peter Pan type rig on a soundstage, no green screening, and those look amazing.
Also it kinda goes without saying but the theme song by John Williams is excellent. They knew it, too, so they have the credits flying over stars with the theme song at the beginning and the end of the movie. I'm glad they didn't revive it for MAN OF STEEL, but I do wish they would resurrect the concept of catchy theme songs. It seems insane to me that with all of the comic book movie stars of the last decade not a one of the motherfuckers has a catchy theme song. That tradition died when Danny Elfman stopped doing all the comic book movies. Hans Zimmer's scores for THE DARK KNIGHT and MAN OF STEEL come the closest but they're taking more of a building atmospheric approach than a traditional theme song. But you can't tell me Captain America wouldn't benefit from a memorable tune.
Anyway, you guys know I'm not some wet behind the ears knucklehead who can't appreciate those old corny movies. But to be frankly honest this one doesn't really do it for me anymore. I remember it seeming great in the '70s and '80s and I have described some of its charms here, but for me it doesn't hold up like the classics of its era or hold a candle to the best super hero movies of the following decades. I wonder if maybe me and Richard Donner are descended from rival tribes or something, because I always seem to have this lukewarm reaction to his movies that are considered classics. Last time I watched THE GOONIES I wanted to lock those awful kids in a basement, and it was only last year that I learned to fully appreciate the LETHAL WEAPON series.
I understand that SUPERMAN was breaking new ground by adapting this sort of material, but to me alot of those classic Superman conventions just seem corny now. For example, I know it's the tradition, but I just hate watching Clark Kent pretend (?) to be a dork. He's too over-the-top to be relatable and it's not funny or anything, it's just annoying. (Compare this to the fake Bruce Wayne persona in Nolan's BATMANs. He gets laughs, has some dramatic showdowns, then disappears.)
And it really loses me at the climax where Lois dies so Superman gets really mad and flies into space and his flying causes the Earth to spin backwards and therefore it makes time go backwards (or something) so Lois is still alive and then I don't think he rescues her per se but she just doesn't die this time so everything is okay. I can't believe they got away with that. To think that this is considered an untouchable classic by an entire generation outraged that Indiana Jones could survive being near a bomb blast by going inside a lead-lined refrigerator… oh well. It doesn't work for me, anyway, due to a combination of "what the hell kind of logic is this that the earth spinning backwards effects time?" and "how is there gonna be any tension when the dude can just make up a ridiculous new godlike ability at any time?"
(Or was the backwards earth rotation a byproduct of the time travel and not the cause? He's usually pretty laid back, but when he gets angry he travels back in time? I don't know.)
Part of it is a matter of tone. They can do things that would never work in MAN OF STEEL because the latter is trying to depict a more grounded reality with less winky winky nudge nudge type cutesy shit. But for my tastes this kind of goofball approach has been improved on in less popular movies of the years since. THE PHANTOM and THE LONE RANGER for example play with old fashioned aw shucks heroism and movie serial swashbucklery but to me they actually make it funny instead of just cute because "it's like a comic book!" SUPERMAN has jokes throughout but I can't think of one that actually made me laugh.
I understand I'm in the minority on that. This guy at moviefone thinks SUPERMAN is "Still the Greatest Superhero Film of All Time." According to my research most people don't rank it at the top, but they tend to at least have it in the top 10. Empire has it at #2 on their list of the best comic book movies of all time (behind X-MEN 2). Going by Rotten Tomatoes' Tomato ratings it's #3 (behind THE DARK KNIGHT and IRON MAN). IGN and comicbookmovie.com also have it at #3. Newsarama has it at #5. Forbes has it at #6. I don' think it would be in my top 20. There are too many BLADEs and PUNISHERs and some good Batmans and BARBARELLA and if you're gonna bring A HISTORY OF VIOLENCE and LONE WOLF AND CUB into this I get more of a kick from any one of those than the ol' American icon here.
Maybe that's why I seem to be more open to MAN OF STEEL than most people, or even the weird fatherhood stuff in SUPERMAN RETURNS. I just think the character was sorely in need of a new approach, and should not be beholden to having the same qualities as the old version.
Speaking of which, I looked it up and saw that this weekend is the big Comics Con over in San Diego, California. That means there'll probly be more news or photos or something from the new Superman and His Pal Batman picture that Zack Snyder is making. And if so that means another round of the thing where all the movie sights and their commenters smarmily dismiss it and talk about how this Superman doesn't rescue people and caused the deaths of thousands of people and all that shit, and I'll want to debate them again and get all frustrated. Before you forget about '70s Superman and get into that in the comments here please know you can let me have it on my heavily illustrated rebuttal to that interpretation of MAN OF STEEL, coming soon. Apologies in advance.
Stay super you guys
This entry was posted on Wednesday, July 23rd, 2014 at 9:35 am and is filed under
Comic strips/Super heroes
,
Reviews
. You can follow any responses to this entry through the
RSS 2.0
feed. You can skip to the end and leave a response. Pinging is currently not allowed.