THE SUGARLAND EXPRESS is the feature debut of young TV director Steve Spielberg. It's hard to think of it as his first real movie when DUEL was so damn good, but officially it's the first one he made for theatrical release. Things have really changed, haven't they? You don't get hungry young up-and-comers starting out in TV and then making a splash in movies. There's great TV now but it's not a place for visionary directors.
To commemorate the 2 (two) new Spielberg movies that came out recently I decided to finally get aorund to watching all the Spielberg movies I've never actually seen. This is gonna include a couple that you guys will be surprised by because everybody else in the world saw them a long time ago. But mostly it will be the "lesser" Spielbergs. Not JAWS, CLOSE ENCOUNTERS or E.T.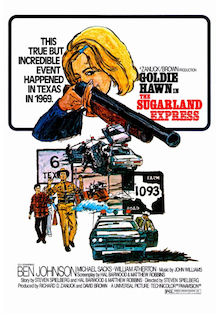 I enjoyed finally seeing Spielberg's sort-of-debut, as disappointing as it was that it turns out it's not about a magical train that goes to a mythical world of candy. It's a loosely-inspired-by-a-true-story kidnapping/road picture. Young Goldie Hawn, looking exactly like young Kate Hudson, comes to a pre-release facility to visit her husband Clovis (William Atherton, aka Dick Thornburg from DIE HARD 1-2) four months before he's set to get out. He's thrilled to see her but she's frantic and crazy 'cause she just lost custody of their baby Langston. Using two classic crazy bitch techniques – the mock break-up and the sudden-passionate-public-sex-interrupted-by-threats – she eggs Clovis into sneaking out with her to go to Sugarland and try to get the baby from the foster parents.
Let me tell you, I'm pretty sure they didn't name the baby after Langston Hughes. They're not real smart, is what I'm getting at. Not only do they fuck themselves over by escaping so close to the end of his bid, they also misinterpret a traffic stop and needlessly take a police officer hostage, turning it into a huge deal. And then they still think the law might give them custody of their kid back, so they keep driving. The Captain in charge is wise and patient and wants to avoid bloodshed, so it turns into a long caravan of police cars and a few media vans.
Come to think of it, some cop made a decision like that to slowly follow O.J. Simpson in that white Bronco when he was threatening to kill himself. That guy never gets credit for that part of it turning out okay. And remember how some people decided O.J. was a hero for some reason and waited along the side of the road to cheer him on? Same thing here. As their story becomes known, people begin to line up along the streets to wave or hold up signs. In one town their car is crowded like returning heroes in a parade, people reach into the car giving them gifts, blessings, even kisses. Some sympathize with her as a mother, others are fans of their hostage, who seems to enjoy the support as much as they do.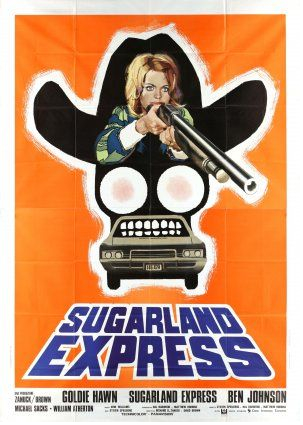 The officer starts to develop some weird sort of friendship with them. Of course you could call it Stockholm Syndrome (or Helsinki Syndrome as it's known in the land of Diehardia), but I don't know. It seems to me like he genuinely feels sorry for her when he hears her dad over the radio calling her trash. Maybe he realizes that the problems in her life must stem at least a little bit from having an asshole dad that makes her feel worthless. Or maybe he just thinks geez, that's harsh. Anyway he saves her from hearing it.
The captain is kind of the same way, but from a distance. When he sees her at the gas station pulling reams of gold stamps into the car he seems almost charmed by her goofiness. He realizes these are not evil people, they're just young idiots. So he does his damndest to make this a funny story he can tell later instead of a horrible tragedy he's gonna be haunted by forever.
There are some jokey moments here and there that seem just a millimeter or two over the line into Burt Reynolds movie territory, but for most of the running time I think this gets the tone just right. It's a light-hearted surface with an underlying menace. They're too stupid to see the brick wall they're headed toward, and the movie reflects their point of view. It acts like hey, yeah, maybe they'll get their kid back! They're nice people, right? This oughta work out!
At first it seems kinda different from other Spielberg, he doesn't usually do movies about lower class people. But as things escalate it looks more and more like his style: great, swooping camera moves, well put together action sequences, stunning magic hour lighting, authentic Texan supporting players. The towns they pass through feel as populated and layered as the one in JAWS (his next movie). There are some amazingly beautiful shots, like the one at the very end with actors in silhouette and sunlight shimmering on the water. Cinematographist Vilmos Zsigmond had already done MCCABE AND MRS. MILLER and shit, so this wasn't exactly his big break. But he went on to do CLOSE ENCOUNTERS, THE DEER HUNTER, and, uh, SLIVER.
I gotta be honest, Goldie Hawn usually annoys the shit out of me. I couldn't tell you why, it's just one of those things. I'm sure I probly misjudge her – after all, she's got the Kurt Russell seal of approval. But my point is that I think she's really good in this particular one. It's a complex character. She's horrible but sympathetic. I kind of hate her and kind of feel sorry for her and kind of like her. So if you've got the same Goldie-aversion don't let her scare you off of this one.