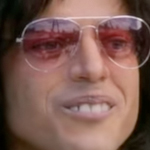 NOTE: This movie's win for Best Picture – Drama last night at the Golden Globes has been received with controversy, mostly involving the morality of rewarding a director who is awash in allegations of sexual assault. I barely mention that aspect in this review because I was able to separate the art from the artist and completely reject the movie on its own merits. It would be an embarrassing choice even if it was made by saints.
You know I'm a positive guy and I don't do negative reviews that often, and also I tend to think even movies like ROBIN HOOD are okay. Lately though I've been watching last year's awards-nominated type movies to prepare for the season and now I'm finally seeing movies I really don't like.
I'm afraid I must report that BOHEMIAN RHAPSODY is the new gold standard for horse shit musician biopics. It feels simultaneously adapted from Wikipedia and fudging every single detail for pandering dramatic license.
Rami Malek (NEED FOR SPEED) thankfully abandons his one bug-eyed expression of intensity I decided I was done with after the first season of Mr. Robot. Instead he throws every actorly actor thing he's got at playing Freddie Mercury, frontman of Queen, essayers of the HIGHLANDER theme (not pictured). Many have said he's great in the role, and I don't entirely disagree, but it is a fact that I spent the early scenes wondering why Malek believed Mercury should always look like he was sucking on a lemon.

Then they started talking about him having extra teeth and I remembered hearing something about Malek's special dentures for the role. And pretty much for the entire rest of the movie I couldn't stop thinking he was struggling to keep those things in. You see the mouthpiece poking out of his cheeks, his lips frequently moving over it, preventing it from popping out. I kept thinking how sore his face must've been.