FROST/NIXON also came out on DVD yesterday, so I figured I would dig out my unfinished review from when I saw it on the big screen and polish that up.
FROST/NIXON is the most highly anticipated battle since the first ALIEN VS. PREDATOR. But I gotta be honest, I only went to see it because it was the last "best picture" nominee I hadn't seen. I mean it looked pretty interesting, but I'm not the biggest Ron Howard fan, so I probaly wouldn't have bothered otherwise. The good news is I didn't hate it like I did THE READER.
Frank Langella (MASTERS OF THE UNIVERSE) plays Richard Nixon, who was apparently some sort of president. Michael Sheen (UNDERWORLD, UNDERWORLD EVOLUTION, UNDERWORLD: RISE OF THE LYCANS, THE QUEEN) plays David Frost, who I guess interviewed Nixon one time. This is the story of them negotiating and then filming an interview over a couple days and a couple other conversations they had in between and afterward and what not. Explosive!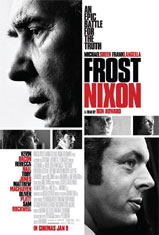 I don't want to be too harsh. I don't think this movie or Ron Howard are terrible. But I think this is another case of deciding to nominate the movie based on what it's about and who made it and not based on having actually watched and been moved by the movie after it existed. Howard is completely competent, I just don't detect any of the ol' vision in the poor guy. He never showed any interest in politics before, and I don't think anybody (including him) ever wondered what his feelings were on Watergate or the media or presidential privilege. And it's a good thing because he doesn't really have much to say about it, I think he just thinks these are two interesting characters. Which is true I guess.
But it's hard to go in just wanting to see interesting characters when in these times there's such an undeniable relevance to the subject. We have another scumbag ex-president who we never really got closure with, although it was awesome when that guy threw a shoe at him. It's still up in the air whether or not the Justice Department under Obama will pursue prosecution of the many criminal activities that took place in government over the last 8 years, but we know Bush will get away clean. Most people seem to think "ah, let's move on, I'm sick of hearing about that shit anyway." Understandable, except maybe if a precedent had been set by having Nixon actually held accountable, or nailed by a hip British guy in an interview, maybe it would work as a deterrent for later scumbag presidents. I don't know. The movie seems to indicate that, but I guess it didn't work.
The best thing about the movie is Frank Langella, who not surprisingly does a great job of playing Nixon. He already starred in the play, so he had practice, but I'm sure he could've done it anyway. While he's seen as the enemy, his off camera meetings with Frost make him out to be a nice and likable guy. Based on what I've read about Nixon's complete awkwardness with regular people I'm not sure this is very accurate, but I like it anyway because it makes the story more compelling than if he was just a bad guy. You kind of feel sorry for the bastard. He should've brought more humanity like this to his character "Skeletor" in MASTERS OF THE UNIVERSE, maybe that type of vulnerability and unexpected warmth is what was missing in that one.
The worst thing about the movie as far as I'm concerned – but this is a pet peeve of mine so maybe it's just me – is the fake documentary interviews. There are certainly worse examples of this (like Jim Van Bebber's MANSON FAMILY, which has probaly never been mentioned in anyone else's review of FROST/NIXON) but I cannot understand for the life of me why anybody thinks it is a good idea to make a fake documentary about an actual historical event. A fake documentary about Spinal Tap or Cloverfield I get, a fake documentary where actors do interviews pretending to be actual people who might as well have done the interviews instead is the work of crazy people. Why would you do this? If documentary interviews would be more interesting than making a movie where a story unfolds, then why aren't you doing a documentary? Make up your mind. Fake documentary is not the correct answer. You have been disqualified.
Seriously, isn't there something wrong with this movie if the main point it makes about the media does not come through until Sam Rockwell looks into the camera and explains what it is? He tells Ron Howard that it didn't matter what Nixon did or didn't say in the interview because the close up of his tired face said it all. But the fact that he's explaining this means that the close up did not say it all in the movie. He talks about "the reductive power of television" and I know it was intentionally making a comment about the movie itself, since it has a shot of an actor playing young Nixon biographer Diane Sawyer as he says something about a short TV clip representing an entire career. But I think this is pointing out the movie's weakness. The movie is telling us that people won't remember the real story, they'll remember images from the "reduced" version. In the case of the story of the movie it's a TV interview of the real guy, but in the case of the movie it's actors playing a fictionalized version of that interview. A reduction of a reduction.
The story of a guy setting up a big interview and struggling with it is interesting, but since they base it all around this idea that he has to get a confession out of Nixon it kind of ruins the whole thing when you find out that he actually didn't get one. If they had to make up the part of the story they thought was interesting, then that means the story actually was not interesting.
You know going in that this is the kind of movie that has text at the end to explain to you what happened to all of the characters. But I don't know if I was prepared for it to think I needed to be told what happened to Richard Nixon. I thought that was pretty widely available information that wouldn't necessarily have to be included. Oh well, good to be thorough I suppose.
It's not constantly dumb enough to make me cringe, but Howard's not exactly subtle either. It's a pretty obvious story. In this telling Frost was blowing the interview sessions until he got a (fictional) late night drunken phone call from Nixon that inspired him to really dig in deep like an investigative reporter. Cut to montage of going through pages and pages of transcripts, circling and underlining, listening to tapes, and then VOILA! HE DISCOVERS THE SMOKING GUN! It's that kind of movie.
I would forgive the lazy montage if it also had a training montage and then in the last interview Frost is wearing a tank top and he's unbelievably ripped. And maybe a headband would be good.
I wonder if the slash in the title is supposed to be like FACE/OFF? That was a pretty cool movie, huh? I'm glad Ron Howard liked FACE/OFF too. What happened to John Woo, man? If I ever interviewed Ron Howard that's what I would ask about. I wonder if he's seen BLACKJACK? Did you know kids today aren't really aware of HARD BOILED? It's a god damn shame. Man, I'm totally gonna nail Ron Howard in this interview, he's not gonna see it coming. And finally we as a nation can get closure.
Well, I already spoilered that Frost gets his confession, so you would think he won FROST VS. NIXON. But then he goes and talks to Nixon afterwards and Nixon is really nice to him. Frost gives Nixon some Italian loafers and I think it's supposed to be some kind of fuck you, but I didn't really get it. Either way Nixon got a free pair of shoes out of it so I think you could definitely argue that Nixon is the winner of this one. I guess it's kind of an ambiguous ending left to the audience's interpretation, like the end of FREDDY VS. JASON where Jason is holding Freddy's severed head, but then Freddy winks.