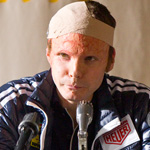 RUSH is a Ron Howard movie about race car drivers, but it's better than that sounds. It follows the expected template and visual techniques except that it has two protagonists, two narrators, and really made me bounce back and forth about which one I was rooting for.
The guy most prominently featured on the poster is James Hunt, played by Thor. He's the long-haired blond rock star of Formula One racing, a charming, dry-witted Brit, a fun guy, great racer and legendary lover of women. If he wasn't so charismatic he'd be easy to hate because he has it all except the championship, and that he's confident he'll get too.
The other guy is Niki Lauda, played by Daniel Brühl, the NATION'S PRIDE Nazi sniper from INGLOURIOUS BASTERDS. He's kind of Hunt's opposite. He's terrible at making friends, and doesn't see that as a bad thing. He's blunt and insulting, finds a way to push his way onto a team and doesn't mind that his own teammates will resent him for it. When those teammates go out of their way to be helpful and welcoming he doesn't reciprocate. Also he agrees with Hunt saying he looks like a rat.
But he's brilliant. He's not just a good driver, he tells the team how to reconfigure the car to make it faster. He explains later that he was blessed with an ass that can detect any problems in a car that he sits in. When he gets on the Ferrari test track he tells them their cars are shit. He's like the P.L. Travers of racing.
You may be like me, you think of Howard as kind of a square when it comes to directing. Pretty good skills but very middlebrow tastes, making for mostly bland movies. If so, don't worry. I'd say this is at the top of his abilities, like APOLLO 13. Maybe better, because Lauda is such a memorable character I think he will stick with me longer than those astronauts did, even though their predicament was more dramatic. And for what it's worth the screenplay is by Peter Morgan, the guy who did THE QUEEN and FROST VS. NIXON: REQUIEM. You know, he does a particular kind of thing that he's good at, and it's kind of an interesting mix with Howard. Actually I just remembered that Howard did FROST/NIXON so this is nothing new, but it's not a bad team.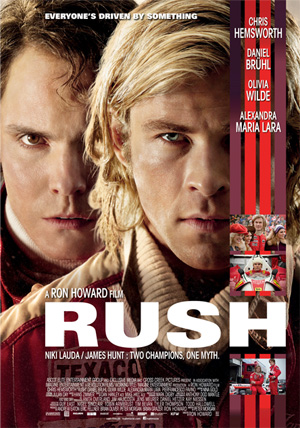 It's obvious what happened here: Ron Howard wanted his own DRIVEN. Renny Harlin and Sylvester Stallone's race car movie had INGLOURIOUS BASTERDS cast member Til Schweiger, so Howard got one too. And then he probly wanted Jason Statham for the lead but he wasn't available so Howard said "Who else looks good with long hair? I know – Thor." But then to get that Statham vibe he wanted the Basterds guy to get burned up like Frankenstein did in the DEATH RACE series. So he found a true story where that happened. Or who knows, maybe it's not even a true story. I don't know fuck all about Formula One racing history – do you? How do we know they didn't just do some creative Wikipedia updates?
I mean, even the actual people who run Formula One, if they're smart and don't want to be obsolete they're probly doing some careful curating of what information gets onto Wikipedia, otherwise somebody out there might get a hold of their recipe and use it to create the more powerful Formula Two.
Anyway, whether it's totally made up or "true" I think either way it's a good story. In DRIVEN Stallone wasn't the only lead either, but how are you gonna care more about fuckin Kip Pardue than Stallone? Howard actually pulls off the trick of luring you in to see a movie star and then getting you more interested in a character actor. At first it's a villainous type of interesting: I couldn't wait for Thor to put this dick in his place. But after the poor guy gets burnt to a crisp and then insists on racing again right away – doesn't even stop to ask if Padme is safe – how are you not gonna start pulling for him to win?
Of course it's like any racing movie, there's a whole lot of racing montages with commentators explaining everything that we need to know about what's going on and where they're ranked for the season and stuff. If you had the sound off it might as well just be a non-narrative collection of race car photography. In that sense it's like TALLADEGA NIGHTS without the jokes or SPEED RACER on reverse acid. There's probly not another good way to tell a story about a racing season. But I never worried about a lack of cinematism because the thrills really are in the characters. Both are on their own journey, both have lessons to learn about life, love and sport, and those lessons tie into or are spurred on by their competition with each other.
Also, they both genuinely dislike each other, and both are right to. They don't just automatically respect each other. They gotta earn it.
There were a bunch of parts where I was waiting for the bullshit Hollywood thing to happen, and then it thankfully didn't. For example SPOILER after Niki is out of the race I was convinced he would limp over and give some piece of advice to James's team that would help him win. Thanks for not doing that, fellas.
But there were a couple big moments, especially in the last lap (get it, racing) that sent bullshit alerts to my brain's email. One was the scene where Lauda was watching the race on the hospital TV while his lungs were being vacuumed. I mean, even if they would let him do it, what are the chances the timing would work out? (Brutal use of CGI, by the way, making it look like they're really stuffing a pipe down his throat.) The other was a particularly mean-spirited question at a press conference. I know those guys can be dicks, but this one seems a little hard to swallow (like a lung vacuum). Whether or not these incidents are true to the fake Wikipedia page they struck me as phony. But on the plus side both were setting up for nice moments between the characters in later scenes. So although I opposed these scenes I learned from them over time, and I hope they learned from me too.
There's something really nice about bonding between rivals or enemies. I don't know if you guys have this, but for me it's hard to hold grudges. I've learned to mostly avoid conflicts over the years, but if there's somebody I used to have problems with and I run into them years later, more often than not I treat them like an old friend. I feel like we went through something together. I get nostalgic.
In my life as a critic I wouldn't say I ever had enemies, but I had a couple word scuffles. There was the time on The Ain't It Cool News when David DeFalco challenged me to a fight over what he saw as a personally insulting review of his movie CHAOS, and it turned into a big ridiculous Talkback incident.  That guy really hated me, and I'm sure I probly was too harsh with him about some of it. His reaction was ridiculous and the Talkbackers made fun of him, but it was also embarrassing to me because I had created this legend of being some mysterious badass and it would've been pretty great if I actually thought I could fight the guy. But I didn't. In that sense he won.
Still, the way I am, the whole fiasco kind of endeared him to me. Years later when I wrote some positive things in a review of another movie he made, Dave and I had a nice email exchange, and he's written me occasionally since. To this day if I come across a reference to a movie he's in, or even when I think about the recent success of Dave Batista in THE MAN WITH THE IRON FISTS, RIDDICK and GUARDIANS OF THE GALAXY I think of how The Demon really believed in Batista and was trying to help him become a movie star back when he put him in WRONG SIDE OF TOWN and executive produced HOUSE OF THE RISING SUN. And I think of DeFalco more like an old buddy than a guy I had beef with.
Another example is Harvey S. Karten, who rejected my application to the Online Film Critics Society back in the late '90s. I don't know if he was right or wrong, but obviously I disagreed with his choice at the time, and I had some fun adding a "Rejected From OFCS" banner to my sight and quoting his email as critical acclaim on my first self-published book. I never communicated with him again until out of the blue about a decade later he emailed me to inform me that I was quoted on a BLACK DYNAMITE ad in the New York Times. No mention of our previous history, but I took it as a sign of respect of some kind, that whether or not he liked my writing he acknowledged that I was still at at all these years later. Somehow it can be nicer to get a small compliment from somebody like that than a big one from a good friend.
RUSH is a movie about that type of relationship, and that's why I think it's special. But it's worth watching for Brühl alone. It's a great performance as a unique and hugely entertaining character. I'd watch him in any story just to see what he's gonna do and how he will talk to people. It could be a caper movie where he alienates the whole crew by telling them he's the brains of the operation, or a DIE HARD rip off where the hostages all can't stand him but he saves them anyway, or some kind of secret agent thing where he constantly offends the President and cabinet members without seeing anything wrong with it. Or it could even be about him having to babysit some precocious kids, that would be a good one too. Whatever it was it would be pretty enjoyable, and so is RUSH.