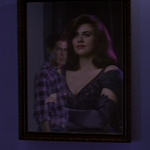 PROM NIGHT III: THE LAST KISS is the only PROM NIGHT movie to directly follow up on the previous one. It opens on the grave of Mary Lou Maloney, who we see is now in Hell, where chained up dead girls in underwear and torn stockings do a kick line barefoot on burning-hot bricks to the tune of '50s rock 'n roll saxophone and moans of agony. But somehow Mary Lou (now played by Courtney Taylor, COVER ME, CAMP BLOOD) got a hold of a nail file, and when she manages to file through her chain she explodes out of her grave and EVIL-DEAD-cams right back to the school, where she manifests a working jukebox to lure in the night janitor (Terry Doyle, NIGHT FRIEND) and ask him to dance with her. She knows him by name because he was one of the many boys she dated in high school.
It's a depressing commentary on small town life that this poor guy would still be living in the same god damn town where he grew up, mopping floors, and so mush-brained that when a mysterious sexy trespasser calls him by the same pet name as the girl he dated in high school who was burned alive in front of his eyes and recently came back from the dead, killed several students and burned down the gym during the prom he smiles nostalgically and says "I haven't heard that name in 30 years. There was a girl–"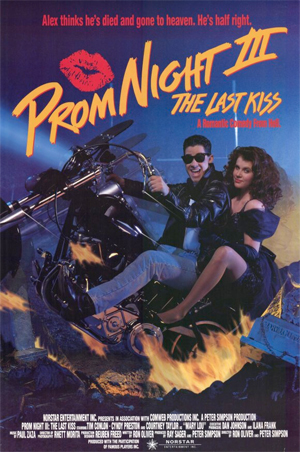 Anyway the evil jukebox electrocutes him and his pacemaker explodes and she says "Mother always said I'd be a heartbreaker," which in my opinion is pretty good for a Freddy style one-liner. I don't really go for Freddy style one-liners, but I can respect that this one combines a novel death, a pun, and a summation of the concept of an evil killer who's a girl from the '50s who gets around.
The more comedic feel continues in the next scene, a dedication assembly for Hamilton High's rebuilt-after-the-events-of-part-II gym. The school band plays "La Bamba" and the principal (Roger Dunn, voice of Charles Deetz, Beetlejuice cartoon) accidentally cuts his own finger off along with the ribbon.
This is also the only PROM NIGHT to make the rookie mistake of having a dude as the main character. Alex (Tim Conlon, STARSHIP TROOPERS 2: HERO OF THE FEDERATION) is in kind of a funk because he wants to go to medical school but he's told his grades are too average. He has a whole speech about how he's exactly the national average height and shoe size. Meanwhile his girlfriend Sarah (Cyndy Preston, PIN, IF LOOKS COULD KILL, CARRIE remake) is mad at him because she thinks he's gonna ditch her for the summer to go on a trip with his best bro Shane (David Stratton, THINGS TO DO IN DENVER WHEN YOU'RE DEAD).
But after Alex goes into the school late at night for some reason he starts seeing visions of Mary Lou, and she becomes his girlfriend/guardian angel. She makes him jump high (?) in football, saves him from bullying by making an announcement over the intercom ("Andrew Douglas, report to the office please. Your mother brought your lunch"), does his homework for him, and also starts murdering his teachers and counselor and stuff. All he has to do is bury the bodies in the football field. I guess they never replaced that night custodian she killed, because nobody's ever there to see Alex digging up the field or fucking Mary Lou (in her underwear) in the school.
This is another one in the ELM-STREET-sequel tradition, stringing together a series of gimmicky kills themed around Mary Lou's time period or the high school setting. She makes an old fashioned ice cream shop appear in Mr. Walker's class ("Young lady, I don't know what you think you're doing here, but let me assure you, you're in alot of trouble") and then stabs both his hands with ice cream cones and mangles him with a mixer. She throws a football at a guy and it turns into a screw in a PHANTASM-like side-view and impales him on the goal post.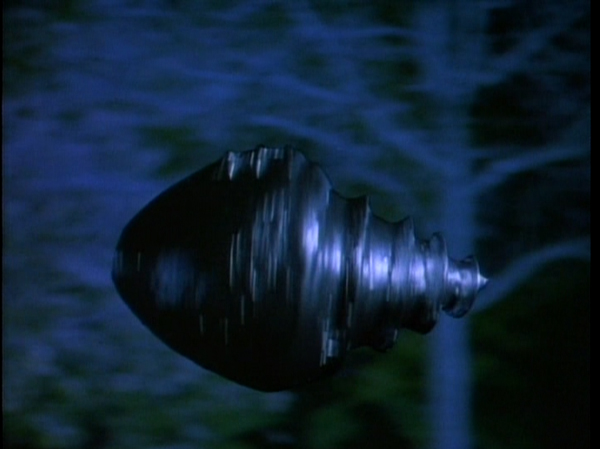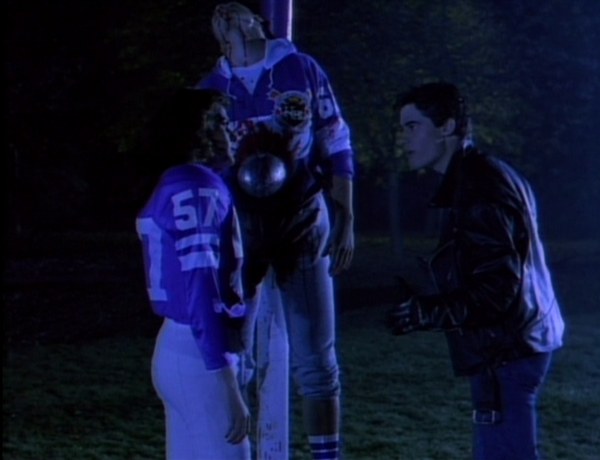 His family seem weirdly impressed with his finally-above-average achievements. When he does well on a test they throw him a surprise party. When he gets a good grade they buy him a motorcycle complete with leather jacket. Then he lays on his bed in an undershirt and sunglasses playing saxophone. Which I guess explains why Mary Lou is into him. (Though I guess she's into everybody.) Anyway he tries to break up with her and she becomes very possessive. (Pun.) She even says "If I can't have you nobody can."
Of course the climax has to be at the prom. Mary Lou tries to attack Sarah, but Alex offers himself to her as a sacrifice, and they all get sucked down into Hell. So I take it back – the climax takes place at the Hell prom from the opening. Sarah thankfully takes over as the hero and tries to save the day. I'm not sure why her blowtorch kills people in Hell, though. That's kind of counter-intuitive.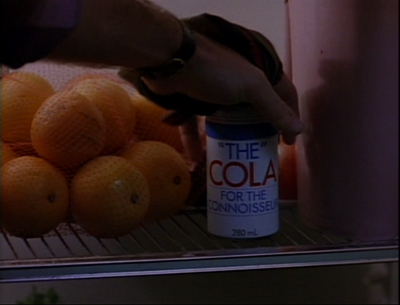 By the way, there's a part where he needs a can of cola for something, and what he uses is this thing called "The" Cola – For the Connoisseur. Let it be known that I am the connoisseur. I would like to try "The" Cola please.
THE LAST KISS is in contention with II for the most fun and clever of the series. It actually has intentionally funny dialogue. After Alex breaks up with Mary Lou for killing too many people she glows purple and disappears and blows him over with a blast of supernatural wind and he says "Women!" And there are plenty of quirky character details, like how Sarah angrily bakes cookies to deal with stress as a setup for using "I don't get mad, I bake" as an action one-liner. There's a scene where Alex calls his parents on a pay phone and we hear comical gibberish from the other end, sorta like when adults talk in Peanuts.
A strange touch is that there are these announcements over the intercom that are dumb jokes: "Attention students: today is Mrs. Melanoma's last day as cafeteria cook, she's returning to her old job at the Hamilton Toxic Waste Dump, so let's all wish her good luck." It seems like maybe they thought they were going to be barely audible in the background, but they end up being the focus of the scenes and fall completely flat. I felt similarly about the character of Leonard (Jeremy Ratchford, SHORT CIRCUIT 2, UNFORGIVEN) who is such a stereotypical nerd that he wears a pocket protector. We know the movie can do better than that, because it has.
There are other things that are just odd. Like, I'm not sure if I get why this discussion with his guidance counselor (Lesley Kelly, GRAVEYARD SHIFT I-II) is staged with a cactus awkwardly blocking the shot, though I think it has something to do with penises.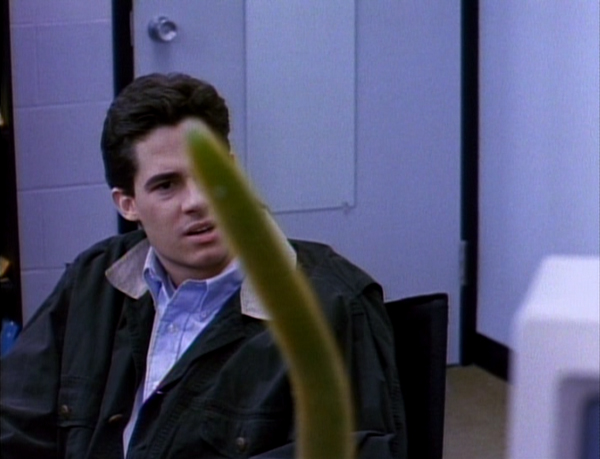 And there's a weird thing about how jock asshole Andrew (Dylan Neal, Dawson's Creek, Arrow, FIFTY SHADES FREED) is trying to change "the rule that says the football team has to let anybody on who wants to play" because he doesn't want "dweebs, dorks and geeks" on the team (specifically Alex, because he played better than him with his Mary Lou powers). Until this scene I had no idea Alex was supposed to be a nerd, because he looks like Colin Farrell. I mean, Conlon was also in REVENGE OF THE NERDS III: THE NEXT GENERATION, and he didn't play one of the nerds.
Andrew suggests having "trials" to get on the team, and Sarah acts like it's a ludicrous idea. Are there really schools where the football team doesn't have try outs? Is this a Canadian thing?
Well, no. If you've been reading my reviews you know that I consider the central mystery of the PROM NIGHT series to be whether they take place in the U.S. even though they're filmed in Canada. I assumed part 1 did, because the school was named after founding father Alexander Hamilton. It's debatable whether part II is supposed to be the same school, since it's shortened to Hamilton High School and filmed in a different location, but it's definitely in Canada because a bribe attempt is made with Canadian currency. But the plot thickens: Part III explicitly takes place at the same school (and is filmed on the same location) as II, but there is an American flag on the wall of the school, which Alex accidentally pulls down when he falls down some stairs, and then he makes out with Mary Lou on top of it and the Star Spangled Banner plays.
Other possible supporting evidence: the stars and stripes shirt worn by the old dude with the liberty spikes on the student council.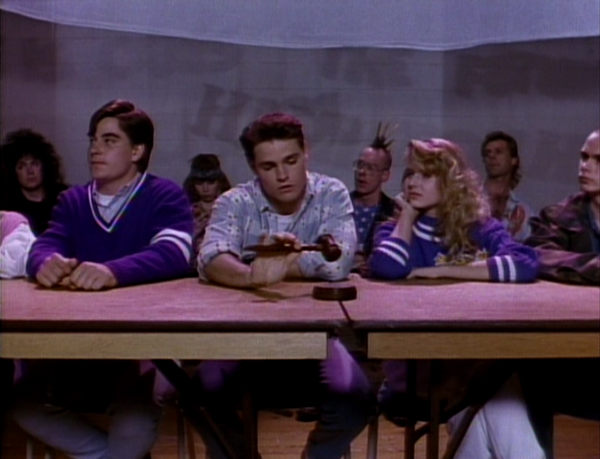 Also, "She's Gonna Freak You," the surprisingly good theme song rap by Maestro Fresh-Wes, which is used in a preparing-for-battle montage and on the end credits, warns you about the really hot "American woman" who you can't resist who's gonna fuck you over.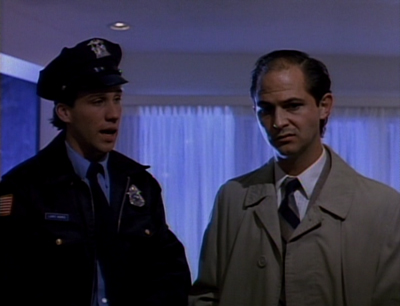 Still no disco in this one. Composer Paul Zaza does return, though. The prom features a live band called Chaos. This time Brock Simpson (young Nick in part 1, Josh in Part II) plays a cop named Larry. Tradition is important.
I saw this on a double feature DVD with part IV, and I learned from Wikipedia that it's a TV edit. "Alternate camera angles and takes are utilized to tone down violence, language and nudity, along with dubbed or muted profanity." That does seem accurate. If you want the original version I guess you gotta go with VHS or import DVDs.
This one is credited as directed by Ron Oliver and Peter Simpson – that's the writer of part II and the producer of all of the PROM NIGHTs, respectively.