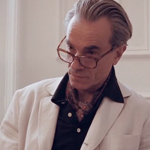 a.k.a. THE INSUFFERABLE MR. WOODCOCK
or
LOOK AT THIS FUCKIN GUY
PHANTOM THREAD (no "THE") is the latest from P.T. Anderson. I think we always figured he was gonna keep on being a great filmmaker, but back when he did BOOGIE NIGHTS I doubt I was thinking "In 20 years this guy will do a weird relationship drama about a dress designer with poor social skills and we'll all go see it because it's Paul Thomas Anderson." If I was then I'm impressed with myself because that was an uncanny prediction.
They have advertised it as "Daniel Day-Lewis's final performance," as if he's dead, but really he just says he's retiring, like Jay-Z five albums ago or Steven Soderbergh before The Knick, LOGAN LUCKY, Mosaic and UNSANE. It's not my place to tell him what to do with his life, but still I'd like to encourage him to hold off on retiring until doing one more film, a remake of ENTER THE NINJA. Then he would end on the greatest performance of his career by a country mile before heading off to the mountains to humbly cobble shoes, design dresses and live as a Mohican while leading a ninja clan in character as Abraham Lincoln.
Before we continue, I have some suggested background music for this review:
Day-Lewis plays Reynolds Woodcock, a fancypants asshole guy who makes expensive dresses. I heard Anderson say in an interview that the genesis of the movie was wanting to work with Day-Lewis again after THERE WILL BE BLOOD, and wanting him to play a romantic lead, which he admits is not what it turned out to be. But I think that gives you an idea of how little this is about plot and how much it's about just watching this character and the minute details of his behavior, as intensely portrayed by the champeen of acting. Anderson is very keen on how much Day-Lewis can just brush his hair or some shit and make it worth watching. It's not just that he lives the character in every tiny gesture, but that he's a strange looking dude. There was one point when it was showing his giant hands and I remembered "oh yeah, he was Abraham Lincoln."
It's a story about a man whose success has allowed him to create an unusual lifestyle and stubbornly cling to it even at the peril of all relationships. Woodcock goes to a tiny cafe in the countryside where he meets a waitress named Alma (Vicky Krieps, HANNA). They flirt a little and she impresses him by remembering his absurdly long and detailed order after he takes away the paper she wrote it down on. She seems to take it as a fun challenge rather than what it actually is: an urgent warning of what a nightmare it would be to spend any time at all with this demanding weirdo.
He brings her on a date and dazzles her with the riches of the House of Woodcock. He lives and works in a mansion, has an all female staff, welcomes high society clients paying top dollar for the finest ball gowns and wedding dresses and shit. He just assumes everybody considers him a god, and I don't think Alma was aware of or gives much of a shit about this world, but it's gotta be kind of impressive to meet somebody like that and feel wanted by them. Also the frequent staring and smiling at each other conveys an authentic smitten-ness that does make him seem pretty charming, even though I kind of hated him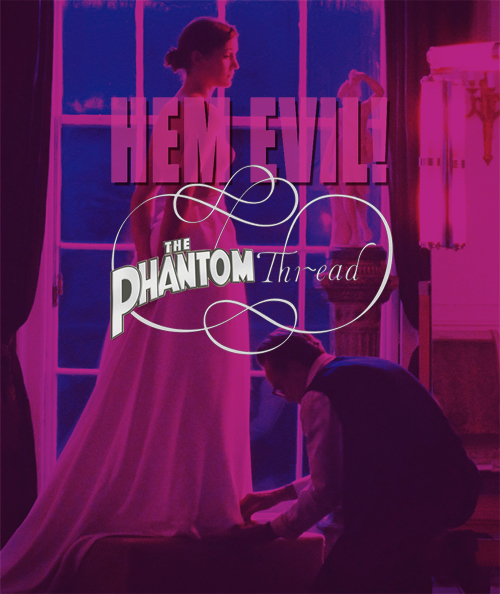 A crucial scene is when, on the first date I believe, he takes her measurements, dictating them to his sister Cyril (Lesley Manville, MALEFICENT), who has not been friendly to her. Cyril is cold and intimidating and seems to do alot of the harder work running the company and babying her dumb brother because it's so important for him to have full concentration while sucking on a pin and pulling fabric around while squinting intensely with his glasses pulled down his nose because of he's an artiste. I'm sure part of Alma is flattered to be treated like one of his high society VIPs, to have Mr. Hotshot King of the Dresses excited to use her as a canvas for his art. But the look on her face indicates she feels demeaned as she's dissected, literally broken down into a series of numbers that describe her body shape, and then has to discuss with this guy's sister whether or not those numbers equal "his type."
And that's Woodcock on a good day. He's so convinced of his greatness that he feels he can weaponize it against any tiny thing in the world that's not exactly how he wants it. A huge problem in the relationship is that he likes to sketch at breakfast and believes that hearing the sound of Alma buttering her toast destroys his focus, cruelly denying the mortal world of his greatness. It's one kind of person who would be bothered by something like that, and another who would feel the need to say it out loud and make a thing out of it. Woodcock is the worst kind. There are major cringe scenes where he throws tantrums at her for the crimes of 1) bringing him tea and 2) making him a special dinner. He says enough to make it clear that he understands she's trying to do nice things for him, yet he ends each confrontation believing he's the good guy and has been horribly wronged by this clueless person bothering him.
Alma at first seems nice and is the audience point-of-view of this world. She's the one suffering so she's easy to attach to, especially when she decides to tell him off. For much of the movie the only unsympathetic thing about her is that she doesn't get the fuck away from this guy. In fact, she (SPOILER?) marries him. I think it's telling that after we've seen how much fretting and mandatory staff overtime goes into making the perfect dress for various rich ladies it just abruptly cuts to the wedding with no mention of Alma's modest dress.
The sign that she is (or is becoming) a total fucking Woodcock is when she eggs him on to be outraged at a client for being drunk while wearing his dress. Any empathetic person could see this poor woman is terrified about her new marriage and would want to help her out, instead they try to take the dress off of her. The scene torments us by flipping standard stick-it-to-the-Man protocol on its head. Normally, a high society lady breaking the rules and causing people to gasp and say "Why, I never!" at a hoity-toity formal occasion is portrayed as glorious rebellion and wacky slapstick. Here we see it from the perspective of the uptight pearl clutchers, and their elitist retaliation is treated as the puckish mischief. We're implicated in their snobbishness.
Anderson's movies are pretty different from what most other directors these days are offering or are capable of. He always has off the charts acting performances – not just Day-Lewis here, but also Krieps and Oscar-nominated Manville – and intoxicatingly good filmatistic craft (this one was released in 70mm, but hasn't played that way here). And they always feel like they're "about" something, but not in the obvious, quantifiable ways some of us (including me) instinctively look for. They are explorations of ideas and themes and if you're so inclined you can try to examine them and find ways to interpret them, but I don't think you'll find a definitive answer.
I guess these days I expect all PTA pictures to be great, but a type of greatness that fits into one of two categories:
THE MASTER is the type that's an amazing experience to have let wash over me once and now I don't think I'll necessarily ever watch it again.
INHERENT VICE is one that left me puzzled but also it was so entertaining I intend to watch it again and see if I can make more sense out of it.
PHANTOM THREAD is closer to the THE MASTER category. But I think I had more fun with it, maybe because it's smaller and simpler than THE MASTER. Ultimately it's just about this strange, seemingly unhealthy relationship and it ends up in a weird place that I didn't see coming. TWILIGHT for film studies types.
A couple notes:
1) If you've seen the trailer you know that near the beginning Woodcock talks about hiding secrets inside clothes – a name or a word or something sewn into a hem – so it's no surprise that later in the movie there is a message found sewn in a dress. It's a nice touch in the movie but if I were a close confidant of Mr. Anderson's who he trusted to watch the movie early and give him advice I would've suggested that when she opens the hem the message sewn inside is just the word "fart" or maybe "butt." That would be better in my opinion.
2) SPOILER FOR PHANTOM THREAD AND ALSO THE BEGUILED: Of the two 2017 movies by major directors that involved intentionally feeding people poisonous mushrooms, this is my favorite. Sofia Coppola's THE BEGUILED was beautiful and well acted but it was so simplified from the Siegel/Eastwood movie I'd just seen that it felt underwhelming, and I didn't even have enough to say about it to write a review. Having seen both recently though it was funny to have poison mushrooms mentioned here and immediately think "Wait, is that really where this is going?" I was totally in favor of her poisoning him, even if it had been done before, so it was a shock when he survived and she took care of him. When she was making the omelette I was scared because I thought her using butter meant it wasn't for him, it was a suicide omelette. I guess it was more of an S&M thing. If it makes them happy I am in support of it, they aren't hurting anyone and in fact are making sure fewer poisonous mushrooms are in the forest where a bunny or something could eat them.