I honestly never knew about this Nic Cage-featuring neo-noir until some of you recommended it to me in the comments. So thanks for that. Since I'd never heard of it and the cover looks like the type of photoshop they do on an uncopyrighted double feature DVD you'd buy for 99 cents at Safeway I assumed this was an early Cage performance. I was shocked when I realized it was 1993, same year he did the much more polished RED ROCK WEST. It's kind of hilarious that a crime movie this clunky came out after RESERVOIR DOGS.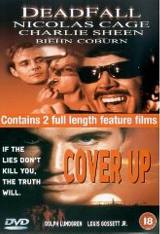 Michael Biehn plays a second generation con man whose world falls apart when he accidentally shoots his dad (James Coburn) during a con. Looking through his dad's things he finds out his dad had a brother (James Coburn) so he goes and starts working for him. It's a typical convoluted con story but for some reason they decided they needed Biehn reading lots of stiff narration explaining everything and pretending to be in-the-know. And let's just say Ricky Jay doesn't show up in this one. In other words the dialogue is not written by David Mamet, in my opinion.
Cage plays Eddie, the uncle's drugged out, dangerously crazy henchman, or bad lieutenant if you will. It's possibly his most ridiculous performance ever. He has a wig like Anton Chighur, mustache and shades like Tony Clifton, and mumbles in some weird Spanish-esque accent. He's maybe not as funny as in VAMPIRE'S KISS, but he has several hilarious moments:
1. His introduction, sitting casually behind Biehn and making his presence known by loudly shuffling cards for a magic trick.
2. When his car won't start until he yells "FUCK!" and twirls one finger in the air as if winding it.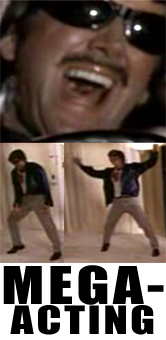 3. When he's doing a con involving his girlfriend supposedly losing a bracelet, and he takes off his glasses – his eyes are red like he's been crying (or coked out of his mind). Just completely overdoing it for the con.
4. When he comes home and announces someone's trying to kill him while doing Mick Jagger poses.
Eddie's not the only weird touch in the movie. There's also Charlie Sheen as a hotshot pool shark, giving a really showy high roller performance, but not quite convincing due to his sloppy facial hair and jacket that looks like a Hugh Hefner Halloween costume. (An unofficial one, so it would be called "Mansion Playboy" or "Grotto Guy.") Not strange enough for you? How 'bout Mickey Dolenz as a pretzel seller/bookie? He and Clarence Williams III are on the con man elite team, but unfortunately neither of them do much in the movie.
Oh, I got one: Angus Scrimm (you know, the Tall Man from PHANTASM) as a diamond appraiser/crime boss with a Guillermo Del Toro-esque pair of scissors in place of one of his hands – he's in there. And Peter Fonda. And Talia Shire.
Also, I gotta give credit to the guy who tails people wearing the most obvious fake beard of all time (see end of below clip).
But the whole thing is so low rent and forced and the dialogue is terrible, and sometimes when they're not spouting cliches I don't know what the hell they're talking about (for example, why does Cage start yelling about Sam Peckinpah at the bar?)
Here's an example of how awkward the movie is: When Coburn got shot at the beginning I thought damn, so it's only a cameo. Then Biehn finds out he has an uncle and goes looking for him. When he first sees the uncle it's from behind, and if you don't recognize the back of his head of course you still know it's James Coburn because of the distinct voice. But when he turns around it's sudden, like the movie thinks it's a big, shocking reveal. Oh my God, he also has James Coburn's face, not just his voice! Then, to make matters worse, they have a flashback of the dad dying. Like you forgot Coburn played his dad too. Man, we're not that far into the movie yet. You really thought I would forget? Is my bad memory really that notorious?
The director is Christopher Coppola, who is coincidentally Nic Cage's brother. I'm sure Nic still had to audition. This movie really shows you the mixed blessings of being a Coppola. On one hand, I'm not sure if he was just Christopher Whateverson that he would've had a harder time getting a movie made. On the other hand he has to live with your uncle directed THE GODFATHER, one of the greatest movies of all time, and you're making this shit? I don't want to be an asshole like that, it's not fair to put that on him. Not everybody can be Francis Ford. Some people gotta be Christopher. At least he gave us the magic of his brother playing Eddie. So he comes out ahead.