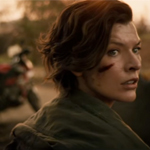 RESIDENT EVIL: THE FINAL CHAPTER is a partly satisfying, partly frustrating ending to the epic billion-dollar-grossing sextology that people all around the world have been following for 15 years and that I have been following for about a month.
Writer-director Paul W.S. Anderson returns (he ended up directing all but parts 2 and 3) and follows many of the fun traditions of the series:
1. Starting off with a ludicrously long and convoluted narrated recap/revision of the story thus far
2. Sort of following up on the last cliffhanger, but in a way that suggests they abandoned the original idea they had when they made the last one. At the end of RETRIBUTION, the surviving characters were on top of the White House surrounded by millions of zombies and monsters, about to begin "the last battle to save humanity." Now we CUT TO: Alice (Milla Jovovich) all alone in a completely destroyed and barren DC. Last time Wesker (Shawn Roberts) had just given her her powers back to fight this battle, now they tell us that was a trick and she actually doesn't have powers. Huh? She keeps losing and regaining them without much consequence.
3. Giving it a different look and style from all the other installments. This one is very brown and smoky, everything is dirty and blown up or worn out. Even some of the areas of the Hive that they return to are weathered and grimy instead of smooth and sleek.
Storywise I would say this is less random and set-piece-based than the others. There's not a section that seems lifted out from a whole different movie like most of the series has. It's pretty straightforward about Alice teaming with Claire Redfield (Ali Larter) and yet another squad of survivors (including Ruby Rose from xXx: RETURN OF XANDER CAGE) to steal an airborne anti-virus that they're told would destroy everything infected by the T-virus. That means not only zombies and dog monsters and flying demons but also Alice, and she's willing to make that sacrifice. Thank you for your service, Alice.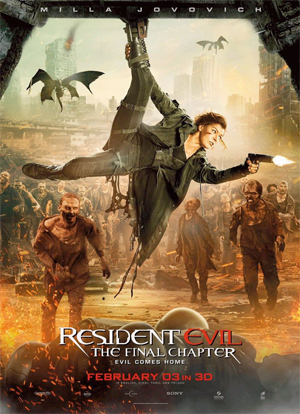 I do miss the zig-zagging, making-shit-up-on-the-fly tradition of RESIDENT EVIL storytelling, but this new sense of focus makes sense for what really does seem intended as probably-the-last-one. They do a decent job of tying the story back into the beginning. They bring back the little girl A.I. The Red Queen (who tells them about the anti-virus), the original Raccoon City Hive (where they have to get it from), the hallway laser grids, the most advanced version of the monster dogs (now with mouths like the reapers in BLADE II). They have more going on with clones and people being alive when we thought they were dead, specifically Iain Glen as Umbrella Corp founder-or-whatever Dr. Isaacs. They do mention Alice waking up in the mansion where it all started, and near the end have her lying in a similar fetal position (but clothed). I have to say I was disappointed that they didn't fight their way up from the Hive into the mansion for the final showdown – that would be cool if they ended up literally where it all began. And smashed some shit.
(Well, I guess it must've gotten nuked, but logic never stopped them before. It could've gotten rebuilt for some damn reason.)
Jill Valentine isn't back, and neither is Ada. I found articles claiming that Li Bingbing was returning as Ada – maybe that changed when filming was postponed due to Jovovich's pregnancy.
The three-weeks-after-RETRIBUTION (source: Wikipedia) post-apocalyptic world is a cool one. There are less than 4,500 humans left on the entire earth, so Alice is almost like an Omega-Woman at the beginning. It's a hazy afternoon in the former U.S. capital, and she's in a car getting attacked by a giant bat monster, and a decade and a half sure does make a difference in digital monster quality, because this is a good one. But immediately we spot the big, disappointing problem with this movie, the one that will kill it for some people: the action scenes have disorienting quick cuts and the camera shaking all over the fucking place. Remember how RETRIBUTION so blatantly lifted from the MATRIX movies way after the fact? Now here's Anderson coming years late to the post-action party.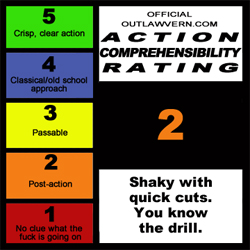 It's too bad, because all through that unfortunate fad he was one of the few carrying the torch for the proud tradition of precise action cinematography. I did not survey the earlier entries for action comprehensibility, but I suspect if I went back and looked for it, APOCALYPSE might be the only other one not in the 4-5 range on the ACR scale. I guess I got on the P.W.S. Anderson train just in time for it to derail while going over a bridge.
So some of the mayhem that would've made for some beloved scenes if shot in the old style can now mostly just be appreciated as cool action ideas. My favorite would be when she's snared by a trap and hanging upside down by one foot from a freeway overpass, and some guys in motorcycle helmets are beating her with clubs. She seems defeated until she laughs and grunts "Is that all you got?" and this is when she swings around and does a bunch of acrobatics to beat them all up. But we don't see it all like in the old days.
(After this she's defeated by a parked motorcycle.)
Her capture leads to another should've-been-big-action-scene when Dr. Isaacs ties her to the back of his tank to run along as the carrot on a stick for his pet zombie army, and she has to fight off some guards and escape. It's… pretty cool.
There are two new retroactively-added-in revelations about Alice's background, both of which are easy to guess the first moment they start to set them up, but that's not really a problem. (I mean SPOILER SPOILER SPOILER it's hard to miss that the newly-introduced-Umbrella-bigshot they're not showing the face of is Milla Jovovich, but it's worth it to get her in old lady makeup!)
(And as long as we're SPOILERING I should mention that I thought they did a good job of casting the new Red Queen to look like a young Milla, and it turns out it's because it's her daughter Ever Anderson.)
The climax is mostly a one-on-one fight between Alice and Dr. Isaacs. It may seem unfair for a badass wasteland warrior woman to beat up an old man, but he has cybernetic implants that allow him to predict the outcome of any combat possibility. So while she has to use her good old fashioned brain to consider whether to stab him with an ice pick, a pen or a decanter he has already used a computer to dramatize how he would block each attack and then drink some scotch. Anyway, it's a long and involved fight, it has a couple good gimmicks, and you probly see more than in the similar climax of JASON BOURNE, at least.
Oh yeah, and there are zombies too. It's funny that I came into this series wanting George Romero and go out knowing the zombies are just an afterthought. This is the most user friendly anti-virus of all time because all she has to do is break the vial and that's it. That's silly, but it's a cool image to see the zombies around her just drop dead in waves.
I know it's not intentional, but the big reveal about what the Umbrella Corp has supposedly been up to this whole time – SPOILER deliberately ruining the world while the rich people hide away to take over in the aftermath – hits a little close to home at the moment. So that was a strength.
In the grand RESIDENT EVIL tradition, the very end doesn't seem to match up with the beginning. Though the opening narration double underlines that this is "THE END OF MY STORY," the end emphasizes that there was still some shit going down in the world after this and she still could've gone around having smaller adventures.
Then she ends with, "My name is Alice." This is not new information. We got that already. Not exactly a mindblowing capper in my opinion.
Though the disappointing action lowers the overall quality of the movie and ends the trend of the series getting better with each chapter, it's not like they ruined the whole thing. This is a very respectable disreputable series and I think it's really cool that Jovovich not only starred in all six of them but seemed to get better and more involved in each one. Many actors would, by part 6, be coming up with ways to limit their filming schedule. Have the character go into a coma for a while or something. Not this one.
It would be hard to argue that the character of Alice is a complex one, especially for one who's had 10+ hours of screen time to evolve. But she's a very appealing action icon, and this series probly doesn't get enough credit for how woman-centered it is. They tried a couple times, but they could never find a dude character that anybody would pay attention to standing next to her. It's all about Alice. It's all about Milla. Good for her.
I'm glad I watched these.