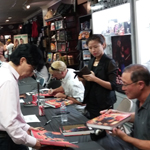 warning: I had to write this down as a time capsule of my book signing experience. Read at own risk.
Today, like the mighty sasquatch, I live as a recluse somewhere in the Pacific Northwest. Yesterday, in the name of transparency, I was out in the open in Burbank, California, joining lower-cased author david j. moore as one of the many guests signing his gigantic coffee table book THE GOOD, THE TOUGH AND THE DEADLY: ACTION MOVIES & STARS 1960s-PRESENT.
"It's about action stars, not action movies," david kept telling people as he signed their books. He'd wanted a different subtitle that made that more clear. Rather than trying to catalog everything that could technically qualify as an action movie – which could end up being half super heroes and transformerses and shit – he chose to zero in on the dying art of the action star vehicle. I remember him calling me for counsel on this issue a few years ago. I don't think I was much help, but I agreed with his eventual decision to limit it to actors who primarily or exclusively do action, and (with a few exceptions) started as martial artists or athletes. That means no to my boys Bruce and Clint, sorry to say, but yes to JCVD, Cynthia Rothrock, Jerry Trimble, Michael Dudikoff, Olivier Gruner, ex-diver Jason Statham, and plenty of people I'm not even familiar with. People who never had books about them before, who you never thought would have books about them. (He does include Bronson, Stallone and Schwarzenegger, if you're worried.)

Apparently david has talked to some people critical of what these rules exclude, enough that he found himself offering a personal disclaimer to each buyer of the book. But to me that's the beauty of it. How many books do you currently have on your shelf that include a 3 page interview with Lorenzo Lamas? For me, this is my first. You know who Matthias Hues is? The alien from I COME IN PEACE, villain from NO RETREAT NO SURRENDER 2? There's a 3 page interview with him too. david talks to pretty much all of the legends of the modern DTV age: Scott Adkins, Michael Jai White, Isaac Florentine, John Hyams, Jesse V. Johnson, as well as old school stars that some of you have probly only ever heard of from me, like Jalal Merhi and Mimi Lesseos.
As far as the capsule reviews go, he's completist enough that he has one of the cartoon Jackie Chan Adventures, and assigned me to do the CANNONBALL RUN movies specifically because Jackie is in them. I had to read the LOONEY TUNES: BACK IN ACTION review in suspense to find out it's in there because the wrestler Bill Goldberg makes an appearance.
david lives in the L.A. area and I swear he goes to see every obscure action movie that plays only there. I think me and him might be the only people who try to follow WWE Films yet have no interest in following actual wrestling. But david has actually seen every one of them, and mostly in the theater. I can't keep up with him. We don't always agree on the merits of movies, for example he sounds disappointed by the unhinged lunacy of DOUBLE TEAM and KNOCK OFF, while I find joy in it. So I'm excited when he pumps up a movie I consider a classic, like BLOOD AND BONE, which he calls "Perhaps the most incredible direct-to-video movie ever made," before interviewing its director, Ben Ramsey.
I don't know what we did to deserve it, you guys, but this is a book specifically designed for our tastes. The introduction is by Craig R. Baxley. Let that sink in. A book by someone who knows that the guy who shot second unit for PREDATOR and directed STONE COLD is royalty. Few authors have that knowledge.
I only wrote five reviews for the book, part of a team of ten writers backing up david, who wrote the majority, with Corey Danna of slackjawpunks.com coming in second. So it was very generous of david to invite me to the signing. After many changes to the guest list and one no-show (Marko Zaror will have to remain mysterious to me) I still ended up sitting at a long line of tables with not only the contributors to the book (including Keith Batcheller, the veteran movie poster artist who painted the cover) but interview subjects like BLOODFIST star Don "The Dragon" Wilson, LIONHEART director Sheldon Lettich, INVASION U.S.A. writer James Bruner, AMERICAN NINJA 5 super ninja James Lew, ASSASSINATION GAMES director Ernie Barbarash, MACH 2 writer Steve Latshaw, RING OF STEEL star Robert Chapin (who brought one of his swords!) and a favorite of david's, Julian Lee (FATAL REVENGE) who flew in from Korea. I was seated between Corey and Jino Kang, a Hapkido hall of famer whose starring/directing vehicle FIST 2 FIST I had just watched a few days earlier, and who had the same humble and kind presence in person as in the movie.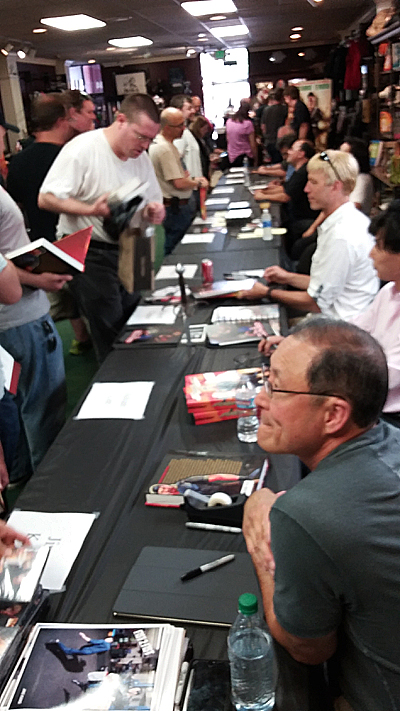 Unfortunately the bookstore – Dark Delicacies, a really cool horrorcentric place run by the very hospitable Del and Sue – was not attacked by mercenaries, so we didn't get to see these expendables go into action. But hanging around them was amazing. Wilson was the most gregarious. When I told him I was a BLOODFIST fan he laughed, "I made alot of them!"
About an hour in, the one and only Michael Jai White walked in the door. He looked as intimidatingly sculpted as in the movies, and taller, wearing Chuck Taylors.
I knew he'd been invited, but it was kind of iffy so it was kept secret. He didn't seem to have known what he was getting into, and didn't sit down to sign, but did take photos with a few lucky people. (I didn't try because it seemed like if one more person asked he would be scared off.)
Knowing I was a huge fan, david walked him over to my table and introduced us. It was awkward, but I'll take it. david talked me up and said "Vern wrote the book on Steven Seagal," which got a befuddled/skeptical look out of MJW. I sensed a bit of "I will smile politely at the crazy person" on his face and since I'd sold the one copy I had of the book I couldn't show him the nice things I say about his paper cutter sword fight in EXIT WOUNDS. I was later told that he won't talk about Seagal (though he has derided his martial arts legitimacy on Twitter before).
This was a bit of a recurring theme of the day. My status as the guy who wrote a book about Steven Seagal did not seem to ingratiate me to the martial artists in the room. The funniest moment of the whole experience was during set up when I witnessed a certain legendary martial arts champion seeing Seagalogy on the table and, not knowing the author was standing nearby, trash talking its subject. "He says he's been a fighter all his life, so tell me one person he's ever fought? His wife, maybe." Van Damme was also mentioned. I could not believe I got the chance to be a fly on that wall. Life is beautiful, you guys.
When the line came through (I'm not sure how many people it was, but Dark Delicacies sold out of their 50 copies of the book, and david sold some as well) a record number of people wanted to tell me that they or someone they knew had had a terrible time working with Seagal. A funny one was the guy who said "I recently finished his new one, the sniper one."
"Finished watching it, or finished working on it?" I asked.
Working, it turned out. Since I thought that was a terrible movie I was relieved that his job was related to the guns, so I could sincerely say he did good work. "I assume you've met him before then?" When I explained that I hadn't he said, "You're not missing much!" Later, the title of Yippee Ki Yay, Moviegoer earned me a bummer of a story about recent Bruce Willis difficulties. I thought Next time I'm gonna write a book about somebody everyone agrees is a sweetheart.
Superior gratitude to all the nice people who came partly to meet me. One reader (Ryan I think?) happened to live right near the store. I was surprised and flattered how many people were familiar with my work. Apologies to whoever I forget here, but I know I met Dtroyt and The Winchester, and I made a new vow to the gentleman who requested a HARD TARGET review when I met him at Cinefamily. I forget if it was him or someone else wearing the Argyle shirt from the Flea Market. I was happy to finally meet Horror Movie a Day author Brian Collins, and Zach and Chris who do a podcast called Van Damme It!, and to see Lance Henriksen biographer Joe Maddrey and get his new book about westerns. Also I saw Phil and Jackie who I feel like are dear friends even though I only met them that one time at Cinefamily. During the weekend I got to hang out with commenters Franchise Fred and Tawdry Hepburn at a bar that's in MEMENTO, and when I told long-time-reader-but-non-commenter Frank S. I was staying at the Safari Inn, as seen in TRUE ROMANCE, he brought me to Pat and Lorraine's, the diner from RESERVOIR DOGS, and then Nancy Thompson's house. It's not really on Elm Street, but it's really 1428.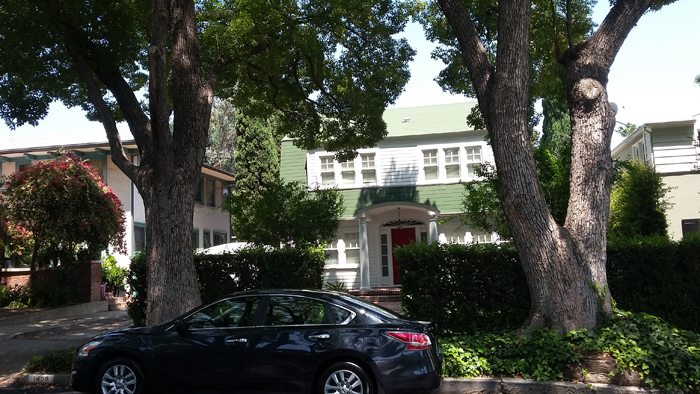 After the signing seemed to be winding down a tall Englishman walked up to the table and asked which of us was Vern. He turned out to be Jesse V. Johnson, veteran stuntman and director of PIT FIGHTER, GREEN STREET HOOLIGANS 2, THE BUTCHER and THE PACKAGE, and he said nice things about me having been "so nice, maybe too nice" to so many of his movies. If I hadn't had to come home this morning I could've visited the set of his movie SAVAGE DOG starring Scott Adkins and Marko Zaror, at which point I would've conveniently forgotten every condescending comment I've ever made about critics who do set visits.
Of course that would've been awesome, but all of this was an unbelievable gift for a dude of my interests. I couldn't believe I was seeing these greats interacting, finding out that the guys who'd worked with Van Damme were all buddies, that Johnson and Lee had been developing a movie together (unbeknownst to even david), witnessing White talking to his FALCON RISING director Barbarash, or intently discussing an upcoming martial arts event with Wilson. And I got to see Johnson turn down a dinner invitation because "I have all the guns from the movie in my car."
I heard Johnson, Latshaw and others praise david's book and gathering for giving this genre and these people the respect and spotlight they have long deserved; saying that this is an unfairly disrespected and forgotten type of movie that will some day rise again. I couldn't agree more, and I'm thankful to have been able to witness it.
So allow me to extend my deepest thanks to every single person I met or re-met this weekend and especially david j. moore, who somehow made this miraculous book and brought this crazy group of people together.
p.s. I'm done traveling for now, so don't worry, there are some reviews on their way!
This entry was posted on Monday, June 27th, 2016 at 11:36 pm and is filed under
Blog Post (short for weblog)
. You can follow any responses to this entry through the
RSS 2.0
feed. You can skip to the end and leave a response. Pinging is currently not allowed.