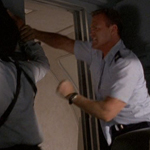 The Super Bowl is on Sunday. I noticed because here in Seattle people are losing their shit. Every single person I've run into in the last month has been a life long die hard dyed in the wool cradle to the grave never forget Seahawk maniac, judging by their shirts, hats, coats and conversations. At the grocery stores they have "12th Man" cupcakes, cakes, microbrews, wines, they have "Beast Cut" deals on meat, that type of shit. The local news had a story about a guy who "created an internet sensation" by putting a jersey on his cat. There's more blue and green flying than there were flags after 9-11, and an hour doesn't go by outside of my apartment without people yelling stupid chants at each other, or at nobody. (In fact I hear some right now.)
Yesterday a homeless drunk with an eyepatch gave me a fist bump because "yeeaaaah, that's the look. That's the look of a Seahawk," then told me about "the best defense in the league" and something something Peyton Manning. Basically, these crazy fuckers are gonna burn my building down if I don't try to exploit, or I mean support the team in some ridiculous way. But I'm sorry friends, I am an honest individual, I cannot tell a lie, I just can't fake something like being excited that we finally have a local men's team doing well at something. It's not a sport I normally watch and it would be real fuckin covenient to start now, wouldn't it? So the best I can offer is to review 2001's MACH 2 starring the greatest Seahawk of all time (movie-acting-wise), Brian Bosworth.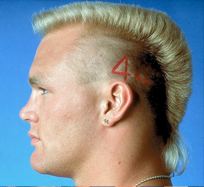 I'm big on the idea of Bosworth because of his weird proto-Dennis-Rodman persona when he was a Seahawk, and the way they used it in one of my all time favorite b-action movies, Craig Baxley's STONE COLD. But it took MACH 2 to make me realize maybe there was something more to him. First, a little background.
Bosworth's NFL career garnered him the highest paying contract for a rookie at the time, but he only played from 1987-1989 before retiring due to a shoulder injury. Still, it was long enough to make him a short-lived media sensation. He had an arrogant bad boy reputation, known for trash talking opponents, but kids in Seattle loved him. They imitated his trademark "Boz Cut" hair, a bleach-blond white boy flat top with strips (or even a Seahawks logo) shaved into the sides. On their walls they had his "Land of Boz" poster: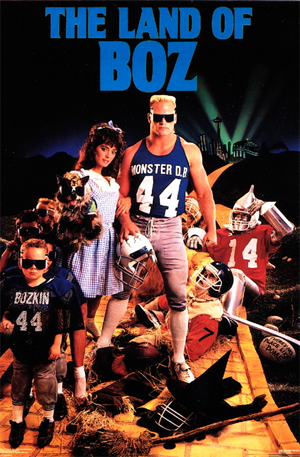 He did Right Guard commercials, he was on the cover of Interview magazine, he had an "as told to" autobiography. That whole style he had back then… what the hell was he supposed to be? I don't know, but he was larger than life, flamboyant, more like Mr. T or a WWF wrestler than like the other NFL players. (In fact I remember going to a Saturday Night's Main Event and he was there sitting near the front, so I know he was into that kind of shit.) Who cares if he can't throw a ball anymore, why not put him on a motorcycle to fight Lance Henriksen? That's what they did with STONE COLD in 1991. And it, uh, didn't really catch on. But it's a classic.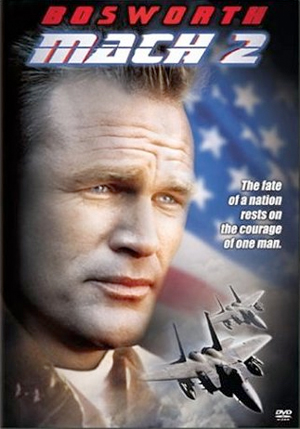 10 years and 8 movies later we come to today's subject, MACH 2. This is nothing more than a very low rent DTV knock off of an UNDER SIEGE type movie. And by "low rent" I mean "directed by Fred Olen Ray," director of literally 130 movies such as HOLLYWOOD CHAINSAW HOOKERS, DINOSAUR ISLAND, BIKINI FRANKENSTEIN and SUPERSHARK. It definitely looks like a movie that belongs in that oeuvre, but somehow it coasts on the power of the Boz screen presence. I enjoyed it.
The Boz plays Captain Jack Tyree. He's an Air Force guy, but always has to explain that he's not a pilot. "I'm part of an anti-terrorist ground force. I never learned how to fly. I don't even like planes." After questioning the skills of a helicopter pilot he admits, "I just… really hate to fly." Because of this his nickname is "Washout," and, as he explains, "Any time there's a shit job, they send ol' Tyree."
Tyree doesn't have the old Boz show-offy eccentricities (hair cut, sunglasses, pet komodo dragon). Instead he fits nicely into the classical role of the square-jawed veteran with the cynical sense of humor. He gets assigned to security detail for a crusading, possibly liberal senator/presidential candidate (David Hedison) taking the Concord to the Balkans to negotiate the release of hostages. Little does Tyree know that the senator is carrying a 2 1/2 inch disk proving that the Vice President (Cliff Robertson, stopping by to film for an afternoon) purposely sells weapons to both sides to keep the war alive and profitable. Nor does he know that traitors within the Secret Service will hijack the plane in order to get the disk.
This is a spoiler, so deal with it, but the traitor turns out to be Michael Dorn, a.k.a. that Klingon guy from Star Trek Reborn: A New Beginning: the Next Generation. I didn't know he was such a handsome guy under the monster makeup, but I recognized his voice. He's really good, seems like a very competent terrorist, but is funny at times. He also gets the funniest (spoiler again) death, a sudden car accident during a chase after he parachutes off the plane. The car goes off a cliff and tumbles down for 23 straight seconds. If that stunt wasn't originally done for a different movie I'm sure they re-used it a couple times after this one.
Like most DIE HARD type movies, most of the action is confined to a limited space, in this case a set of the Concorde. There's some shooting, some hostage taking, some bad guys gloating. Obviously it's no ROYAL WARRIORS in the in-flight-fight-choreography department, but Bosworth acquits himself with the ol' fisticuffs and rough-housing.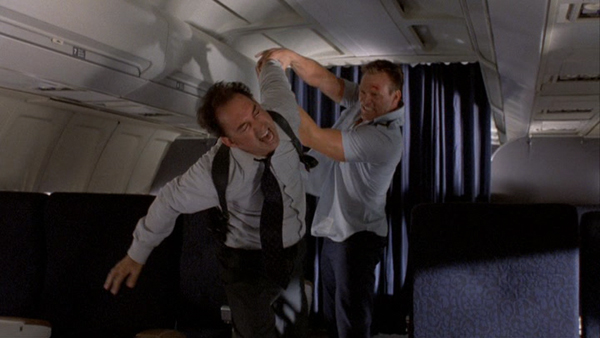 He gets to do a little bit of cowboy-movie-meets-WWF brawling, and after the hijackers depart it switches to an amateurs-trying-to-land-a-plane movie like EXECUTIVE DECISION. Meanwhile the authorities on the ground try to get what information they can to figure out who is responsible and whether or not to shoot the plane down.
I like Bosworth in this because he has kind of an old-timey macho man quality. A big tough guy who has probly worked hard his whole life but didn't quite get the one he wanted. He's seen as a loser by his colleagues even though he's the bad motherfucker that jumps from a helicopter onto a train (a real stunt, I'm pretty sure)…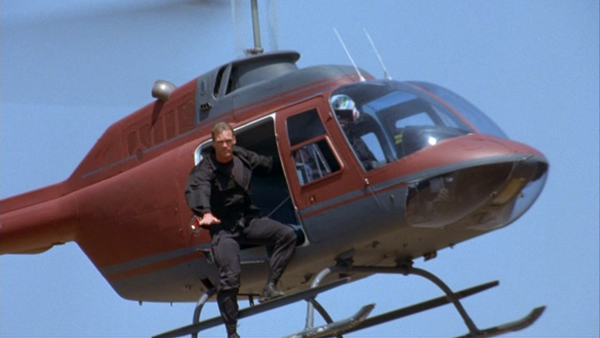 …then takes out a bunch of armed gunmen. He's immediately likable because of his concern for the passengers, asking "Everybody all right?" And he has to fight this guy who reminded me that I never watched that John Travolta DTV movie KILLING SEASON: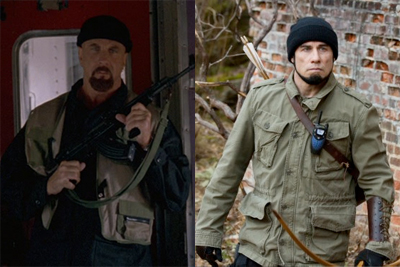 One thing I noticed, this movie is not all that respectful of the women. The pilot's first act is to comment on how hot the flight attendant is. Tyree's eventual love interest Shannon (Shannon Whirry, OUT FOR JUSTICE) is supposed to be really smart, demonstrated by impatiently fixing a problem with a TV camera that the men can't handle. "An electronics expert with a body like that?" asks the cameraman. The Senator's wife is repeatedly referred to as "the bitch." On the ground, a crusading reporter trying to get to the bottom of what's going on is referred to as "a vile, career hungry creature." When Shannon saves everyone's lives by repairing the broken radio, Tyree notes that those skills "Probly kept you out of alot of backseats."
That's a pretty funny scene though, when the poor lady has to get into a pretty awkward position in order to rewire the radio while Tyree is trying to fly the plane: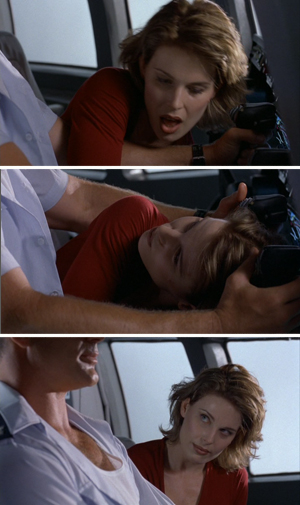 Of course there is some conversation there full of double entendre, and then when she's done her hair is mussed!
I like the tone of the movie. It treats it all seriously, but you can tell they're having fun because every once in a while they can't resist things like adding a cork-popping sound effect when they separate from a kiss. Or what about this weird part where an ex-CIA guy played by HALLOWEEN's Charles Cyphers is tending to his horse while fondling a handgun in his pocket: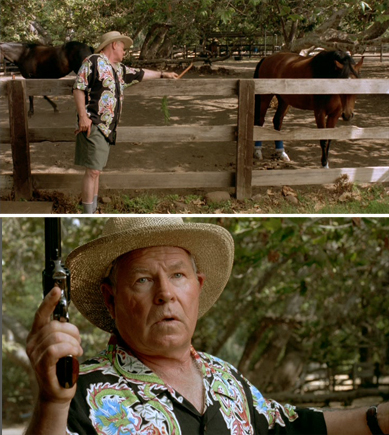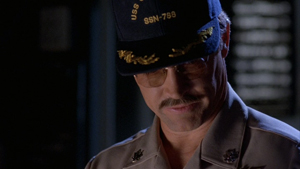 Other recognizable faces include THE LAST STARFIGHTER's Lance Guest and a cameo by Andrew Stevens with a fake mustache.
At the end everything is all better, but the Senator leaves by himself, still holding onto the disk! Haven't we already demonstrated that this is not safe? I like this guy's anti-war, pro-transparency platform, but maybe he's not competent enough to be president.
In the decade plus since MACH 2, Bosworth has become a born again Christian. So his official Facebook page is pretty repetitive. He's dumped the bravado and brashness of his youth for non-stop loving Jesus talk, and his last two movies are a two part evangelical movie called REVELATION ROAD. So I don't know how interested he's gonna be in making more of these lowbrow action movies. Regardless, I think he has an old timey macho presence that many more polished actors lack, that unique thing that the best athletes-turned-movie-stars have, a thing that cannot be taught. And he has one of those faces that only gets better the more worn it gets. So it's no surprise to me that his movie career has lasted so much longer than the football one.
Somebody just drove by whooing.
Anyway, good luck to the football fans, have fun, please limit late night whooing to 48 hours after game victory, and most of all GO BOZ!