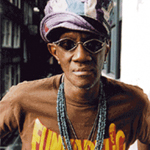 Well, we knew he was sick, but I'm still not ready to face a world without Bernie Worrell, the "Wizard of Woo" genius keyboardist of Parliament-Funkadelic.
I don't say genius lightly. In a giant crew full of one-of-a-kind musical minds including George Clinton, Bootsy Collins, Maceo Parker and Fred Wesley (to name only the most famous), Bernie still stood out. For one thing, he invented sounds never before heard by the human ear. The weird alien blurps and bloops of "Flashlight," for example, that act as the crazy intro, the solos and the bassline, could have only come from one brain and pair of hands, and they were Bernie's. More than any other player, Bernie gave P-Funk the alien edge that put them on a higher plane than any of their funky contemporaries.
But the greatest funk of all time was only one of Bernie's weapons. A classically trained prodigy even before he met George and the gang in the barbershop, Bernie was known to veer monstrous funk jams off the rails into elegant piano or harpsichord solos, quoting everything from classical concertos to children's songs. On solo albums like Funk of Ages and Blacktronic Science he mixes funk, hip hop, jazz, classical, pop and I-don't-know-what, the most eclectic mix of styles of any of the P-Funk offshoots (and that's saying something).
For a mild example, here's a not-all-that-well-known tune I dig from 1990. It has "funk" in the title, and it is funky, but I don't know how I'd classify it.
For his next album he gave up all pretensions of fitting into a standard format. Here's how it starts:
And yet this is also a guy who could keep up with some heavy guitars, figure out how to squiggle in between them. Have you ever heard anything like this band he was in called Praxis?
But then he turned around and did a gentle, stripped down album called The Other Side. Here's a song for his wife:
After coming up as a member of Funkadelic and Parliament, Bernie toured with The Talking Heads and then on his own. Also he was in David Letterman's band for a while – that was weird! But it took advantage of his vast knowledge of any musical style you could throw at him. See also his recent appearance as a member of The Flash in RICKI AND THE FLASH.
I was lucky enough to see him a few times. I wish I remembered exactly how many. At least once with his band The Woo Warriors, once in a short-lived band with Mos Def called Black Jack Johnson, once in a project called Colonel Claypool's Bucket of Bernie Brains – maybe others. (To my great shame I missed what looks like it must've been his last show at a small club near me that I've been to many times.) He was always happy to dip into the P-Funk catalog, but never in the way you expected. Different every time. I think his mind moved too fast to stick with one approach or repeat himself.
And he never stopped creating. Even after moving to Washington state and dealing with aggressive cancer I heard he'd put together a new band, and he reunited with George and Bootsy for a big benefit show for his medical fund.
There's a good documentary about Bernie called STRANGER: BERNIE WORRELL ON EARTH, that does a good job of explaining why he's so great and lamenting that he's not more revered:
Do yourself a favor and look into his music and life. You'll be entertained and inspired.
R.I.P. another one of the titans. We're running out of 'em down here.
This entry was posted on Friday, June 24th, 2016 at 3:55 pm and is filed under
Blog Post (short for weblog)
. You can follow any responses to this entry through the
RSS 2.0
feed. You can skip to the end and leave a response. Pinging is currently not allowed.