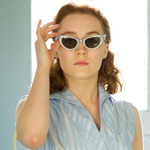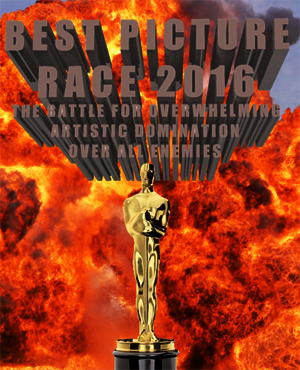 BROOKLYN is my best-picture-nominee-completist viewing for this year. When the nominations were announced the only ones I hadn't seen were THE REVENANT (which was about to come out and I was excited to see), ROOM (which I had been told was very good so I was already interested) and this one (no interest). And I'm not saying it changed my life or nothin, but it's a good movie I never would've watched otherwise.
Saoirse (pronounced sur-shuh) Ronan plays Eilis (pronounced AY-lish) Lacey, a young woman who works in a shop in a small town in Ireland in 1952 (pronounced nyn-teen-fiff-tee-too). But she doesn't get paid much and  people are starving and her older sister Rose (Fiona Glascott, RESIDENT EVIL) arranges for her to go to the U.S. where there might be better opportunities. A priest (Jim Broadbent, SUPERMAN IV) sets her up with a home at a boarding house, a job at a department store and even night classes in bookkeeping at a college.

So this is about as convenient of an emigration as you could get, but of course she's still miserable. She misses her home and her family. She has an awkward start but after some time fits in at home and at work and impresses her boss and the head of the boarding house (Julie Walters, who is gonna get her own TV spinoff, expanding the Brooklynverse to different mediums much like Marvel did with Agents of SHIELD). Well, mostly after she meets a guy (Emory Cohen, THE PLACE BEYOND THE PINES).
You know, this could've gone very differently. This is only one year and one borough away from where CAROL took place. What if Carol had chosen a different department store to shop at? Would she have had her eye on Eilis? Maybe not.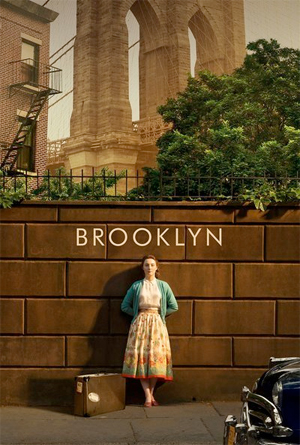 Ronan is very good in the role. She seems so scared and vulnerable and you watch her solidify into something stronger. She does alot of acting where it's just a long shot of her face as she goes through a series of thoughts and emotions. She also has a good rapport with Walters and the other boarders, and there are some laughs there. They teach her how to be an American woman of the '50s in a goofy and endearing way. Cohen is also a likable doofus, and there are some good scenes with his family, who both embody and humanize the stereotypes of New York Italians.
A movie about this could be very dreary looking, but I like how they bring in spots of color, often through her sweaters, lipstick and shoes. It's not a very showy movie, but there are subtle touches that are nice. The scene that impressed me the most is when she boards the ship to America and watches her mother and sister gathered in the crowd below as she leaves. If you look at that scene, everybody is giving a good performance. Look into the faces of the other passengers lined up on either side of her, and they're not doing the usual crying-into-a-handkerchief-and-waving type thing, but they're also making meaningful eye contact with their loved ones, conveying deep love and emotion. Same for the other people in the crowd around her family.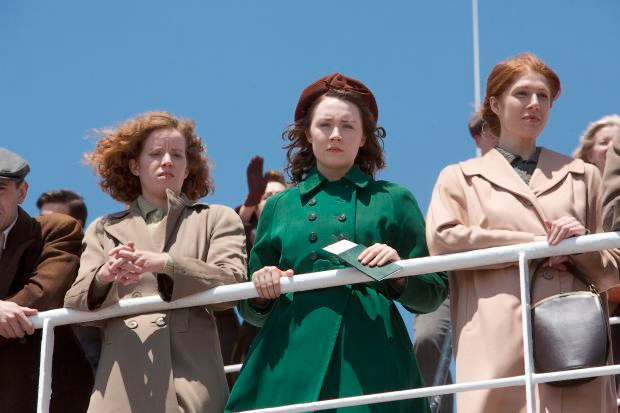 This might be a little timely in that there's all kinds of hideous racist rhetoric around immigration right now, with certain presidential candidates and idiocratic so-called American dummies wallowing in hateful stupidity particularly when it comes to Mexicans and refugees from Muslim countries. Imagine being such a clueless asshole that you hate people seeking refuge! So maybe it's a good time to remind them that very recently their families also came here from other places. If they would ever watch a movie like this, which most of them for sure wouldn't.
But I think it has resonance in another way, because it's just a universal story about moving, or growing up, going head first into unknown situations, trying to meet new people, trying to find yourself. I can relate a little bit to her inner conflict between missing home and family and wanting to leave it behind and carve out her own path in life. I liked this one.
The big Oscar topic this year is of course diversity, and this a very white movie. A very pale, freckled movie. But let's give the best picture nominees credit this year for having a little more balance than last year when it comes to gender. We all noticed that FURY ROAD's heroes are primarily strong women, and that it deals heavily with commodifying women. ROOM is a woman's story, specifically a mother's story, written by a woman. And BROOKLYN, though a story told by men (except for the producers) is very much about women, from a woman's perspective.
There are three men who are important to her and to the story, but most of the movie is about her relationships with her mother and sister, the horrible woman she works for in Ireland, the women she meets while traveling to and from America, the women she boards with, the women she works with. When she goes to school we see that she's the only woman in her whole class, but none of those men really become characters.
Of course, if I'm going to praise the story for its women's themes I should also admit that she only becomes happy in America after she meets a dude. You can definitely read it as a story about finding herself by finding a man. But at least she makes the decision for herself. She originally has to leave home because of the terrible financial situation. When she comes back she could have a better job and a husband (Domhnhall [pronounced doh-nal] Gleeson) who inherits a large house and runs a company. And it's what her mom wants for her. She refers to him as a "catch."
But you notice that when she goes back to Ireland she doesn't try to fit in. She wears her American sunglasses and swimsuit with obvious pride. She (spoiler) chooses to go back to Brooklyn and her Italian plumber husband (trivia: the book – written by Colm Tóibín in 2009, adapted by Nick Hornby – started out as Mario Brothers fan fiction) because that's the home and life she's found for herself. And in that life, she's the catch. That's pretty clear when she meets his parents but also when he sees her standing across the street after she's been gone for weeks, and he takes time to just smile and admire her before crossing the street. He can't believe it.
Nothing wrong with that life.
* * *
Now that I've seen all the best picture nominees (and all on the big screen with paying audiences, as intended by the Lord) I'm tempted to sort of rank them. Not in a listicle or some shit, but just to say which ones I like best. This is foolish but I'll give it a shot.
Obviously MAD MAX: FURY ROAD is the best by about a thousand miles, it will be ludicrous when it doesn't win, but that's life. (If it does win I have pledged to cry, and I know someone who has pledged to streak.)
I think my second favorite, to the disdain of most of the people I follow on Twitter, might be THE REVENANT. No, I don't think it's a deep movie at all, and I don't really like the idea of Innaritu winning two years in a row (although he's the one non-white guy nominated!). But to me it was a thrilling big screen experience. I like a movie that surrounds you and drags you and puts you through something. Especially if it also gets to have DiCaprio and Hardy battling it out for mountain man acting supremacy. If it weren't for FURY ROAD this might be the most cinematic movie of the year.
Then I gotta think maybe THE BIG SHORT, for the reasons I told you the other day. And after that maybe BRIDGE OF SPIES? It's low on my list of great Spielberg movies, or great Coen Brothers movies, or Spielberg movies that seem underrated even while being nominated for best picture, but it still kinda surprised me considering how dull the trailers looked. I loved the low key performances by Hanks and Rylance, the cold atmosphere, the different take on a spy story, but mostly the thoughtful and principled statement it makes about what America should stand for and the importance of negotiation over bluster and belligerence. Another timely one.
Then maybe ROOM? Or maybe THE MARTIAN. That was a fun movie. Great craft, smart script, refreshingly optimistic world view, good sense of humor within the tension. And then I would go BROOKLYN and then SPOTLIGHT. Both very good movies.
The point is I liked all of them this year. This is why even though the Oscars are #sowhite, even though the Oscars are bullshit, for me they're worth paying attention to each year. You should've nominated CREED, but I already saw it anyway. Thanks for broadening my horizons a little with BROOKLYN.