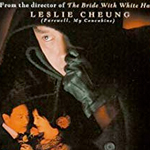 THE PHANTOM LOVER is sadly not a documentary about me and how much I love the movie THE PHANTOM, but it's the next best thing – a 1995 Hong Kong romantic melodrama. It has no martial arts, but it's director Ronny Yu and cinematographer Peter Pau doing another lush, operatic fantasy about forbidden, doomed lovers, like THE BRIDE WITH WHITE HAIR. And like THE OCCUPANT it has a set of young characters learning about and having their lives influenced by the tragedy when they visit the site years later.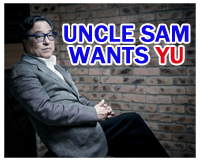 In this case the location is not an apartment building, but a magnificent Beijing theater. In 1936 it's fire-damaged and cob-webbed enough that the broke-ass fledgling Sprout Troupe think they can afford to rent it for their musical Flaming Blood.
Ten years earlier the theater was known from here to Tianjin, Shanghai as the home of the great Song Danping (played by the groom of the Bride With White Hair, Leslie Cheung), brilliant actor, beautiful singer, dreamy heartthrob, definitive essayer of Romeo (cheesy musical version). Hungry up-and-comer Wei Qing (Huang Lei, CJ7) bribes the caretaker with chocolates to tell the story, and it takes up the first half of the movie. Danping was in love with Du Yunyan (Chien-lien Wu, EAT DRINK MAN WOMAN), daughter of one of the local rich dudes (Wong Bing, THE FOUNDING OF A REPUBLIC), and she would meet him in the theater after hours for romantic interludes.
Trouble is, Zhao (Fong Pao), another rich guy, had already arranged for his doofus son (Roy Szeto, BLACK MASK, who also wrote this and THE EAST IS RED and many other films) to marry Yunyan as part of a deal for building new factories. So the theater ended up burned down with Danping inside, Yunyan still had to marry Zhao Junior and after the wedding he proves to not just be a harmless dummy. First he disgustingly humps her while she lays motionless – I'm not sure she's even really in the shot, we just see him. Then he calls her a slut and bitch, hits her and threatens to kill her for not being a virgin. His parents go to her parents and demand to have the marriage annulled, like returning a house that they didn't know had asbestos or something. So at least she's single, but she's so traumatized she ends up in an asylum.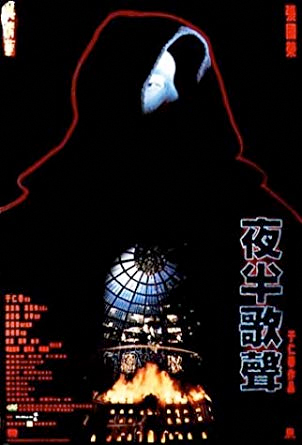 We don't know if we're dealing with a ghost or a Darkman or what, but Yunyan visits the theater every full moon, people sometimes hear sad music playing at midnight, and Wei Qing finds Song snooping around in a cloak and gets his help and blessing to sing his parts in a new production of Romeo and Juliet. This gimmick of Song Danping reborn on the same stage (the Tupac hologram of 1936 Beijing) promises to revive the troupe enough to at least pay the rent after the disaster of their own play, some nationalistic bullshit with a Great Wall backdrop that has the audience talking, ignoring, snoring.
I like Yu's theme of people who appreciate art versus soul-less business people and power brokers. His sympathies lie with not just superstar Song and his heiress girlfriend, but the passionate Sprout Troupe who, though they enjoy some luxury items, are mostly working for nothing. And also the audience, who come from all over and side with Song when the Zhaos try to bully him off stage.
Meanwhile, the rich factory owner dads are not with it. Du disapproves of Song because he's an actor. Zhao sees the art world as yet another arena for his power plays. Because his son is allegedly interested in the arts, he gets him a job in the arts bureau. And it's not as if he's the first guy who doesn't belong there. Zhao is told the bureau already hates Song for his "amoral and unorthodox ways," and help set him up to die. Of course if any of these people loved art they'd never want to burn Song or the beautiful architecture of the theater.
Zhao also insults Yunyan for being "willful," and complains that young people "should not make their own decisions." And these are the same elders who are pissed that women are allowed in the theater. The arts are too progressive for them.
Yu also has some love for the servant class. Admittedly the movie follows the trope of the servant who dedicates their life to their rich boss – Yunyan's maid is upset that she'll have to leave her when she's married, then stays with her for life when that doesn't work out. But she seems to love Yunyan for her rebellion, and I like the scene where she covers for Yunyan sneaking out by eating the boss's meal, sharing it with another servant. A real treat for them.
I like this tragic love story, but I think there's a weakness in the 1936 part. Though Landi (Liu Lin, LOVER'S TEARS) and her hope to marry Wei Qing are the very first thing we hear about, they never seem to have a connection like Song and Yunyan. Wei Qing is parallel to Song and his tragic doomed love mirrors his mentor's, but he always seems like a dork, and at no point did I hope Landie would stick with him. Song, on the other hand, I manage to root for, even though deep down I think he's kind of a dick. He was right to stand up to the Zhaos interrupting his play, but the arrogant way he does it is still pretty embarrassing.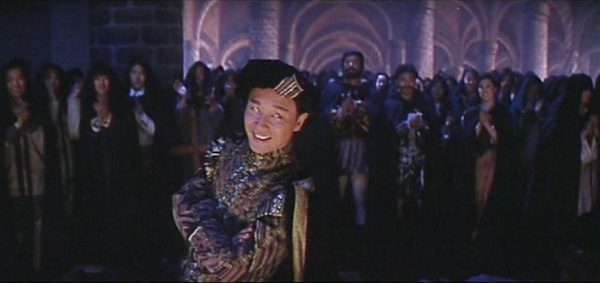 Once again, Yu gets into his themes of internationalism. The Sprout ladies are really excited about Landie's "French lingerie." The caretaker fiends for Wei Qing's "chocolate from America" (unlike those kids in THE POSTMAN STRIKES BACK who thought chocolate looked too much like dog shit). Song is legendary partly because "He produced many western plays that no Chinese has seen before." The locals are bored by the play about China but won over by Shakespeare. Or at least "Shakespeare."
Like THE BRIDE WITH WHITE HAIR, THE PHANTOM LOVER is based on a story that has been told many times in China. The original was a 1937 film called SONG AT MIDNIGHT, itself loosely based on Gaston Leroux's The Phantom of the Opera. It has been remade in a 1962-1963 two-parter, a 1985 version, and a 2005 television series. It also had a sequel in 1941.
Also like THE BRIDE WITH WHITE HAIR, Yu and Pau create a lush, atmospheric look that's impressive despite the old pre-HDTV DVDs you have to find it on not doing it any favors. This is a beautiful movie.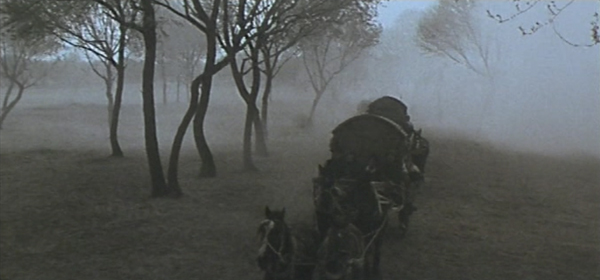 P.S. In 1994, having received worldwide acclaim for THE BRIDE WITH WHITE HAIR, Yu
Was credited as a producer on the fun gender-swapped Hong Kong LETHAL WEAPON ripoff SATIN STEEL.
almost made his American directing debut with a Mark Dacascos movie called SLAYER: THE DEVIL'S ASSASSIN. Written by Ethan Reiff & Cy Vorus (MEN OF WAR, BULLETPROOF MONK) and Mark Bishop (TALES FROM THE CRYPT: DEMON KNIGHT), Yu told Fangoria in 1998 that it was "something that I had a lot of passion about. I liked the character of Slayer because he's a tragic hero. It's almost like HIGHLANDER. That's the saddest thing in life, a man who can't die: You have to keep going on, you have to experience all the pain and suffering. But the producers tried to change things. They lost track, lost direction. At one time I met with Miramax, and they wanted to do it. I waited and waited and nothing happened. My passion for it disappeared."
So Dacascos went off and did THE REDEMPTION: KICKBOXER 5 and CRYING FREEMAN, and Yu did THE PHANTOM LOVER.
Instead of becoming a presumably beautiful looking Ronny Yu action movie starring Dacascos as "Slayer," the script was turned into a Fox TV show called Brimstone starring Peter Horton as a cop returned from Hell named Ezekiel Stone. It lasted one season.
Tomorrow: I can't believe it's finally here – Yu finally goes Hollywood(ish) with the bizarre English-language kids movie WARRIORS OF VIRTUE (1997).