You've probly all read about this already but I figure it's my duty not to ignore the existence of ACTIONFEST, "the film festival with a body count," which is probly the first film festival dedicated just to action movies. It's taking place April 15-18 in Asheville, North Carolina.
The websight is a little weird because it has a huge collage of movie posters for classic action movies (SHAFT, ROBOCOP, ENTER THE DRAGON, MAD MAX, BULLITT, DIE HARD, DIRTY HARRY, HARD BOILED…), not a single one of which is playing at the festival or has in the past, since this is the first one. Also they use a shot of that awesome car jump in DEAD END DRIVE-IN, which isn't playing either.
The other thing that's weird about the festival is that they're giving a lifetime achievement award to Chuck Norris. Now, all due respect to Chuck as a pop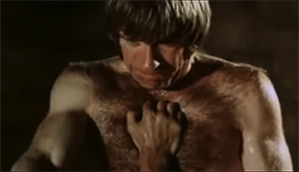 culture icon and man who got his chest-hair pulled out by the greatest screen martial artist of all time, but who would seriously choose Chuck Norris as the very first person to receive a recognition like that?
Oh, I know: his brother Aaron Norris, who organized the thing. Oh well. That's cool.
Doesn't matter, because the lineup is pretty promising. They got three world premieres, most significantly UNDISPUTED III: REDEMPTION. As most of you know Scott Adkins returns as Uri Boyka (switching from antagonist to protagonist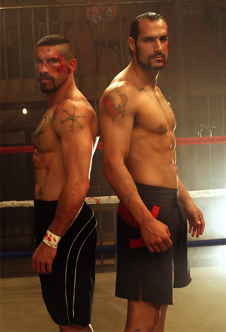 like Michael Jai White did in part 2). One of his co-stars will be the great Chilean martial artist Marko Zaror (MIRAGEMAN, KILTRO). It's from DTV auteur Isaac Flornentine (UNDISPUTED II, US SEALS 2, NINJA, THE SHEPHERD: BORDER PATROL, etc.)
The other two world premieres are THE STRANGER starring "Stone Cold" Steve Austin – which doesn't have anyone promising behind it, but I think that guy has the potential to be a good action star – and something called OPERATION: ENDGAME with Ving Rhames, Maggie Q, Zach Galifianakis, Rob Corddry, others. (A parody, I'm guessing.)
For North American premieres they have the Donnie Yen movie 14 BLADES, a capoeira thing called BESOURO, and RAGING PHOENIX which I'm dying to see because it's Jeeja Yanin from CHOCOLATE doing Muay Thai mixed with breakdancing, or something like that.
Other new movies playing: POWER KIDS, VENGEANCE, DIRTY MIND, THE GOOD THE BAD AND THE WEIRD, HARRY BROWN (Michael Caine doing a new GET CARTER type revenge picture), MANDRILL (Marko Zaror's latest, unless you count the other one I just mentioned), MERANTAU, VALHALLA RISING (a Norse thing from the director of BRONSON), a couple others.
For repertory type business they got my favorite Thai movie BORN TO FIGHT, something called GOLDEN BLADE III: RETURN OF THE MONKEY'S UNCLE (apparently shot in Asheville), an Australian one called WAKE IN FRIGHT and a "Chuck Norris Retrospective" of CODE OF SILENCE and BRADDOCK: MISSING IN ACTION III.
If you're not familiar with CODE OF SILENCE, it's the one Andrew Davis did before ABOVE THE LAW, with a very similar storyline, same city, same villain, some of the same supporting characters. In Seagalogy I explain how it proves that it takes Chuck Norris and a robot to equal one Seagal.
A press release for Actionfest said they were gonna open with the world premiere of "Neil Marshall's CENTURION!!" (exclamation points in original), but that's not listed in the schedule on their website and, let's be honest, Neil Marshall is dead to us after his last movie that shall never be named or thought of again and that erased the existence of his previous movies and some of his ancestor's achievements and good works.
Chuck Norris will be there, and so will his stunt double from WALKER: TEXAS RANGER. I'm not sure which movies will be in competition, but serving on the jury with Chuck will be Devin Feraci from Chud and Drew McWeeny from the unattributed quote on the cover of my new book. I have to admit I'm jealous that I didn't get invited, but it might just be because Chuck Norris doesn't want that shitty joke book about him to be compared to an actual book made up of sentences and paragraphs like Seagalogy. I wouldn't be able to do it anyway because I'm a recluse, so good for Drew getting to go and represent action fans all around the world. I'm happy for him. Don't blow it, Drew. Don't fuck it up. We're all counting on you. You can do it, in all likelihood. No pressure, bud.
I think this is a great idea. I'm glad to see the genre being shown some respect, and I hope this festival continues for many years and grows to something much bigger – or at least inspires a competing festival closer to me. Maybe they could come here to give Bruce Lee the Defeater of Chuck Norris award.

This entry was posted on Wednesday, March 31st, 2010 at 11:33 pm and is filed under
Blog Post (short for weblog)
. You can follow any responses to this entry through the
RSS 2.0
feed. You can skip to the end and leave a response. Pinging is currently not allowed.