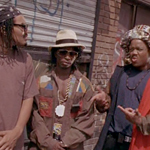 Though both were filmed in 1992, FEAR OF A BLACK HAT came out a year after CB4. It had a harder mountain to climb because it was a more independent movie without major movie or TV stars, big names on the soundtrack or celebrity cameos. The most recognizable actor in it is Larry B. Scott from REVENGE OF THE NERDS and SNAKE EATER II: THE DRUG BUSTER.
It's the directorial debut of Rusty Cundieff, who also wrote it and stars. He'd previously written HOUSE PARTY 2, and we know him as an actor in 3:15, HOLLYWOOD SHUFFLE and SCHOOL DAZE. He went on to direct TALES FROM THE HOOD and alot of TV, including 25 episodes of Chappelle's Show and one of that Clueless show we discussed a few weeks ago. I remember he was also a correspondent on Michael Moore's show TV Nation, and I have just learned that his one credit as a TV writer is one 2009 episode of CSI: NY. That's weird.
Ice Cold (Cundieff), Tone Def (Mark Christopher Lawrence, CRIMSON TIDE, HALLOWEEN REMAKE II) and Tasty Taste (Scott) are the popular gangsta rap trio N.W.H. The "H" stands for "Hats," because their trademark is wearing big silly hats. Unlike CB4, this one is fully documentary style, so throughout the movie they get to talk to the camera explaining their work, sometimes cutting to clips of videos and performances, or following them backstage, etc. The director and interviewer is Nina Blackburn (Kasi Lemmons, VAMPIRE'S KISS), who puts up with alot from them but is smarter than them, like the Source writer in CB4.
(And before we go on, you're right, this is not as N.W.A-specific as CB4. Obviously they get the name from them, and they have a song called "Fuck the Security Guards." But really they're a mish-mash of every notable rap group of the time, from Ice-T to fuckin PM Dawn.)
Since both movies are based on obvious music biopic tropes there are many similar plot points: police telling them they'll be arrested if they perform a certain song, breaking up and going solo, doing a reunion show at the end where they tone down the ridiculousness (in their case it's kind of a later Public Enemy style song using hats as a metaphor for something).
The advantage that FEAR OF A BLACK HAT has over CB4 is that N.W.H. actually are idiots, they don't have to be secret nice guys (though the movie acts like they're slightly enlightened at the end when they make friends again). Tasty Taste stockpiles weapons and might be serious when he claims he was shot with a bazooka once. They're sincere when they explain that their controversial song "Kill Whitey" was a big misunderstanding, it was about an ex-manager named Whitey who ripped them off, but also when they don't see a problem with their album title Don't Shoot 'Til You See the Whites.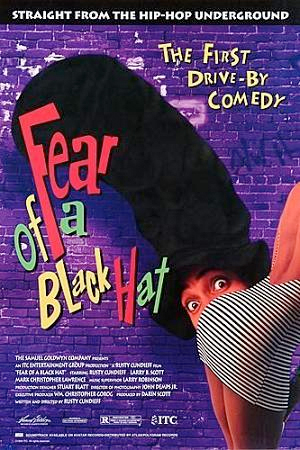 The funniest parts are Ice Cold trying to explain the political symbolism behind his idiotic songs. He claims that "Pet the P.U.S.S.Y." stands for "political unrest, stabilize society, yeah" and that the group's fixation with hats refers to slaves not having any headwear. "You know, so by the time they got back to the plantation from being in all the heat, they was too tired to rebel against their masters, right? So what we saying with Niggaz With Hats is, 'Yo, we got some hats now, muh-fuckers.'"
You get to hear alot more of the fictional group's music than you did in CB4, and it's generally funnier. "Booty Juice" and the LL Cool J-like "My Peanuts" made me laugh, as did a song that's referred to but not heard, "P.U.S.S. Why?"
N.W.H.'s chief rivals are a group called the Jam Boys, who include Big Worm from FRIDAY himself Faizon Love, and Stab Master Arson from CB4 himself Deezer D. Watching this again I was happy to realize that Black Thought's mix tape project "Money Makin' Jam Boys" comes from a line in the movie.
It seems to be a family affair like HOLLYWOOD SHUFFLE. There are alot of directors in there as actors. Lemmons (Nina), who was in SCHOOL DAZE with Cundieff, went on to direct EVE'S BAYOU, THE CAVEMAN'S VALENTINE, TALK TO ME and BLACK NATIVITY. Darin Scott (head of security) later directed CAUGHT UP and HOUSE PARTY: TONIGHT'S THE NIGHT. He also wrote TALES FROM THE HOOD and SPRUNG for Cundieff. LEATHERFACE: THE TEXAS CHAINSAW MASSACRE III director Jeff Burr also plays a security guy (he'd already directed FROM A WHISPER TO A SCREAM, written by Scott). HOUSE PARTY 2 co-directors Doug McHenry and George Jackson are in there somewhere. Eric Laneuville, who plays the movie director "Jike Spingleton," is a prolific TV director who started with THE GEORGE MCKENNA STORY starring Denzel Washington. And there may be others I missed.
I think there's a reference or two to real rappers, but mostly they have, like, parody characters. So there's a fake Vanilla Ice named Vanilla Sherbet (Devin Kamienny, SISTER ACT 2), there's an MC Slammer (Lamont Johnson, CLASS ACT). When they go solo they do acts/songs based on existing ones, like Ice Cold sort of turns into Freedom Williams from C+C Music Factory and Tone Def turns into PM Dawn.
And that's one of the weaknesses of the movie. There's an awful lot of shit that's not so much jokes as just references to things you know about. Get it? This is like that one thing that happened. So there's a movie director that's a cross between Spike Lee and John Singleton, the singer in the C+C like video turns out to be lip synching for another singer who's not getting credit, stuff like that. Also there are too many times where they decide to do their version of something from THIS IS SPINAL TAP: quibbling over how their name is written on the marquee, managers that keep dying instead of drummers, Yoko Ono type girlfriend-breaking-up-the-band situation, etc.
I've always thought FEAR OF A BLACK HAT was better than CB4. I prefer comedies that allow their characters to be pure and extreme instead of trying to make them relatable. And it probly has a higher number of jokes specific to hip hop fans, plus it's kind of the outsider underdog of the two, the one only the cool people knew about, with a limited theatrical release, little advertising, and a poster that would've scared every one of us away if we had an ounce of taste.
But watching them both again now, in a different time, as a different man, I have to do a complete 180 on that. The weaknesses of CB4 aren't as bad as I thought, and too many of the jokes in FEAR actually aren't very funny. I think FEAR is more engulfed in hip hop trivia, which I like, but CB4 maybe shows a stronger, deeper love for the culture. I think. More importantly it makes me laugh more and not-laugh less.
CB4 is the winner. I mean, I'd see both, but if you see only one mid-'90s N.W.A-inspired hip hop comedy, make it CB4. Congratulations to Tamra Davis, Chris Rock and Nelson George for this great honor.
This entry was posted on Wednesday, August 12th, 2015 at 9:02 am and is filed under
Comedy/Laffs
,
Music
,
Reviews
. You can follow any responses to this entry through the
RSS 2.0
feed. You can skip to the end and leave a response. Pinging is currently not allowed.