Remember how I posted about ROLLING THUNDER coming to DVD and how that means John Flynn's never-on-DVD Parker adaptation THE OUTFIT was "now officially #1 on my list of Shit That Needs To Come Out"?
I guess the Warner Archive people saw that and their response is: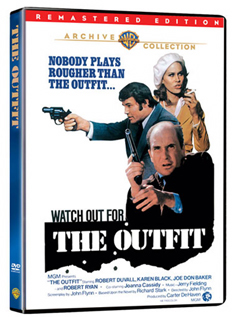 It's not clear yet when ROLLING THUNDER can be ordered, but THE OUTFIT is already available here. Says it's widescreen and newly remastered, too, so it shouldn't be the version I heard played on some HD channels.
It's all happening so fast, I haven't had time to formulate a new list. There are two Parker adaptations that have never even been on VHS (at least that I've ever heard of). Those are THE SPLIT and MISE EN SAC. The first one I've seen and it's good, the second I haven't but I've heard it's good and it's based on a real cinematic book where Parker and crew try to take down an entire mining town.
I'm not sure what should be number one on the list though. I know THE WOMAN CHASER is on there somewhere, and I'd like people to be able to rent PENTATHLON and LAST NIGHT AT THE ALAMO,  but what's left with the same urgency as ROLLING THUNDER and THE OUTFIT?
I usually think it's corny when a blog (short for weblog) post ends with "What do you guys think?," but I guarantee sincerity here. I wrote this post first to let everybody know about THE OUTFIT and second to ask what movies you love or are dying to see still haven't made it to a legitimate DVD at all.
So, uh, what do you guys think?
This entry was posted on Wednesday, November 17th, 2010 at 12:39 pm and is filed under
Blog Post (short for weblog)
. You can follow any responses to this entry through the
RSS 2.0
feed. You can skip to the end and leave a response. Pinging is currently not allowed.