THE LEGEND IS BORN: IP MAN isn't related to the Donny Yen movies IP MAN and IP MAN 2. I mean obviously they're all based on the same Wing Chun master famous for teaching Bruce Lee, but this isn't the official prequel to those ones, because it doesn't have the same director or producers or anything. It's like if right now somebody who's not Spielberg made their own prequel to LINCOLN.
Well, I'll try to be open-minded if they do that, because when I finally got around to this LEGEND IS BORN one I was pleasantly surprised. It's a very effective martial arts melodrama with alot of the classic themes: brotherhood, loyalty, betrayal, finding a master, challenging tradition, falling in love. As kids Ip Man and his adopted brother Tin Chi go to live and study with the Wing Chun master Chan Wah Shun (Sammo Hung) and become friends with a girl student named Mei Wai. The three grow up to be very close, in fact an incomplete love triangle (Tin Chi loves Mei Wai, Mei Wai loves Ip Man, Ip Man doesn't notice).
When they're grown up Ip Man is played by Yu-Hang To aka Dennis To, Tin Chi by Siu-Wong Fan (aka Louis Fan) and Mei Wai by Rose Chan. During a street fair a rich politician's daughter named Cheung Wing Shing (Huang Yi) saves his ass from a vendor that says he owes money, then he helps her in a scuffle with some thugs. She falls right into the ol' love, but jealous Mei Wai intercepts her attempts to contact him and he goes off to school in Hong Kong having no idea.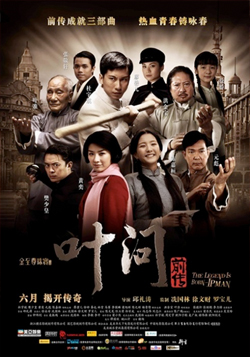 Like in the other Ip Man pictures the Japanese occupation is a big part of the plot, but it's an English speaking white man that pulls a FIST OF FURY, calling Chinese people "sick men of Asia," and of course Ip Man uses his Wing Chun to shut the asshole up. This makes Man a neighborhood hero and next thing you know he's getting challenged by an old man in a bakery who completely shows him up, at one point grabbing him by the ear and flipping him. Turns out the old man is Leung Bik, a master who ends up training Ip Man in this modified style of Wing Chun that got him ostracized so he's out here in a bakery instead of the school. I already loved this training section of the movie before finding out Leung Bik was played by Ip Man's real life son Ip Chun.
Ip Man was a great role for Donnie Yen, so I'm surprised how easily I accepted To in the role. I have no pre-conceived notions of him like I did Yen, but he seems like a natural fit for this humble, sort of shy but internally strong guy. I said this wasn't made by the same people as IP MAN, but actually there's weird overlap in the casts. To actually appeared in both IP MAN and IP MAN 2 playing different characters. Fan was also in both movies in the major role of Jin Shan Zhao, Ip Man's sometimes rival. And Sammo Hung choreographed the fights for the IP MANs (or IP MEN, whatever) and played Master Hong Zhen Nan in part 2, a similar though more complex character than the one he plays here.
It's kind of funny 'cause Fan's about 40 and plays a peer of adult Ip Man in the earlier ones and a peer of young Ip Man here. But I don't know, he pulls it off. I wouldn't have thought about it if I didn't know he was playing a guy that age as far back as STORY OF RICKY in 1991. I always like seeing him in movies, and this is no exception.
The Wing Chun style looks really cool on film, lots of fast open hand strikes and blocks. At first I thought the fights wouldn't be as outlandish as in the Donnie Yen ones, 'cause the focus is on two people sparring face-to-face to test their skills. But later you do get some flipping, kicking tables, other stuff that involves wires. In the final duel Ip Man has the coolest finishing move I've seen in a while, a flying spin and drop that knocks his opponent right through the wooden bridge he's laying on. Siu-Hung Leung is "action director" and was "action choreographer" for IP MAN, so I guess there's a connection there too. It's like when the special effects team for STAR WARS went to work on Battlestar Galactica.
But this is the best type of martial arts movie, where I'm so involved in the drama that I don't even notice if there's no fighting for a while. I grew to like the three main characters so I'm still rooting for Tin Chi to figure out his problems and get Mei Wai to notice him and stuff. Of course I'm especially a sucker for the conflict within the Wing Chun school, Ip Man first questioning the authenticity of Leung Bik's style because it adds high kicks and reverse joint locks, but he learns how useful it is so he shows it off back at home and offends his senior, played by Yuen Biao. He's not just being a tight ass, he's mad because the family split up over a disagreement about Leung Bik's style, and he doesn't want to insult the memory of his conservative and orthodox master.
There's a great scene where he angrily fights Ip Man to try to discredit those techniques. Ip Man doesn't know how hard to fight back, he obviously doesn't want this at all, and others are yelling and trying to break it up. I love that when a fight scene is also an emotional climax, and this is a version of that I don't remember seeing before. It's actually upsetting.
The emotions are also high when Ip Man and Tin Chi have to duel. So much history between them. It hurts that they're fighting. But it's a great fight.
I assumed this was gonna be a cheapie, but actually it's a slick, classy production just like the Donnie Yen ones. The director is Herman Yau, who I convinced myself was the director of BEST OF THE BEST. But it turns out it wasn't the Eric Roberts classic, it was a Hong Kong film that had that as the English title. Next Yau will be doing IP MAN: THE FINAL FIGHT, which will have Anthony Wong (VENGEANCE) playing Ip Man in his sunset years and is not to be confused with Wong Kar Wai's THE GRANDMASTER or IP MAN 3D which is supposed to be the final Donnie Yen one. That's a lotta Ip Man, but if FINAL FIGHT is as good as this one then I'm all for it. The more the merrier.
Ip Man, you da man.
This entry was posted on Thursday, February 28th, 2013 at 2:32 am and is filed under
Action
,
Martial Arts
,
Reviews
. You can follow any responses to this entry through the
RSS 2.0
feed. You can skip to the end and leave a response. Pinging is currently not allowed.