I always enjoy Elmore Leonard, and I got no excuse for why I haven't read his book Pronto . But I did just check out Jim McBride's Showtime TV movie version of this book that introduced Raylan Givens, the cowboy-hat-wearing U.S. marshal that Tim Olyphant plays on the show 'Justified.' It's a very different take on the character and feels very TV-movie, but I thought it was an enjoyable one with a funny, laid back Leonard feel.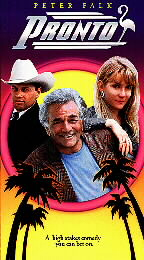 Peter Falk plays Harry Arno, a goofball Miami bookie who gets into some deep shit with mobsters and can't understand why, insisting he's completely innocent of anything they know about. When a dude comes after him he kills in self defense and then he decides to take off for Rome, but he gets tracked there by the mobsters. Luckily Givens decides to follow him there too and protects him and his girlfriend (Glenne Headly, BABE: PIG IN THE CITY).
James LeGros plays Givens and I'm guessing his version is closer to the book. The magic of his Raylan is that he just seems like a doofus, so everybody underestimates him. But actually he's really good at what he does. When he first approaches Harry he says hey, remember me, I'm the marshall who was transporting you six years ago but stopped to get an ice cream cone and you got away, ha ha ha. Shortly after that, Harry looks outside and sees Givens eating an ice cream cone. It's like he deliberately looks stupid to fuck with him. But then he proves himself in shootouts, under the table draws and tough-talking showdowns. You definitely want this hick on your side, even if he wears a cowboy hat in Rome. In my opinion that's not a good way to fit in.
The villains are very Leonard too. There's the fat slob boss (warning: you have to see him naked) who's more interested in seeing the butterflies at the museum than going after Givens. There's his bodybuilder henchman who keeps getting outsmarted but is clearly one of those characters whose stupidity makes him more dangerous. He just seethes with bitterness toward his boss and the Italians he has to work with, and at times I sort of agreed with him.
Falk is a pretty standard Falk character, with an eccentricity that hovers on the line between charming and annoying. I liked him but wanted his girlfriend to leave him. Also Luis Guzman is in there in a supporting role, the year before he joined the greater ElmoreLeonardverse in OUT OF SIGHT.
But it's Raylan's movie. Here he is flying around the world on his own accord, putting himself on the line to help this dude who fucked him over one time. Why? Maybe because he likes him, I'm not sure. And he always seems like he's in over his head, but rarely actually is. He's like a walking trap. He's so tempting for tough guys to fuck with, but he turns out to be a guy you really shouldn't fuck with. He'll make you sorry, then he'll smile about it. Good shot, too.
The climax of the movie is actually the beginning of 'Justified.' He gives a guy 24 hours to get out of Miami and when the guy doesn't he goes to enforce it. This led into the short story "Fire in the Hole," which was the basis for the 'Justified' pilot. LeGros is great in the role, really funny and convincing. His version would've made a good TV series too. Too bad for him he'll be overshadowed by Olyphant's more traditionally badass (but hilariously fallible) Raylan. But maybe it's just karma for replacing A. Michael Baldwin in PHANTASM II.
'Justified' just keeps getting better, by the way. That episode where he has to play hostage negotiator to the escaped prisoner was maybe my favorite. A likable bad guy, a nice rapport between the two sides, camaraderie between the sheriff's department, the D.A. and the SWAT team even though they're all kind of in conflict. They get mad at each other but have a professional respect for each other too. Just a great story, then it seems to be wrapped up and I realize there's 15 minutes left for even more to happen.
But then last week's episode "Hatless" was even better. A genuinely scary villain, tension that keeps getting thicker and thicker, a theme of everybody who tries to be a tough guy (including Raylan and another character we like) getting their asses kicked. And everything Raylan does is out of love for either his hat or his ex-wife. I love this show.
Anyway, the PRONTO movie is directed by Jim McBride, who did the weird post-apocalypse movie GLEN AND RANDA and the remake of BREATHLESS that a friend of mine claims is good. The script was adapted by Michael Butler, the writer of CODE OF SILENCE and THE GAUNTLET.