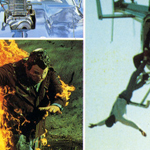 "Come on Carmen, what do you want from me? I'm just trying to do my job protecting a federal witness from being chased by a bunch of assholes who shoot at us every time I turn around!"
ACTION U.S.A. is pretty much the perfect movie title. I mean, who the fuck knows what it means, it doesn't describe the content of the story in a traditional way, and yet it exactly describes the vibe of the movie (filmed under the title A HANDFUL OF TROUBLE, referring to some diamonds). The movie opens with a long credits scene of a Corvette with a giant engine sticking out the front, Texas license plate "SLEEK 1," naked lady airbrushed on the hood, speeding down roads. It pulls up to a house, the driver Billy Ray (Rod Shaft) (beer in hand, gun tucked in waistband) takes his girl Carmen (Barri Murphy) inside and they start to go at it on the couch. The director credit is over a shot of the door right before it gets kicked down and two mob thugs (one lookin like Freddy Mercury) come in and drag Billy Ray to the trunk of their car. Then they take him to a helicopter and fly around dangling him by one leg. Carmen drives underneath saying "Oh my god!"
They accidentally drop him in water, he swims ashore and gets in her car for a crazy chase that involves her hanging out the door, Freddie standing up in the sunroof firing his gun, of course some workers on ladders almost getting hit, and a completely full school bus that through some act of God or careful planning has a tow truck set up as a ramp so they can jump over it. The motor home in front of the bus is not so lucky, though, and the bad guys crash through it and explode into flames of awesomeness.
That's the beginning, and it continues like that. That's a movie you can call ACTION U.S.A. all right. I would also accept AMERICA T.N.T. or DYNAMITE EAGLE SQUAD. (read the rest of this shit…)
VERN has been reviewing movies since 1999 and is the author of the books SEAGALOGY: A STUDY OF THE ASS-KICKING FILMS OF STEVEN SEAGAL, YIPPEE KI-YAY MOVIEGOER!: WRITINGS ON BRUCE WILLIS, BADASS CINEMA AND OTHER IMPORTANT TOPICS and NIKETOWN: A NOVEL. His horror-action novel WORM ON A HOOK will arrive later this year.