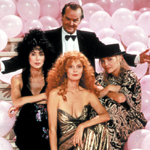 George Miller's THE WITCHES OF EASTWICK is from a John Updike novel, adapted by Michael Cristofer (THE BONFIRE OF THE VANITIES). It's a comedy about women in small towns, not the #1 topic I want in a George Miller movie. And yet it's very much a George Miller movie. The town of Eastwick could be the New England sister-city to the location-less town in BABE. Looks old fashioned and storybook-like, people act nice and family-oriented, but many of them are uptight and judgmental of non-conformists. The title trio don't intend to get involved in witchcraft, and when they do that's not even what turns them into pariahs. It's actually just them being accused of being hoes.
Our heroines are women left single in three different ways: Alex (Cher) is a widow, Jane (Susan Sarandon) just finalized her divorce, and Sukie (Michelle Pfeiffer) was simply abandoned with her pack of daughters. They're all kind of sad about their situations but they have each other, they hang out together and vent and have fun. When they're real old I'm sure they'll have cheesecake together and then open a hotel in Miami called The Golden Palace. (read the rest of this shit…)
VERN has been reviewing movies since 1999 and is the author of the books SEAGALOGY: A STUDY OF THE ASS-KICKING FILMS OF STEVEN SEAGAL, YIPPEE KI-YAY MOVIEGOER!: WRITINGS ON BRUCE WILLIS, BADASS CINEMA AND OTHER IMPORTANT TOPICS and NIKETOWN: A NOVEL. His horror-action novel WORM ON A HOOK will arrive later this year.