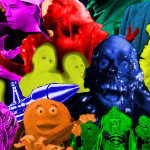 As September 1985 began, summer movies were still in the public consciousness. Turn on the radio and you were likely to hear Pat Benetar's "Invincible (Theme From The Legend of Billie Jean)" (#12 on the Biilboard charts), Tina Turner's "We Don't Need Another Hero (Thunderdome)" (#4), John Parr's "St. Elmo's Fire (Man in Motion)" (#2) or Huey Lewis and the News's "The Power of Love" (#1). August 30th had seen the release of AMERICAN NINJA, a culturally important b-movie and perfect bookend to a season that had started with GYMKATA. Unfortunately I really can't get away with doing another review of it, because I've a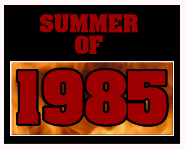 lready done it twice; for my definitive take, read this review of THE 400 BLOWS and click through as I alternate between the five Antoine Doinels and the five AMERICAN NINJAs (a series I retroactively call The 400 Death Blows).
After AMERICAN NINJA, the summer movie season disappeared into the fall like a ninja into a puff of smoke. I know technically I could keep going until September 22nd, but I'm gonna guess nobody's waiting for me to review PLENTY or SMOOTH TALK. So it's time for a wrapup. (read the rest of this shit…)
VERN has a new action-horror novel out called WORM ON A HOOK! He has been reviewing movies since 1999 and is the author of the film criticism books Seagalogy: A Study of the Ass-Kicking Films of Steven Seagal and Yippee Ki-Yay Moviegoer!: Writings on Bruce Willis, Badass Cinema and Other Important Topics as well as the crime novel Niketown.