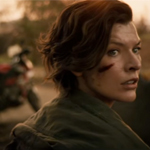 RESIDENT EVIL: THE FINAL CHAPTER is a partly satisfying, partly frustrating ending to the epic billion-dollar-grossing sextology that people all around the world have been following for 15 years and that I have been following for about a month.
Writer-director Paul W.S. Anderson returns (he ended up directing all but parts 2 and 3) and follows many of the fun traditions of the series:
1. Starting off with a ludicrously long and convoluted narrated recap/revision of the story thus far
2. Sort of following up on the last cliffhanger, but in a way that suggests they abandoned the original idea they had when they made the last one. At the end of RETRIBUTION, the surviving characters were on top of the White House surrounded by millions of zombies and monsters, about to begin "the last battle to save humanity." Now we CUT TO: Alice (Milla Jovovich) all alone in a completely destroyed and barren DC. Last time Wesker (Shawn Roberts) had just given her her powers back to fight this battle, now they tell us that was a trick and she actually doesn't have powers. Huh? She keeps losing and regaining them without much consequence.
3. Giving it a different look and style from all the other installments. This one is very brown and smoky, everything is dirty and blown up or worn out. Even some of the areas of the Hive that they return to are weathered and grimy instead of smooth and sleek. (read the rest of this shit…)
VERN has a new action-horror novel out called WORM ON A HOOK! He has been reviewing movies since 1999 and is the author of the film criticism books Seagalogy: A Study of the Ass-Kicking Films of Steven Seagal and Yippee Ki-Yay Moviegoer!: Writings on Bruce Willis, Badass Cinema and Other Important Topics as well as the crime novel Niketown.