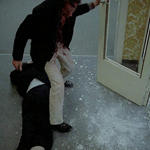 I write alot about how horror movies allow you to face down evil vicariously through their heroines and heroes. But there are also some that mess with you by making you follow the perspective of the killer – movies like PEEPING TOM, MANIAC (and its remake), DON'T GO IN THE HOUSE and HENRY: PORTRAIT OF A SERIAL KILLER come to mind.
The 1983 Austrian film ANGST is a masterwork of this type. It'll fuck you up. To give you an idea, the Blu-Ray comes with an intro from Gaspar Noe, who says it is one of the films that influenced him most. I think that goes for both the bleak subject matter and the inventive camerawork by cinematographer (also writer and editor) Zbigniew Rybczynski. The movie follows a killer as he's released from prison and then immediately starts killing again. He doesn't even try to find a place to live or anything. He does stop off at a coffee shop, but it's for stalking purposes more than for coffee. He's played by Erwin Leder (DAS BOOT), but the first person narration is read by Robert Hunger-Buhler (Noe prefers the French dub). (read the rest of this shit…)
VERN has a new action-horror novel out called WORM ON A HOOK! He has been reviewing movies since 1999 and is the author of the film criticism books Seagalogy: A Study of the Ass-Kicking Films of Steven Seagal and Yippee Ki-Yay Moviegoer!: Writings on Bruce Willis, Badass Cinema and Other Important Topics as well as the crime novel Niketown.