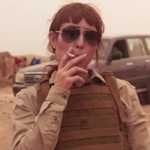 There's this weird psychological thing about the availability of movies. I looked at IMDb and determined that I've seen every Coen Brothers movie since THE HUDSUCKER PROXY in the theater, most of them probly on the first day or opening weekend. That's thirteen films over a period of 24 years. But when THE BALLAD OF BUSTER SCRUGGS went straight to Netflix I let it sit there for more than two months before I finally got to it. Because, you know, every weekend I wanted to go see WIDOWS or CREED II or on and on, and I rented THE FOREIGNER I needed to watch that and return it and then I wanted to watch some Christmas horror, that was more timely, that had a sell by date. I procrastinate more when it feels like it's accessible at any moment between now and the day whatever black magic they've been using to stay in business wears out.
I bring this up to explain how surprised I am at myself for seeing an article mentioning the release date of the Netflix original CLOSE and realizing it had gone up 18 minutes ago and then spontaneously actually watching it. I sorta did that for THE NIGHT COMES FOR US too, but that came with the pedigree of HEADSHOT. This one I had seen a trailer and knew Noomi Rapace (THE GIRL WITH THE DRAGON TATTOO, PROMETHEUS, PASSION, DEAD MAN DOWN, THE DROP) was a badass in it so it seemed like some DTV shit I could get behind. (read the rest of this shit…)
VERN has a new action-horror novel out called WORM ON A HOOK! He has been reviewing movies since 1999 and is the author of the film criticism books Seagalogy: A Study of the Ass-Kicking Films of Steven Seagal and Yippee Ki-Yay Moviegoer!: Writings on Bruce Willis, Badass Cinema and Other Important Topics as well as the crime novel Niketown.